The new iPhone 6S Plus is official, and it looks very similar to its predecessor. Don't let that put you off though, as Apple has promised it's changed everything about this phone.
It replaces the iPhone 6 Plus, which isn't being canned by Apple just yet - instead last year's phablet gets a price cut. Handy if your budget doesn't quite stretch to the new iPhone 6S Plus.
If the 5.5-inch display on the 6S Plus is a little daunting, then you may want to check out the iPhone 6S instead.
Cut to the chase
What is it? The new phablet iPhone
When is it out? September 25, pre-orders from September 12
What will it cost? Prices start at $749, £619, AU$999 for 16GB
iPhone 6S Plus release date
How long will you have to wait to get your hands on the iPhone 6S Plus? Well pre-orders open on September 12, with the handsets actually available on September 25. So not long at all.
When it comes to pricing, the iPhone 6S Plus inherits the price points of the 6 Plus.
iPhone 6S Plus price
For those of you who can't remember that means you're looking at $749, £619, AU$999 for 16GB, $849, £699, AU$1129 for 64GB and a loft $949, £789, AU$1249 if you fancy a cool 128GB of internal space.
For those in the US, you'll be able to grab the new iPhone 6S Plus on 24 month deals for the following prices: $299 (16GB), $399 (64GB) and $499 (64GB).
iPhone 6S Plus design
Apple admits that when it comes to looks, the iPhone 6S Plus looks very similar to the 6 Plus, so don't expect anything groundbreaking here. It's what's under the hood that's interesting.
One thing that has been added is the rose gold color option, joining silver, gold and space grey.
Those fearing a return of Bendgate needn't fear either, as Apple has used 7000 series aluminum and the strongest cover glass in industry to ensure both the iPhone 6S Plus and 6S are super strong.
Touch ID has also been given a boost with 2nd generation technology making it even more responsive. Apple is promising instant finger recognition, which will be nice.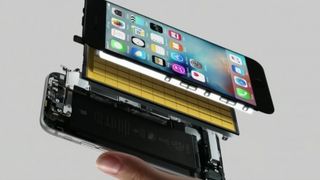 At 192g the new iPhone 6S Plus is heavier than its predecessor, which tipped the scales at 172g. It's also every so slightly thicker at 7.3mm (versus 7.1mm), and we're guessing the added heft and thickness is down to the inclusion of 3D Touch.
iPhone 6S Plus screen
The iPhone 6S Plus sticks with the 5.5-inch Retina display with full HD resolution from the 6 Plus, but it's what you can't see that's really interesting.
Both the iPhone 6S Plus and 6S boast Apple's new 3D Touch system, allowing the display to sense the level of pressure you're applying to it.
This opens up a wide variety of new features and usability functions, allowing you to move around the iPhone easier, and perform regular tasks quicker.
In basic terms it's divided into two different actions; peek and pop. Lightly press the screen - e.g. on a picture in a message stream or a new email in your inbox - to 'peek' at the content.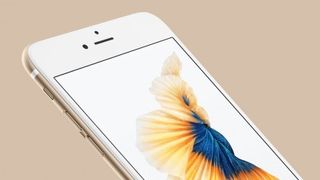 This displays the information in a preview window, and if you release your hold you instantly return to the page you were on. If you want to interact with the content, press harder and it'll open it fully.
Apple has integrated 3DTouch throughout iOS 9, from app icons to photos in the gallery.
iPhone 6S Plus power
The iPhone 6S Plus comes with Apple's new A9 processor, which is 70% faster at CPU tasks and 90% faster at GPU tasks versus last year's A8 processor.
That gives it a heap of power, which should see fantastic load times and super slick game play.
The M9 motion co-processor is now built into the A9 processor, allowing it to be always on and in turn allowing Siri to be always on. At any point just say "Hey Siri" and your personal assistant will be at your beck and call.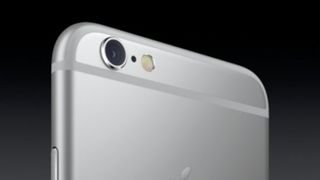 iPhone 6S Plus camera
There's been a bump round the back of the iPhone 6S Plus with the iSight camera now at 12MP, up from 8MP on the 6 Plus. The new sensor can now shoot 4K video, the first time Apple has given users this option on iPhone.
The iPhone 6S Plus also boasts optical image stabilization (OIS), while the new iPhone 6S doesn't, and this can be harnessed for both photos and videos - the latter of which wasn't support on the 6 Plus. OIS gives you smooth, shake-free shots, while also boosting low light performance.
A new feature for the 6S range is Live Photos. Switch this mode on from the tool bar in the camera app and every time you snap a photo the iPhone 6 Plus will capture a short burst of video as well.
The result appears as a normal photo, and Apple insists these are images not videos, but press down on an image in your camera roll and it will come to life for a couple of seconds.
Round the front the FaceTime camera is now at 5MP, and the iPhone 6 Plus will use its 5.5-inch display as an ambient flash to light up your selfies.
iPhone 6S Plus OS and battery
Shocker, the iPhone 6S Plus will sport the new iOS 9 operating system, giving you the new Siri, News app, Notes and transit details in Maps among a host of other improvements.
Apple hasn't disclosed the battery capacity of the iPhone 6S Plus, but we can assume it's bigger than the power back in the iPhone 6S due to its larger body. What we do know is Apple is quoting up to 24 hours of talk time on 3G, and up to 12 hours of web use over 3G, LTE or Wi-Fi.
That's better performance than the new iPhone 6S, and the 6S Plus should also be able to deliver up to 14 hours of HD video playback, and a whopping 80 of music - although these will be lab results and won't reflect in day to day usage.