Image 1 of 5
Image 2 of 5
Image 3 of 5
Image 4 of 5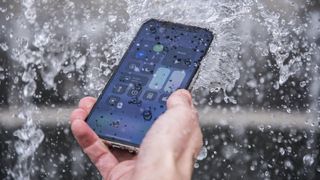 Image 5 of 5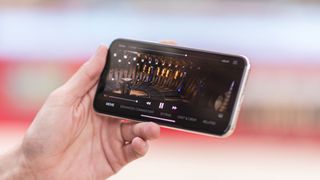 4. iPhone X
The most luxurious phone on the market
Release date: October 2017 | Weight: 174g | Dimensions: 143.6 x 70.9 x 7.7mm | OS: iOS 11 | Screen size: 5.8-inch | Resolution: 1125x2436 | CPU: A11 Bionic | RAM: 3GB | Storage: 64/256GB | Battery: 2716mAh | Rear camera: 12MP+12MP | Front camera: 7MP
Brilliant screen
Powerful innards
Smart TrueDepth camera
Incredibly expensive
The iPhone X is the most impressive handset Apple has ever made. Ever.
You could argue that the iPhone 4 or iPhone 6 should have that tag, but the X (that's 'X' as in '10') represents something that most iPhone buyers want: a new design, after years and years of the same thing being released.
You know already that this is an expensive phone, but Apple has done all it can to justify that cost. It's got an amazing, well-tuned screen, and a strong camera bolted on the back.
The lack of bezel around the device is a massive departure for the brand, and losing the home button has lead to a redesign of iOS 11 – you might struggle to transition for a day or two if you go for this phone, but trust us, it'll become second nature in no time.
This is the phone to buy if you want to treat yourself to a high-end phone – a little extra per month for something you really enjoy taking out of your bag or pocket is worth it if you can afford it.
iPhone X photography samples
Image 1 of 4
Image 2 of 4
Image 3 of 4
Image 4 of 4
Also consider: If you're in the market for an iPhone but don't want to fork out the cost of the iPhone X, the iPhone 8 Plus is the handset to go for thanks to many similar features. Actually, if you wanted to be really thrifty you could get away with the iPhone 7 Plus, but the updates won't last as long for that device.