Image 1 of 5
Image 2 of 5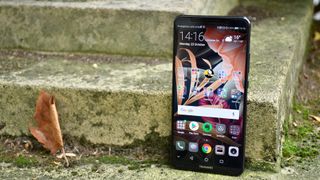 Image 3 of 5
Image 4 of 5
Image 5 of 5
5. Huawei Mate 10 Pro
A powerful phone with an amazing battery life
Release date: October 2017 | Weight: 178g | Dimensions: 154.2 x 74.5 x 7.9mm | OS: Android 8 | Screen size: 6-inch | Resolution: 1080 x 2160 | CPU: Kirin 970 | RAM: 6GB | Storage: 128GB | Battery: 4,000mAh | Rear camera: 20MP+12MP | Front camera: 8MP
Great camera for enthusiasts
Class-leading battery
No headphone jack
No wireless charging
The Huawei Mate 10 Pro is the phone to go for if you want great battery life –
the phone for someone who wants something a little different, and needs a handset that can easily last a day, and then some, on a single charge.
The biggest talking point of the Huawei Mate 10 Pro is, as you've guessed, its battery.
It's big at 4,000mAh, and it translates to impressive performance, with the possibility of stretching usage to two days from a single charge if you switch it off overnight.
On the rear, the dual camera setup is a solid point-and-shoot option, but it really excels if you dive into manual mode; if you're a camera enthusiast who's willing to spend time fine-tuning, you can get some great shots from the Mate 10 Pro.
How good is the camera?
Image 1 of 4
Image 2 of 4
Image 3 of 4
Image 4 of 4
Also consider: The Samsung Galaxy Note 8 is probably the closest rival to the Mate 10 Pro, also coming with a great manual camera mode, large and clear screen and phablet-sized, bezel-less proportions. However, it's more expensive and has a shorter battery life.