Samsung S95C vs LG C3: how do these OLED TVs compare?
The two most anticipated OLED screens of 2023 go head-to-head
Sizes: 55, 65, 77 inches
Screen tech: QD-OLED
Processor: Neural Quantum Processor 4K
HDMI: 4x HDMI 2.1
HDR: HDR10, HDR10+, HLG
The Samsung S95C is the next evolution in the company's QD-OLED TV lineup. The big news here is brightness. Samsung says it's been boosted by 30% over its predecessor, claiming up to 2,000 nits of peak brightness, and improved dark performance in light rooms. It's also a slim, good-looking TV with good gaming features and a 4.2.2 channel speaker system for solid sound.

For
Huge brightness
Great for gaming
Rich, wide colors
Against
No Dolby Vision HDR
Limited size options
Won't be cheap
Sizes: 42, 48, 55, 65, 77, 83 inches
Screen tech: OLED
Processor: Alpha a9 Gen 6 chip
HDMI: 4x HDMI 2.1
HDR: HDR10, HLG, Dolby Vision
This is the follow-up to the almighty LG C2, which is our current favorite TV. It features an updated image processor that promises to deliver more contrast – but that's pretty much the only image upgrade, and it doesn't look like a big one. The Samsung will smash this for brightness, and probably for color depth – but the C2 comes in more sizes, and will probably be cheaper.

For
Lots of size options
Excellent gaming tech
New image processor
Against
No big picture updates
Less bright of the two
It's Samsung's latest OLED panel that could be the real wildcard. The company's first QD-OLED TV impressed in the form of the Samsung S95B, but with some imperfections. The S95C QD-OLED looks like it will be one of the brightest TVs of 2023, giving the older tech in the LG C3 a real run for its money.
When we first saw it up close, the 77-inch version of the S95C QD-OLED was the best TV at CES 2023. Since then, we've gone hands-on with Samsung's premium panel and can confirm it's the brightest OLED we've ever tested. Around 30% brighter than the S95B, the S95C's incredibly punchy pictures are a sight to behold.
But how does the LG C3 stack up against the Samsung S95C? Below, we compare the OLEDs, covering price, size and features. Which set looks to be the best OLED TV in 2023? We'll have to wait for full reviews for the final verdict, but here's how they compare so far.
Samsung S95C vs LG C3: Price, sizes and availability
The European prices of the Samsung S95C recently leaked, and it's no surprise it's launching at a higher price than its predecessor. We've done some quick currency conversions below to give you the S95C prices across different regions.
As LG hasn't confirmed the launch prices of the C3 yet, the figures below are estimates based on the cost of last year's C2 when it hit the market:
The Samsung S95C OLED TV will cost you:
55-inch – €2,500 (around $2,650 / £2,200 / AU$3,900)
65-inch – €3,300 (around $3,500 / £2,900 / AU$5,100)
77-inch – €4,800 (around $5,100 / £4,200 / AU$7,400)
The LG C3 OLED TV will (likely) set you back:
42-inch: $1,399 / £1,399 (around AU$2,000)
48-inch: $1,499 / £1,399 (around AU$2,200)
55-inch: $1,799 / £1,999 (around AU$2,600)
65-inch: $2,499 / £2,799 (around AU$3,600)
77-inch: $3,499 / £3,699 (around AU$5,100)
83-inch: $5,499 / £4,799 (around AU$8,000)
Last year, the S95B dropped its prices very quickly, very dramatically, so the same might happen with the S95C… but the S95B mostly did that because LG was dropping its prices so quickly, so what will happen this year for prices is anyone's guess.
What release dates should you expect for both OLEDs? For the C3, we're expecting LG to launch the C3 in March. The Samsung S95C could launch as early as March. Not all sizes will necessarily arrive at the same time, though.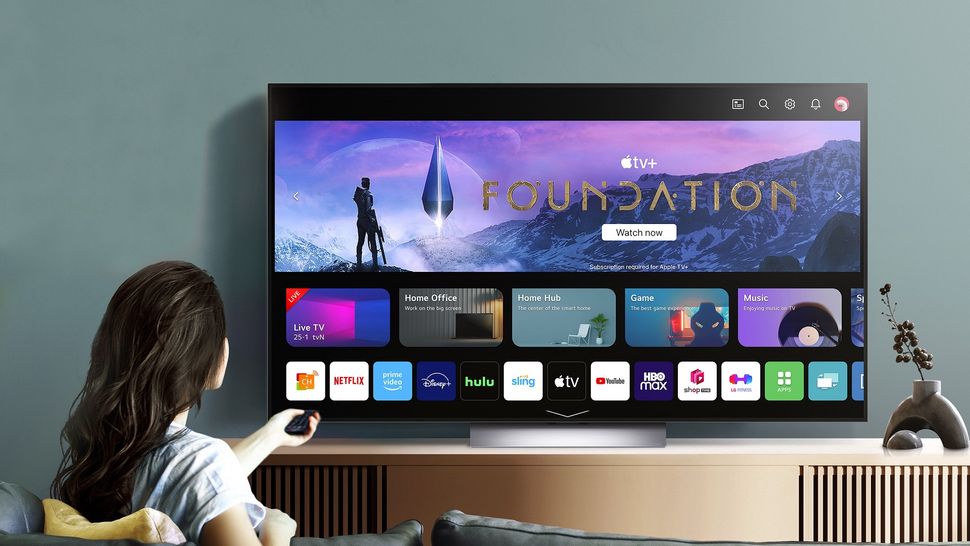 Samsung S95C vs LG C3: Features
This is the key battleground between the Samsung S95C QD-OLED VS LG C3. Without the benefit of conclusive testing, we obviously can't give a definitive performance face-off. But judging from our time with the S95C QD-OLED at a recent event in New Jersey, it's going to be among the best TVs available this year.
The S95C's QD-OLED panel mixes self-lighting OLED pixels with a quantum dot color filter. The result? You get exceptional peak brightness performance and colors, with the perfect blacks and peerless screen uniformity of an OLED panel.
The figures Samsung is currently peddling are astounding, and from our brief testing, they hold up to scrutiny. During our hands-on, the S95C hit a peak light output of 1,374 nits on a 10% white window pattern in Filmmaker mode – that's an impressive 32% brighter than the S95B in similar tests. If you're in any doubt about how impressive those numbers are, the LG C2 delivers around 800 nits peak brightness in HDR.
While we don't yet have figures for the C3, LG recently revealed brightness stats for its slightly more expensive sibling, the LG G3 OLED. Thanks to a new Micro Lens Array panel, the G3 hits 1,470 nits in a 10% white window. Sadly, the C3 doesn't get the Brightness Booster Max algorithm of the G3, instead having to settle for a slightly paired-down version. Still, we expect the C3 will deliver a respectable peak nits rating.
The C3 will also have one image quality edge over the Samsung S95C: Dolby Vision HDR. This is the most widely supported advanced form of HDR, and helps to make sure you get the best dynamic range from your screen… and Samsung continues to refuse to support it. It's frustrating.
But what about gaming features? LG has been at the top of the pile for PS5/Xbox Series X-friendly tech for two years now, and the C3 still looks to be the king in terms of overall gaming features. Four 4K/120Hz HDMI 2.1 ports, sub-10ms input lag, and G-Sync, FreeSync Premium and VRR support ensure this is as future-proofed a gaming screen as you could hope for in 2023. It will also support Dolby Vision gaming for Xbox, which the Samsung doesn't.
However, with a 144Hz refresh rate for PC gaming, four 4K/120Hz HDMI 2.1 ports and VRR/ALLM support, the S95C should also be a brilliant 4K gaming TV.
As for audio, it looks like the S95C has the edge over the C3. Samsung's OLED promises a 4.2.2 channel speaker system, while the C3 is limited to a 3.1.2 setup – though both pale compared to one of the best soundbars.
Speaking of which, both these TVs support a technology that enables the built-in speakers to combine with a soundbar from the same company into a bigger soundstage, instead of the soundbar replacing the speakers totally. Samsung calls this Q-Symphony, LG calls this Wow Synergy. Keep your eyes open for both!
Samsung S95C vs LG C3: Design
Razor-thin bezels are the order of the day for both TVs when comparing the Samsung S95C QD-OLED and LG C3 OLED. If you're planning to wall hang either set, the visual differences between either panel is going to be more or less irrelevant, such is the absurdly svelte nature of modern OLEDs.
It's only when comparing the stands of both sets that it's easier to choose a side in terms of aesthetics. The S95C comes with a slim set of pedestal feet that cover almost the full length of the TV (they look minimalist and attractive, though they might prove inconvenient for those with narrower TV stands). For the C3, expect a premium metallic stand, and a new carbon body that's lighter.
The S95C also has the advantage of the Samsung One Connect Box. Part of the reason the S95C is so skinny is because it has no HDMI sockets on its rear. Instead, you plug your cables into the passthrough box, which is one of the key factors as to why the S95C is so supremely thin.
The key point, though? Both OLEDs are going to be incredibly slim, attractive TVs, so design differences between the two panels really shouldn't be a deciding factor when choosing between the sets.
Samsung S95C vs LG C3: Conclusion
We may not deliver definite reviews of the S95C QD-OLED and LG C3 OLED for a couple of months, but for premium OLED buyers this year, choosing between them is a key question. Building on the outstanding, gamer-friendly features of the C2, LG's C3 will almost certainly be one of the best TVs of 2023, but it hasn't developed much.
If Samsung can deliver on that promised brightness – and it looks like it will – we could be looking at a TV that combines all the inherent qualities of both OLED and QLED. Should the S95C produce its promised brightness levels, alongside the effortlessly inky blacks you associate with OLED, the C3 could be in for a blindingly bright fight it can't win… but it'll come down to the price difference, won't it?
Sign up for Black Friday email alerts!
Get the hottest deals available in your inbox plus news, reviews, opinion, analysis and more from the TechRadar team.
Dave is a freelancer who's been writing about tech and video games since 2006, with bylines across GamesRadar+, Total Film, PC Gamer, and Edge. He's been obsessed with all manner of AV equipment ever since his parents first bought him a hideously garish 13-inch CRT TV (complete with built-in VCR, no less) back in 1998. Over the years he's owned more plasma and OLED TVs than he can count. On an average day, he spends 30% of his waking existence having mild panic attacks about vertical banding and dead pixels.