Apple looks set to lift the lid on its iPhone 15 line in September this year, with the standard iPhone 15, the iPhone 15 Pro and long-rumored iPhone 15 Ultra expected to succeed the company's excellent iPhone 14 line.
You can bet your bottom dollar that all three devices (or four, if Apple decides to release another Plus model) will prove to be some of the best iPhones ever made, and – if rumors are to be believed – the differences between each new model could be more stark than ever.
Our pieces on the iPhone 15 Pro vs iPhone 14 Pro and iPhone 15 Pro vs iPhone 15 Ultra highlight how Apple's next top-level phones could stack up, but in this article, we compare the rumored features of the vanilla iPhone 15 with the vanilla iPhone 14.
iPhone 15 vs iPhone 14: Specs comparison
It's worth clarifying that none of the below iPhone 15 specs have been confirmed by Apple, but we think we've heard enough rumors in each category to speculate (with confidence) about the phone's camera, display and processor credentials.
Swipe to scroll horizontally
iPhone 15 vs iPhone 14: Specs

| | iPhone 15 (rumored) | iPhone 14 |
| --- | --- | --- |
| Display: | 6.1-inch OLED | 6.1-inch OLED |
| Resolution: | 2532 x 1170 pixels | 2532 x 1170 pixels |
| Refresh rate: | 60Hz | 60Hz |
| Chipset: | A16 Bionic | A15 Bionic |
| Rear cameras: | 48MP main (24mm, ƒ/1.78), 12MP ultrawide (13mm, ƒ/2.2) | 12MP main (26mm, f/1.5), 12MP ultrawide (13mm, f/2.4) |
| Front camera: | 12MP | 12MP |
| RAM: | 8GB | 6GB |
| Storage: | 256GB, 512GB, 1TB | 128GB, 256GB, 512GB |
| Battery: | ≈3,279mAh | 3,279mAh |
iPhone 15 vs iPhone 14: Price and availability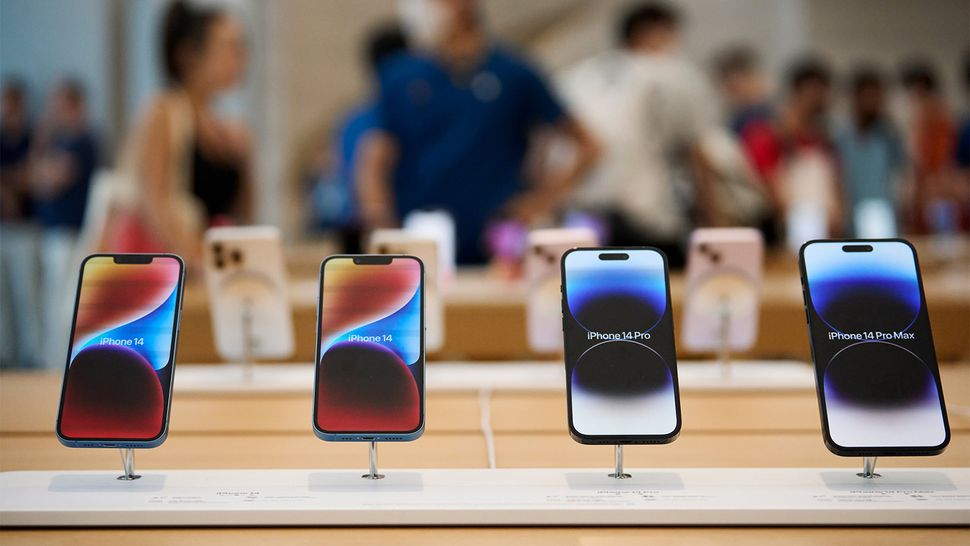 The iPhone 14 was officially unveiled on September 7, 2022, before going on sale on September 16 for the following prices:
128GB: $799 / £849 / AU$1,339
256GB: $899 / £959 / AU$1,579
512GB: $1,099 / £1,179 / AU$1,899
Naturally, we don't yet know the price or release date of the iPhone 15, but we can make an educated guess at both details given Apple's consistency when it comes to product launches.
Apple generally picks the first or second week of September for its annual iPhone releases, typically opting for a Tuesday or Wednesday. We therefore expect the iPhone 15 to be revealed on September 5, 6, 12 or 13 this year, before going on sale around a week later.
In terms of price, we expect the iPhone 15 to match the iPhone 14, so a starting price of $799 / £849 / AU$1,339 seems likely. That said, other manufacturers – including Samsung and Oppo – have opted to forgo 128GB storage options with their respective 2023 flagships, so the iPhone 15 could start at $899 / £959 / AU$1,579 (for the 256GB model), instead.
iPhone 15 vs iPhone 14: Design and display
When it comes to the phone's displays, we're expecting the iPhone 15 to deliver one major improvement over the iPhone 14.
The latter sports a 6.1-inch Super XDR OLED display that offers a 2532 x 1170 pixel resolution, and rumors suggest the iPhone 15 will follow suit. However, the iPhone 15 is all but certain to inherit the Dynamic Island – Apple's fancy screen cutout – from the iPhone 14 Pro and iPhone 14 Pro Max, which should give the phone a more premium feel.
Beyond the Dynamic Island, though, the iPhone 15's display is expected to remain identical to its predecessor's. Both the iPhone 14 Pro and iPhone 14 Pro Max boast adaptive 1-120Hz refresh rate technology (dubbed ProMotion) that automatically adjusts the smoothness of their displays to suit whatever's happening on-screen, but it looks like the iPhone 15 will again be sticking with the iPhone 14's static 60Hz refresh rate.
Rumors surrounding the iPhone 15's design are a little more interesting, not least because they hint at some noticeable differences between Apple's next vanilla iPhone and the base iPhone 14.
Chief among the design rumors is the suggestion that all four iPhone 15 models are going to get slightly curved edges, meaning the iPhone 15 could look more like the iPhone 11 (where the iPhone 14 rocks a straight-sided aesthetic akin to the iPhone 12 and iPhone 13).
The iPhone 15 is expected to get a USB-C charging port, too, instead of the iPhone 14's Lightning port (which has remained a fixture of every iPhone since the iPhone 5). The EU has told Apple that it has to add USB-C charging ports to iPhones from 2024, but all the signs point towards the company adopting the new charging standard in 2023.
Annoyingly, it looks like the remainder of the design differences between the iPhone 14 series and iPhone 15 series – titanium sides, thinner bezels and so on – will be reserved for the latter's Pro models. But that's just what we've come to expect from Apple in recent years.
iPhone 15 vs iPhone 14: Cameras
The iPhone 14's rear camera boasts the following dual-sensor setup:
12MP main (26mm, f/1.5)
12MP ultra-wide (13mm, f/2.4)
The iPhone 15 is likewise expected to get a dual-sensor camera setup, though rumors indicate that the phone will inherit the 48MP main sensor boasted by the iPhone 14 Pro and iPhone 14 Pro Max, rather than the 12MP main sensor used by the vanilla iPhone 14.
Suffice to say, this is exciting news for prospective iPhone 15 owners. While the iPhone 14's cameras are adequate enough for general photography tasks, they're essentially unchanged from the iPhone 13 (save for the upgraded imaging pipeline powering them), so it's good to hear that Apple will be giving vanilla iPhone fans a tangible reason to consider upgrading to the iPhone 15 this year.
That's not to say the gap between the iPhone 15 and its Pro siblings will be any smaller than the usual vanilla/Pro divide, mind. The iPhone 15 Pro and iPhone 15 Ultra are set for some serious camera upgrades come September, with both models rumored to feature periscope cameras and the biggest iPhone camera sensors ever. The Ultra could even get a telephoto camera with a variable zoom lens, too.
On the selfie-snapping front, the iPhone 14's 12MP selfie camera is expected to remain in place on the vanilla iPhone 15 (but who takes selfies these days, right?).
iPhone 15 vs iPhone 14: Performance
On the performance front, the iPhone 14 uses the previous-generation version of Apple's silicon, the A15 Bionic, with the A16 Bionic reserved for its Pro siblings.
The good news is that the vanilla iPhone 15 is expected to benefit from the A16 Bionic, which should technically make the device feel snappier than the vanilla iPhone 14 (though the latter is certainly no slouch when it comes to performance). The bad news is that we're also expecting to see an A17 Bionic come September, which – you guessed it – seems destined for the iPhone 15 Pro and iPhone 15 Ultra, exclusively.
That said, the iPhone 14 is plenty fast enough for most users, and the iPhone 15 – by offering even more power under the hood – will likewise meet the demands of streaming, swiping, snapping and gaming with ease.
iPhone 15 vs iPhone 14: Battery
The iPhone 14 sports a 3,279mAh battery that delivers a full day (and night) of use if the phone is used normally for everyday tasks.
Judging by Apple's history when it comes to updating (or not updating) battery sizes with each iPhone iteration, we're expecting the vanilla iPhone 15 to boast a similarly-sized power pack. The iPhone 13, for instance, uses a 3,227mAh battery, which is almost identical to that of the iPhone 14 – so don't expect a significantly larger brick under the hood of the iPhone 15.
One interesting battery rumor surrounding the iPhone 15 line is the potential addition of reverse wireless charging, which would see the vanilla iPhone 15 capable of wirelessly charging other Apple gadgets, where its predecessor can't. We're less certain about this particular feature prediction, though.
iPhone 15 vs iPhone 14: Verdict
The question of whether you should upgrade to the vanilla iPhone 15 will, of course, depend on both the iPhone you're currently using and what you look for in a smartphone.
Apple's vanilla iPhone models are known for being long-lasting, well-equipped devices that definitely don't need upgrading annually, so if you're an iPhone 14 owner – or even an iPhone 13 owner – the standard iPhone 15 isn't going to be a must-have device.
To re-cap: while we don't know for sure what features the vanilla iPhone 15 will bring to the table, we're quietly confident that the phone's main upgrades will arrive in the form of the Dynamic Island and a 48MP camera.
As such, if you already own an iPhone 13 or 14, you need only upgrade to the iPhone 15 if you're a) desperate to make use of Apple's fancy new screen cutout or b) in need of a better main iPhone camera.
That said, if either of those scenarios are true, you're likely to be much better off forking out for the iPhone 15 Pro or iPhone 15 Ultra. Both premium handsets look set to offer more significant design changes and a host of superior camera upgrades than the standard iPhone 15, so Apple's next vanilla model seems once again destined for those seasoned iPhone fans who value longevity and practicality over expensive bells and whistles.