Tesla's latest Supercharger move could solve a major headache for EV owners
It could help ease congestion and waiting times at charge points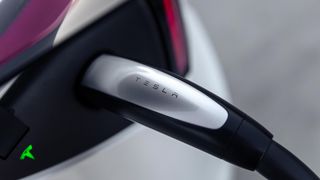 (Image credit: Tesla)
Tesla is rapidly becoming more than just a designer and manufacturer of electric vehicles, as recent big money business deals have seen the company dip a tentative toe into the technology provider space.
Last month, it announced it reached a deal worth $100 million to provide white label Supercharger hardware that was ready to be deployed at BP gas stations across the US.
This week, it was the turn of Asda owners Mohsin and Zuber Issa, who reached an undisclosed deal to access the same Tesla tech for its burgeoning EV Point network, which is owned by the EG Group.
Although the scale of the deal is yet to be disclosed, Electrek reported that Imraan Patel, chief strategy and business officer of EG Group, has said that the company currently has 600 EV chargers and plans to have more than 20,000 in the coming years. It only seems logical that this Tesla deal will help the company achieve that lofty goal.
Zuber Issa told the Independent: "Securing this best-in-class equipment from Tesla marks another milestone for EV Point and is hugely exciting for us.
"It is the first deal of its kind entered into by Tesla with a third-party charge point operator in Europe and will transform how our customers charge their vehicles and how they interact with EG.
"This deal will accelerate the delivery of vital charging infrastructure for motorists to help power the transition to net zero," he added.
Accelerating the EV ownership experience
The UK's Department for Transport announced that it would require 300,000 public chargers "as a minimum" by 2030 to cope with the predicted 9 million EVs that are due to be on the road by that point. At the latest count, the UK has around 46,000 charging points, meaning it has a long way to go before hitting this goal.
What's more, energy solutions company SMS produced a white paper in which its research found that only five per cent of UK EV drivers rely solely on charging at home, ramming home the need for a fast and reliable public charging network.
Reliability is the key word here, because despite new EV charging points seemingly springing up every day, the dependability and quality of outlets is questionable. Anyone with EV ownership experience can attest to arriving at a charging point, only to find it out of order, occupied or painfully slow.
There's also the issue of current charging speeds and range, with most modern electric vehicles taking at least five times the length of a traditional fuel stop and requiring twice the top-ups of an ICE equivalent – hence the need for more outlets.
The fact that Tesla is now selling its high-powered 250kW technology for use by any EV owner will come as reassuring news. Say what you will about its vehicles, there is no denying its Supercharger network is regarded as the most reliable and well-managed in the world.
A JOLT from the blue
But Musk isn't the only one making waves, as Australian company JOLT recently announced that it too was introducing its tech to the UK.
In this case, JOLT offers users 7 kWh, or around 30 miles, of free, fast charging from its stylish kerbside 25 and 50kW outlets. These chargers double-up as digital advertising billboards, allowing the company to gift its 100 per cent renewable energy for free thanks to support from those brands advertising.
Once the 7kWh is delivered, customers can pay to extend their session by tapping a card or through the app, which itself offers more chances to bag free charging sessions thanks to partner integration.
Based on the company's internal research, EV drivers who charge with JOLT can save up to £840 annually on charging expenses.
Currently, the chargers are rolling out in the London borough of Barnet, but it will continue to expand across the UK, USA, New Zealand and Canada in the coming months.
You might also like
Sign up for Black Friday email alerts!
Get the hottest deals available in your inbox plus news, reviews, opinion, analysis and more from the TechRadar team.