Buying a Cybertruck? You won't be able to sell it for a year – unless you want to get sued
Tesla cracks down on car-flipping with Cybertruck contract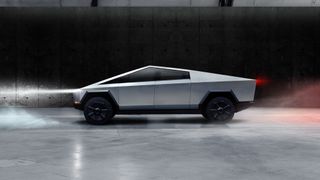 (Image credit: Tesla)
It's hard think of a vehicle in recent history that's been as hyped as Tesla's forthcoming Cybertruck. Even now, with first deliveries slated for later this month, specification is still being gradually "leaked" on the web, the final fit and finish quality remains up for debate, and Elon Musk continues to cause a furore on social channels by unloading automatic weapons into the side of his not-actually-bulletproof-because-the-glass-isn't-bulletproof electric pick-up.
Further fuel has been added to the incendiary hype machine recently with reports surfacing surrounding amendments to Tesla's Motor Vehicle Order Agreement, with a section added in recent weeks with the heading: "For Cybertruck Only".
The revised agreement now states: "you agree that you will not sell or otherwise attempt to sell the Vehicle within the first year following your Vehicle's delivery date," as first reported by Business Insider.
If owners choose to ignore the document, Tesla then goes on to say that it "may seek injunctive relief to prevent the transfer of title of the Vehicle or demand liquidated damages from you in the amount of $50,000 or the value received as consideration for the sale or transfer, whichever is greater". Not only could you be sued, but Tesla reserves the right to put you on a naughty list and refuse to sell you any future vehicles.
The amendment has likely been put in place to prevent customers "flipping" their trucks, or essentially selling what looks set to be one of the hottest new vehicles in a long time for a considerable percentage over the retail price to desperate buyers.
If any customer genuinely wants to sell their vehicle in the first year, because perhaps they decide it's a steaming pile of overhyped junk, they have to notify Tesla in writing and "give Tesla reasonable time to purchase the Vehicle from you at its sole discretion and at the purchase price listed on your Final Price Sheet less $0.25/mile driven, reasonable wear and tear, and the cost to repair the Vehicle to Tesla's Used Vehicle Cosmetic and Mechanical Standards".
In other words, Tesla will buy it back, but with a healthy chunk slashed from the list price. If Tesla then decides it doesn't actually want to buy your old Cybertruck, you may then resell your Vehicle to a third party only "after receiving written consent from Tesla".
Wrestling with the issue
Although Tesla's contractual amendment might seem overly aggressive, this isn't the first time an automaker has contractually stated that an owner can't sell their vehicle for a predetermined amount of time.
Just ask professional wrestling icon John Cena, who landed himself in trouble with Ford Motor Company when he sold his limited edition, second gen Ford GT. The car, which cost half a million dollars when it first went on sale in 2017, came with a strict contract that banned owners from re-selling the cars within the first two years of ownership. Cena eventually settled out of court.
Similarly, the Mercedes-AMG Project One, which is essentially an F1 car for the road, came with a clause in the purchase contract that banned the profligate owners from selling their one of 275 hypercars, while then-Aston Martin CEO, Dr Andy Palmer, suggested the company would be equally harsh to any would-be Valkyrie owner thinking of flipping their vehicle.
However, all of the vehicles we mentioned were limited to a few hundred units, aside from the Ford GT, which was slated at 1,350 units. Musk recently stated that he planned to produce more than 125,000 Cybertrucks every year, with that figure potentially rising to 250,000 units in 2025.
This means the Cybertruck is hardly going to be limited edition – unless, of course, production of the notoriously difficult-to-produce steel-bodied truck goes horribly wrong and Musk decides to can it completely.
You might also like
Sign up for Black Friday email alerts!
Get the hottest deals available in your inbox plus news, reviews, opinion, analysis and more from the TechRadar team.