Nissan's latest Hyper Tourer concept wants to make minivans cool again
Electric people mover is the third and final Japan Mobility Show concept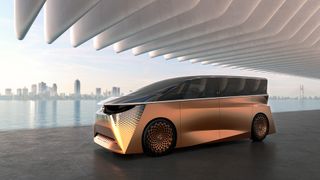 (Image credit: Nissan)
Nissan has been slowly drip-feeding a trio of concept cars during the lead-up to the Japan Mobility Show. So far, the designs have very much revolved around an SUV platform, but this third and final offering looks distinctly like a minivan.
Dubbed the Hyper Tourer, Nissan says this concept is "geared toward individuals who appreciate the finer things in life and enjoy the company of friends and associates," as opposed to the youthful and adventurous spirit embodied by its previous Hyper concepts.
Capable of high levels of autonomous driving and packing high-capacity batteries, the Hyper tourer, like its fellow concepts, is capable of V2X (Vehicle-to-Everything) charging. This seems to be a recurring theme with recent Nissan launches, as well as a general hot topic with EV makers wanting to increase the use-cases and USPs of electric cars.
The smooth exterior body panels have been designed to demonstrate traditional Japanese beauty and again, is a far cry from the spiky and angular design of Nissan's Hyper Adventure and Hyper Urban offerings.
It looks fantastic and, dare we say it, not dissimilar from the recent Lexus LM, which was confirmed to be coming to the UK and boasts Rolls-Royce-like levels of comfort and refinement inside.
Similarly, it is the Hyper Tourer's interior that really impresses, featuring an overhead console and lighting that utilise traditional Japanese kumiko and koushi patterns to create a sense of luxury. Meanwhile, the flat LED panel in the floor displays imagery of a riverbed and the sky, helping create a relaxing space where "digital and nature are fused".
Seeing as this concept is capable of fully autonomous driving, the driver and front passenger seats swivel 360-degrees, so all occupants can have a face-to-face conversation. According to its Nissan, rear-seat passengers can also use a wearable display to view and operate the navigation and audio on the front-seat centre display.
In addition to this, the vehicle is said to monitor biometric signs of the occupants and, thanks to AI, will take data from brain waves, heart rates, breathing and perspiration levels to automatically select complementary music and adjust the lighting to fit the mood.
Concept car 101
The fact that Nissan ran with an electric minivan took us by surprise, seeing as the SUV still rules the roost in terms of sales and the humble people carrier fell out of fashion a looooong time ago.
Despite this, the Hyper Tourer concept doesn't offer much in the way of innovative ideas. Fully autonomous driving has been a concept car stable for many years now, while the swivelling seats have been experimented with by everyone from Mercedes-Benz to Volkswagen.
Even the biometric sign analysis is old hat , with Jaguar Land Rover suggesting it was going to monitor vital signs by pinching technologies from aerospace and medicine way back in 2015.
You only had to tread the hallowed halls of CES some five or so years ago to see third-party suppliers, such as Harman, showing off heart rate monitoring systems and facial recognition cameras that could detect drowsiness and alert the driver. These have now been implemented by the likes of BMW and more.
Plus, Nissan has already demonstrated its Vehicle-to-Grid and Vehicle-to-Home charging technology within its own production EVs. The humble Nissan Leaf, for example, has been feeding energy back into the grid and powering homes since 2022.
Still, the Nissan Hyper Tourer concept looks the business and we'd happily fall asleep in those rear seats.
YOU MIGHT ALSO LIKE
Get daily insight, inspiration and deals in your inbox
Get the hottest deals available in your inbox plus news, reviews, opinion, analysis and more from the TechRadar team.