New Nintendo Switch, Nintendo Switch 2, Switch Pro, Switch Mini – whatever it's called, there's going to be another Switch model coming down the line at some point.
With the Nintendo Switch coming up to the two-year mark, it's safe to say the hybrid handheld / portable console has taken the world by storm. It's the fastest selling console ever in the US and making Nintendo an absolute shedload of money.
But hardware ages quickly nowadays, and Nintendo will be looking to a hardware upgrade to ensure its console stays relevant and attractive to today's gamers. So how to build on a success like the Switch?
Hardware upgrades are nothing new for consoles, let alone those from Nintendo. The Japanese gaming giant has a fruitful record for iterating its handheld consoles: there have been multiple models of the 3DS family available in different sizes, shapes, and with varying 3D capability, but all able to play the same game cartridges as each other.
Even Sony and Microsoft have come round to iterative releases, offering mid-cycle upgrades such as the Xbox One S, Xbox One X, or PS4 Slim and Pro.
So when will we see a new Nintendo Switch, and what new features will it offer? While we wait for more answers, we've run through the likely (and unlikely) possibilities below...
Update: Nintendo President Shuntaro Furukawa says no Switch successor is currently in the pipeline. We still think we'll see it sooner rather than later, but 2019 is looking less realistic.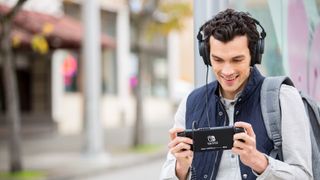 New Nintendo Switch release date
Given that Nintendo hasn't officially confirmed there's a Nintendo Switch 2 in the works, it's hard to guess what kind of release date we're looking at. Recent rumors aside, it is possible to posit likely release windows based on plans we Nintendo already has.
We know that the company is hoping the Switch will go further than the standard five to six year lifecycle of a console, after Shigeru Miyamoto told investors as much in a Q&A. Prior to this, Nintendo's consoles have usually topped out at the five to six year mark before moving onto the next generation.
Clearly Nintendo has something up its sleeve for the Switch 2, and we wonder if it's going to follow in the footsteps of Sony and Microsoft, both of which launch hardware upgrades at strategic intervals to prolong the current generation.
Based on these industry trends, it would make sense for Nintendo to release an upgraded version of the Switch hardware between two and three years into its lifetime, which would mean we could see Nintendo Switch 2.0 in 2019 or 2020. With an iterative approach that sees a power upgrade and some design refinements, this could see the Switch line run easily into 2022.
We'd expect Nintendo to release a new model before the Xbox Two or PS5 hit selves – likely in late 2020 – chiming with a report from the Wall Street Journal that predicted a new Nintendo Switch model in mid-to-late 2019. Nintendo president Shuntaro Furukawa has since shut those rumors down, however, saying no successor was currently in the works.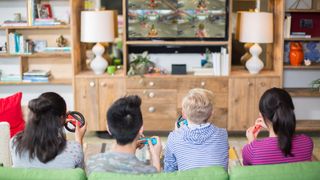 New Nintendo Switch price
Obviously redesigns cost money, and redesigns with improved hardware doubly so. Rather than jack up the price, though, we imagine the new model will match the current £279 / $299 pricing, alongside a price drop for what will then become the outdated model.
If, however, the new Nintendo Switch model is actually a premium or 'Pro' version that sits alongside the standard console, or even a cheaper handheld-only 'Switch Mini' – then we could see that figure jump considerably in either direction. (Given the naming conventions of the 3DS, we think 'New Nintendo Switch' is a likely moniker.)
New Nintendo Switch news and leaks
Now, despite the fact that Nintendo hasn't confirmed it's planning to release a Nintendo Switch 2, there have been reports and leaks which suggest plans are, at the very least, being made.
The 5.0 firmware dig
Though the Nintendo Switch's recent 5.0 firmware update wasn't up to much on the surface, hackers on Switchbrew dug into the upgrade and found evidence which suggests a hardware refresh is in the works.
Switchbrew discovered references to a new T214 chip (which would be a small improvement on the current T210) as well as an updated printed circuit board and 8GB of RAM instead of the current 4GB.
While any kind of chip upgrade could simply be Nintendo's response to some hardware security problems which have emerged with the current SoC – like the homebrew hackers who have started creating pirated Switch titles – the new PCB and increased RAM suggest something more than this: a more powerful device.
It's important to note that the files uncovered by these Switchbrew members contain neither a timescale nor a definitive statement of intent from Nintendo.
The Switch is proof that state-of-the-art technology isn't the sole key to success in a wider sense, but it's important to remember that as far as handhelds are concerned, the Switch is at the cutting edge and Nintendo will need to keep it there. If these hardware upgrade rumors turn out to be true, Nintendo has plenty of time before it has to do any kind of refresh.
AR and VR support are unlikely
If Nintendo does release a Switch, we're inclined to say it's unlikely that it'll feature any kind of AR or VR technology support.
Despite patents suggesting otherwise, Nintendo has repeatedly said it's not interested in pursuing virtual reality and this has been reiterated as recently as January 2018 by the MD of Nintendo France who cited a lack of mainstream appeal for the technology.
Nintendo appears to be more interested in peripherals which keep players grounded in the real world. With its motion controllers, cardboard Nintendo Labo accessories and amiibo, Nintendo seems like it's very conscious of keeping players aware that they're physically playing a game.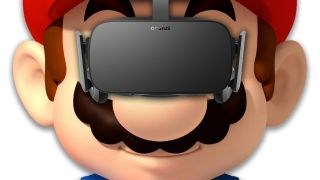 What about 3D?
Another Nintendo patent came to light in early 2019: this time for a 3D sensor array that sits above your television, and creates a stereoscopic image in a similar way to the 3DS, meaning you wouldn't even need glasses.
3D visuals felt like a passing gimmick even with Nintendo's handheld consoles – and the troubled Microsoft Kinect camera will no doubt keep it wary of unnecessary TV peripherals. But getting convincing 3D imaging on standard 2D TVs may the step needed to bring 3D gaming mainstream.
Could it support 4K?
While Sony and Microsoft push at the 4K market, there isn't really any big reason for Nintendo, the company that staunchly sets itself apart from other hardware producers, to follow suit.
In the same interview where he dismissed VR, Nintendo France General Manager Philippe Lavoué also brushed off 4K saying that the technology has "not been adopted by the majority" and it would, therefore, be too early for Nintendo to jump in.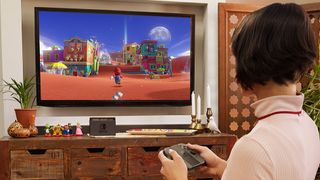 Nintendo didn't enter the HD console market until 2012 when it released the Wii U. This was around four years after Sony and Microsoft and at the point when more than 75% of US households actually had HD displays in their home.
Miyamoto however has said he wished Nintendo had done the jump to HD sooner than this, saying that the display technology became popular around three years before Nintendo expected it to. It's expected that by 2020, 50% of US households will have adopted 4K technology and it might be at this point that Nintendo decides to join the 4K fray, rather than waiting until the 75% market saturation of before.
New Nintendo Switch: what we want to see
More screen, less bezel
One way of iterating productively on the Nintendo Switch would be cutting back at its rather sizeable bezel. An upgraded screen could cut into that dark space without interfering with the console's general dimensions, and could even pave the way for 1080p play on the handheld itself, instead of its current 720p resolution.
What will likely prevent Nintendo messing with its formula too much are the Joy-Cons. If the body of the console changes considerably, the millions of Joy-Cons already on the market would suddenly become obsolete to upgrading players – maybe a good money-spinner for new peripherals, but something that would very easily irritate its player base.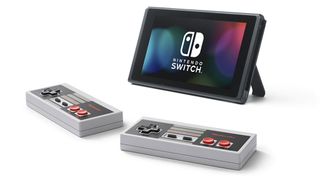 Charge less for necessary accessories or sell better bundles
While in theory everything you need to start playing your Nintendo Switch is in the box, there are some sold-separately accessories that still feel pretty essential yet they're very expensive.
Things like Joy-Con compatible steering wheels are fun, utterly unnecessary and they're also relatively cheap. Additional Joy-Cons and charging grips, on the other hand, are surprisingly expensive. For Nintendo Switch 2, we'd either like to see things like Joy-Con charging grips come as standard, or see a wider range of bundles which include accessories like these for a more reasonable price.
At least with this console, the charger came as standard unlike the 3DS. Baby steps, we suppose.
Keep it iterative
The basic concept of the Nintendo Switch is great as it is and other than some small hardware advancements we actually don't want Nintendo to change too much.
What we definitely don't want is for the current Nintendo Switch library to be unusable. If Nintendo is going to bring out a second generation Switch console, we want it to take the Microsoft backwards compatibility approach with the games. Switch games aren't cheap and we want them to last as long as possible. Given the Nintendo 3DS can play all Nintendo DS games, we know this is something Nintendo isn't against.
A smaller, more portable dock
While we like the design of the Nintendo Switch at the moment, when it comes to the console's docking station we'd like to see something smaller and more portable, something which third-party manufacturers are already delivering – even if Nintendo seems set on bricking consoles that use them.
More internal memory
We love the fact that the Nintendo Switch has expandable memory but we'd like to not have to rely on it quite as quickly as we've had to. If a Nintendo Switch 2 is in the works, we'd like to have an option with more internal memory for those that rely largely on a digital library. Given a large number of Switch games (particularly indie titles) are digital only, this seems especially important.
Battery life that lives on
We're hoping Nintendo will use a hardware upgrade as an opportunity to improve the console's rather small three-hour battery life in handheld.
Complaints about the battery life have somewhat subsided as players realised they didn't need as long a battery life as their day-long-lasting smartphones. There are also plenty of workarounds like portable chargers and battery banks to get around this. But stretching out the battery to a six-hour charge might be what cements the console as a truly practical handheld device.