Update: Microsoft has posited itself to challenge the iMac with its winning Surface Studio computer, which has now been included in our list.
If you're looking for the best all-in-one PCs, you've come to the right place, as we've listed the very top models that money can buy.
All-in-one PCs are unlike conventional PCs, as they are desktop PCs with displays built-in. They are often made of a mix of laptop and desktop components, and while that may make them more difficult to upgrade and maintain, they are have their advantages.
For a start, these self-contained all-in-one PCs typically require less desk space than a desktop tower, monitor and all their accompanying accoutrements. At the same time, they don't produce a nest of cables for people to trip over.
This makes the best all-in-one PCs excellent choices for offices that want to maintain a sleek and professional look. It's no coincidence that all-in-one PCs are favored by professionals in the creative industry.
Because of the inherent convergence that an all-in-one boasts, PC makers can rethink their design strategies entirely, thereby resulting in more innovative efforts such as the Surface Studio. Ultimately, this only benefits us – the users.
Below are the best all-in-ones handpicked and regularly updated in traditional TechRadar fashion.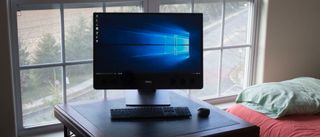 1. Dell XPS 27 AIO
A well-rounded jab at Apple's ageing iMac
CPU: Intel Core i5 – Core i7 | Graphics: Intel HD Graphics 630; AMD Radeon RX 570 | RAM: 8GB – 32GB | Storage: 1TB HDD – 2TB SSHD; 512GB SSD | Display: 27-inch 4K (3,840 x 2,160) display
Handsome display
Virtually unparalleled built-in sound
Relatively expensive
No HDMI in
Resting atop an articulating stand, the Dell XPS 27 AIO comprises of a massive 4K Ultra HD touchscreen display with a whopping sextet of ear-numbing speakers. Not only is it attractive, but it's also top-notch when it comes to delivering powerful specs. Whether you're making your own beats or vibing out to someone else's; watching films or editing them yourself, the Dell XPS 27 should be at the top of your list when shopping around for a new PC.
Read the full review: Dell XPS 27 AIO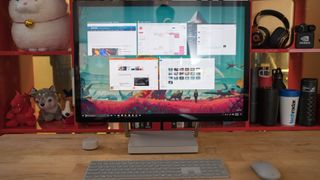 2. Surface Studio
A fantastic all-in-one from Microsoft
CPU: Intel Core i5 – i7 | Graphics: Nvidia GeForce GTX 965M – 980M | RAM: 8GB – 32GB | Storage: 1TB HDD; 64GB SSD – 2TB HDD; 128GB SSD | Display: 28-inch PixelSense (4,500 x 3,000) display
Seamlessly transitions between modes
The best and biggest digital drawing board
All rearward ports
Pricey proposition for most
The first thing you should know about the Surface Studio is that it's probably not for you. Unless you're an executive at a design firm, the massive starting price is enough to turn most heads in the other direction. That said, we would argue that the Surface Studio is well worth the cost of admission. Versatile and forward-thinking, Microsoft's all-in-one puts the iMac to shame by introducing an all-in-one that can not only replace your lingering desktop tower, but your Cintiq as well.
3. Apple iMac with 4K Retina display
Bigger doesn't always mean better
CPU: Intel Core i5 - Core i7 | Graphics: Intel Iris Graphics 640; Radeon Pro 555 - Radeon Pro 560 | RAM: 8GB - 32GB | Storage: 1TB HDD - 3TB SSHD; 256GB - 1TB SSD | Display: 21.5-inch FHD (1,920 x 1,080) – Retina 4K (4,096 x 2,304)
Reasonably priced
4K screen calibrated to a production certification
Fusion drive not standard
Chunky display bezel
The iMac has long been on the of the most affordable Macs you can get and it's also one of the cheapest way to get a 4K screen to boot. Starting at grand and just a few hundred bucks more for that 4K upgrade, the 21-inch iMac with 4K Retina display, is a hardy MacOS machine featuring similar specs as the 5K variant but at a lower cost. For the money, what more could you really ask for from an Apple computer?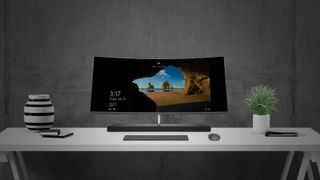 4. HP Envy Curved All-in-One
CPU: Intel Core i5 - Core i7 | Graphics: Nvidia GTX 950M - AMD Radeon RX 460 | RAM: 8GB - 16GB | Storage: 1TB SSHD, 1TB - 2TB HDD; 256GB SSD | Display: 34-inch WQHD (3,440 x 1,440)
Enveloping ultra-wide display
Full-bodied audio
Privacy-minded pop-up web camera
Exceptionally bulky
Not to be shown up by the 5K iMac or new Dell XPS AIO, HP has its own unique take on the all-in-one desktop. Though it also has all its components stored in its base like the Surface Studio, the HP Envy Curved All-in-One also adds in a booming speaker bar. Add in the ultra-wide curved screen and this is one of the best and most immersive PC for enjoying movies.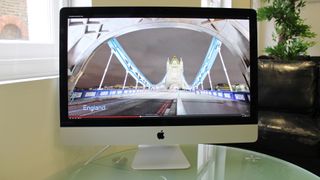 5. iMac with Retina 5K display
An expensive luxury, that might just be worth it
CPU: Intel Core i5 - Core i7 | Graphics: Intel Iris Graphics 6000 | RAM: 8GB - 64GB | Storage: 1TB HDD - 3TB SSD | Display: 27-inch Retina 5K (5,120 x 2,880)
Bright IPS screen
Few wires or cables
Tough to upgrade
While Apple's iMac with Retina 5K display is one of the most impressive all-in-ones around, its price places it out of the reach of most people. However, if you're up for the expense there's no greater MacOS machine than this -- that is until the iMac Pro arrives. It comes with Apple's sharpest 27-inch 5K Retina display. Excellent build quality and hardy specs, also makes it a PC built to last, and a fine option for productivity work, watching movies or light gaming.
Read the full review: Apple iMac with 5K Retina display