I wall mount a lot of TVs – here are 4 tips to help you avoid a headache
Let's not get hung up on this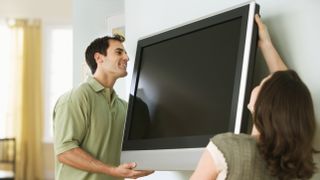 (Image credit: Getty Images)
If you've recently bought a new TV and decided that you'd like to mount it on a wall, you'll likely have bought a bracket and are raring to go. But, hold on! Before you get that TV up on the wall, there are a couple of things that might be worth keeping in mind.
When I worked at a UK based AV retailer before joining TechRadar, I used to mount a lot of TVs of all shapes and sizes for the store display. Without fail, there were always some kind of issues along the way, such as missing screws or bolts, for instance.
Recently, I've been testing TV wall mounts for a new buying guide for TechRadar (watch this space) and during this time, I've rediscovered the trials and tribulations that can occur when mounting a TV to a wall. For some people, a wall mount has never entered their mind, but some of the best TVs available today look better on the wall and some are even designed to be mounted (here's looking at you LG G3).
The below tips may seem obvious to a lot of people, but if my experience is anything to go by, these problems can occur at any time. Here are four tips that should hopefully help you avoid a headache (literally).
1. Have two people (at least)
When mounting a larger screen TV to a wall, which for most people is 55-inches or above, it's always best to have two people. This is mainly for safety reasons as if you're trying to mount the TV to a wall you need to make sure that there are two people to support its weight in case it falls. If you attempt to mount a TV to a wall alone, you could cause yourself all sorts of injuries. We want to avoid that at all costs!
Now this may seem like a no-brainer, but as a word of advice, I would actually have two people ready for smaller TVs as well. While I was testing TV mounts, I found that even with a small 32-inch TV there was some tricky aligning between the wall bracket and TV. And even after this, there were some connections between the bracket and TV that needed screwing, which would've been incredibly difficult with one person. But thankfully there were two of us to do the work.
In some cases, you'll need more than two people. Some of the best 75-inch TVs weigh roughly 40 kg, which is a lot heavier than it sounds. Imagine holding a TV this size against a wall and then having to mess around with the bracket at the back – that's not easy. In this case, the more the merrier! If you end up buying LGs' 118-inch micro-LED TV, you may need an army…
2. Don't go overboard with your choice of wall mount
Another thing to consider is just what you want your wall mount to do. Is it going to stay in one place? Tilt a bit? Spin round? OK, maybe not the last one by itself but still, wall mounts can range from the plain and static to full-motion that can move in multiple directions. The reason it's worth considering this is because yes, it's easy to think an all singing, all dancing bracket should be the way to go, but full-mount wall mounts have a lot of moving parts, which adds up when installing them onto your wall.
I often found when working in retail that sometimes the most simple wall brackets suit most peoples' needs. Even when people need full-motion brackets, there are often ones available that are far less complicated than others. If you just need a bit of motion, such as tilting up and down, there's no need to pay hundreds for it. I only suggest it because it'll make the installation process easier and because at the end of the day, you want something you're going to feel comfortable using.
It's so easy to go overboard with a wall mount (there are motorized ones that cost thousands) so really think about what you want from your wall mount and then look for a suitable option that suits you.
3. Fail to prepare equals prepare to fail (and swear)
As with any D.I.Y project, there is a good chance you will run into problems. Where is that one screw I needed? Why is this so hard to do? Why didn't I pay to have this TV installed? These are just some of the questions you may ask yourself (if you're a bit dramatic and struggle with D.I.Y like me) but this is where the most important advice comes in: prepare yourself for these problems.
It's best to go in with a calm mind and make sure you have everything you need and that all the conditions are right before you begin installing a wall mount, such as making sure the wall you're mounting the TV on is suitable for it. Most walls will be okay, but plasterboard stud walls are tricky, as are brick and concrete. With a lot of walls you will need to use wall plugs and lag bolts to hold the back plate of the wall mount in place, so be prepared to do a lot of cranking and turning.
4. Don't be surprised by how many tools you need
Speaking of everything you need, you will be surprised by just how many tools you need when putting together a wall bracket and installing it. During our wall-mount testing, we had available a fairly kitted out electric screwdriver with 12 socket sizes, mainly to be used for the lag bolts mentioned earlier. Amazingly, on three of the brackets, none of the sockets were big enough. Inspecting the instructions, it asked to make sure we have a 13-inch socket wrench available – we didn't. So one quick dash to the hardware store later and we were ready to go.
You'll also need a screwdriver and allen key as well, but thankfully the latter often comes included with most brackets. But, it's always best to check which tools you might need before you start installing
Final thoughts
If you're just at the start of your wall-mounting planning, hopefully you'll take some advice away from this article and you won't find it too taxing when it's time to get that TV mounted. Once your TV is up, though, you can look at it with pride knowing that TV isn't going anywhere.
Ultimately, wall-mounting a TV is a personal choice and mainly down to aesthetics. With some of the best OLED TVs being so razor thin nowadays, like the Samsung S95C, and when they're paired one of the best TV wall mounts, they can look absolutely stunning on a wall. But, if it all sounds like too much of a pain, then you can always mount the TV on a stand or call in a professional to do it.
You might also like
Sign up for Black Friday email alerts!
Get the hottest deals available in your inbox plus news, reviews, opinion, analysis and more from the TechRadar team.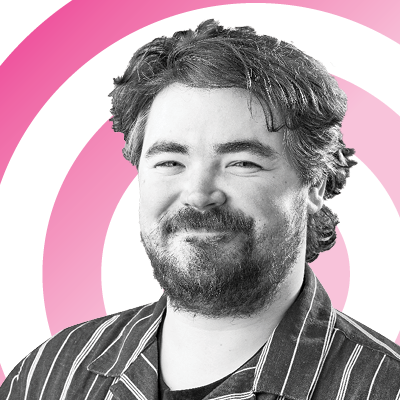 TV Hardware Staff Writer, Home Entertainment
James is the TV Hardware Staff Writer at TechRadar. Before joining the team, he worked at a major UK based AV retailer selling TV and audio equipment, where he was either telling customers the difference between OLED and QLED or being wowed by watching a PS5 run on the LG 65G2. When not writing about the latest TV tech, James can be found gaming, reading, watching rugby or coming up with another idea for a novel.