Samsung's super-expensive Galaxy Tab S9 Ultra is actually a great deal, and here's why
So much screen for the money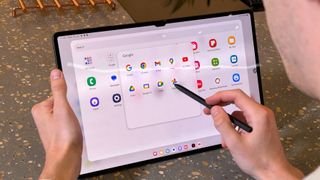 (Image credit: Future / Axel Metz)
My first reaction to the Galaxy Tab S9 family was a solid WOW! because I'm a huge fan of water resistant tech. My second reaction came when I saw the price tag: a wordless, jaw-dropping gasp. The first Galaxy Tab S8 Ultra was a whopping $1,099.99 / £999 / AU$1,799, and the second generation climbs even higher to $1,199.99 / £1,199 / AU$1,999. I was shocked at first, but I've come to grips with the pricing and it's even a good deal, especially for what Samsung gives you.
Tablet pricing is hard to compare. Smartphones all perform the same tasks. They all make calls, send messages, browse the web, load apps, and take photos. They all do these things in various degrees of greatness, but a $100 smartphone can handle most of the tasks a $1,000 phone can manage.
Tablets are different. People buying a $1,000 tablet have very different expectations for what it will do than people paying $100. A $1,000 tablet needs to be the best tablet, a serious productivity tool, not just an entertainment device. And yes, you can get a cheap tablet for $100. It will stream movies and browse the web, and it will ask you to buy stuff from Amazon every time you turn it on.
Is $1,200 too much for a tablet? That depends on what you're asking. If you're asking whether that's too much to pay for everything you get – all the parts and components – then it's definitely a reasonable price. If you're asking whether it's worth buying a $1,200 tablet, that's a harder question.
Here is what spending $1,200 on a tablet gets you
The Galaxy S23 Ultra costs $1,199.99 / £1,249 / AU$1,949, which is close to what you'd pay for the Tab S9 Ultra. Most of us don't plunk down a huge chunk of change for a smartphone. We get a trade in discount, and make arrangements with carriers to pay less if we pay over time.
For a tablet, you can trade in a device, but you probably won't have a phone to give up, so you'll get less of a discount. You can get a connected Tab S9 Plus from your wireless carrier, but the big Tab S9 Ultra isn't available with 5G on board. That means the upfront cost seems much higher because it's being demanded all at once. But it's important to remember that the Tab S9 Ultra costs about the same as a Galaxy S23 Ultra.
Consider the cost of making a smartphone. The most expensive components are the processor and cellular parts. The Tab S9 Ultra thankfully gets the same slightly overclocked Snapdragon 8 Gen 2 platform as the Galaxy S23 family and the new Galaxy Z Fold 5. It's a very fast chipset, with speedy graphics to boot.
The second most costly component of a smartphone is the display, and for the same price, you get a bigger screen on the Tab – a lot bigger. The Galaxy S23 Ultra is 6.8 inches, while the Tab S9 Ultra is 14.6 inches, but the diagonal only tells a fraction of the story.
The actual difference is an area of around 96 square inches of screen space on the Tab S9 Ultra versus just under 18 inches on the S23 Ultra. The Tab S9 Ultra display is more than five times larger than the smartphone screen. That's a huge difference for the same price.
It also drives more pixels. The Galaxy S23 Ultra runs an impressive 4.5-million pixels in its 1440 x 3088 resolution, but the Galaxy Tab S9 Ultra tablet has a 2960 x 1848 resolution, more than 5.5-million pixels, so it has more than a million more pixels to draw than the Galaxy S23 Ultra.
The display may not be as bright as the phone, but that's actually a good thing because you won't use the tablet outdoors as often, and the high brightness only drains the battery faster.
What else does the Tab S9 Ultra give you for the same price as the Galaxy S23 Ultra? A much, much bigger battery. The Tab S9 Ultra has a huge 11,200 mAh cell, which is 124% larger than the 5,000 mAh battery on the S23 Ultra. Of course the screen is much bigger, but not as bright, so the Tab S9 Ultra lasts longer during power-use sessions. If you watch movies and play games, your tablet will survive much longer sessions.
At this price, both the Tab S9 Ultra and S23 Ultra come with 256GB of storage, but the Tab has a microSD card slot, which is a boon to creative professionals looking to share the work you'll create and edit on that huge screen. The Tab S9 Ultra also has 12GB of RAM in the base model, more than the 8GB on the Ultra phone, and you can crank it up to 16GB.
Swipe to scroll horizontally
| | | |
| --- | --- | --- |
| Row 0 - Cell 0 | Galaxy Tab S9 Ultra (tablet) | Galaxy Tab S23 Ultra (phone) |
| Screen size | 14.6-inches | 6.8-inches |
| Actual screen area | 95.8-inches | 17.7-inches |
| Screen resolution | 1848 x 2960 | 1440 x 3088 |
| Actual pixels | 5.47-million pixels | 4.44-million pixels |
| Storage / RAM (base model) | 256GB / 12GB | 256GB / 8GB |
| Battery size | 11,200 mAh | 5,000 mAh |
Both devices come with an S Pen, but the pen with the Tab S9 is more like a real drawing tool, not a thin little stick. Both have the same levels of pressure sensitivity, tilt detection, and other creative drawing technology built into the display, with the same air gestures and Bluetooth features in the S Pen itself.
Adding waterproofing to the Tab S9 family surely drove up the cost, as new designs are a huge part of mobile pricing. While the value may not seem worthwhile if you don't plan on taking the Tab to the beach, consider the IP68 rating a sign of improved durability and longevity. It's just one more thing that won't go wrong with your expensive tablet.
Also, hopefully now that Samsung has spent the time and money creating a slim, consumer-friendly tablet that is IP68 certified, we'll see that rating trickle down into the Galaxy A tablet line for more affordable poolside tablet options.
Apple makes it much easier to buy the right iPad for you
One of the biggest problems that Samsung faces with its Tab S9 Ultra pricing is that its tablet lineup is a jumbled mess of products and pricing. Compared to Apple's iPad, the Samsung Galaxy Tab S9 seems overpriced, but that's comparing Apples to Androids.
Apple has iPad tablets at every price point, from $329 for a 10.2-inch iPad (2021) all the way up to the iPad Pro 12.9 (2022). If you buy the biggest iPad Pro with 1TB of storage on board, you'll pay $1,799 in the US. The most expensive Tab S9 Ultra with 1TB of storage (plus that microSD card slot) costs less than $1,500. Who's overpriced now?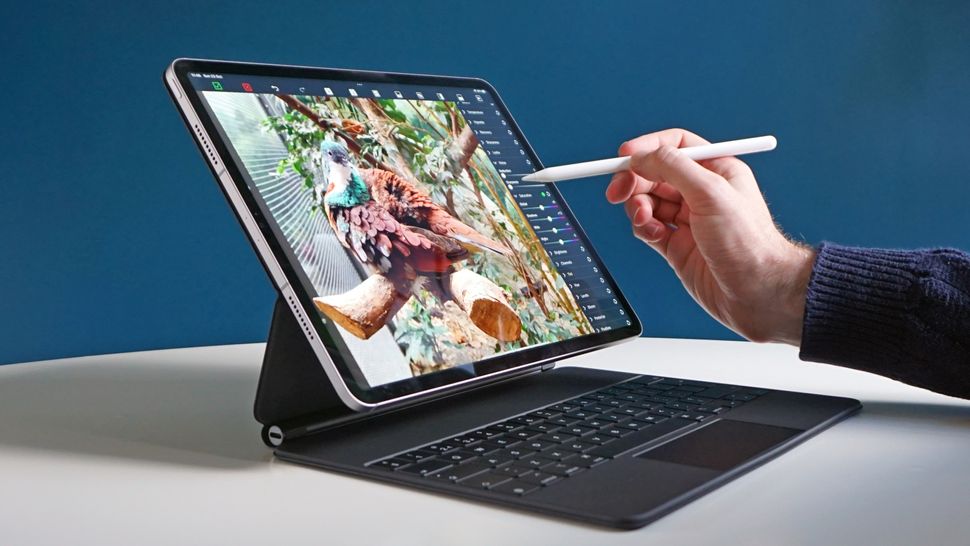 The difference is that Apple doesn't position its iPad Pro 12.9 as the tablet everyone should buy. Apple makes it very easy to choose your iPad. You walk into an Apple store with any amount of money, and Apple has a specific iPad for you to buy.
Got $350? You're getting the iPad 10.2. Make it $450? Now you get the iPad 10.9 (2022). When you get to $600, Apple gives you a choice: you can have the iPad 10.9 with a lot of storage (256GB), or an iPad Air (2022) with very little (64GB). They are the same price.
Apple's pricing couldn't be simpler, just like the product is simple. iPads all work exactly the same, it's just a question of how much money you've got. You don't even need to know which one you've bought. I'd bet that many folks who own an iPad Air don't even realize they have the mid-tier iPad. They probably just call it their "iPad" and that's that.
Samsung's tablet lineup is a confusing mess of names
Samsung's tablet lineup is not so elegant. It offers generations of tablets with strange suffixes. Portions of tablet families survive, while some have gone extinct. It's almost impossible to understand what you're getting when you look at what Samsung offers.
If you want the best Samsung tablet, you buy the Galaxy Tab S9, but what if you don't have $800 to spend? Samsung has options, and they are very weird.
You can still buy the Tab S6 Lite (2020), which is actually a bargain version of the Tab S6 (2019). There's the Tab S7 FE (2021), which is a bargain version of the Tab S7 (2020). The Tab S6 Lite is Samsung's cheapest Galaxy Tab S, and it's priced close to the older iPad 10.2. The Tab S7 FE is a big 12.4-inch tablet, priced just under the newer iPad 10.9.
So, to compete with Apple's bargain iPad, Samsung offers a Lite version of a defunct tablet from 2019? And its answer to Apple's newest entry-level iPad is a so-called Fan Edition of a tablet that it stopped selling last year? Ugh.
Then, there is the Galaxy Tab A family. You can find a Galaxy Tab A8 and a Tab A7 Lite. Oh, there was also a Galaxy Tab A, which was an 8-inch tablet, not to be confused with the Tab A8, which is a 10.5-inch tablet.
This is Samsung's tablet problem. Buyers are confused, as it seems like Samsung is just offloading all of its old junk to folks who can't afford the newest tablets. The entire tablet brand looks cheaper as a result. This is why the Galaxy Tab S9 Ultra seems too expensive, because Samsung's tablet catalog doesn't resemble a premiere manufacturer worth the higher price.
The Galaxy Tab S9 Ultra is not too expensive, not for what you get and certainly not for what the tablet can do. The problem is that buyers who don't want to pay the premium can't find a comparable Samsung tablet for less, not one that seems worth buying.
If the iPad Pro gets me into the door at the Apple store, I can still be happy walking out with my iPad 10.9. On the other hand, if I can't afford Samsung's Tab S9 Ultra, I won't drop down to something called an "S6 Lite" or "S7 FE," I'll just get frustrated and walk away.
Sign up for Black Friday email alerts!
Get the hottest deals available in your inbox plus news, reviews, opinion, analysis and more from the TechRadar team.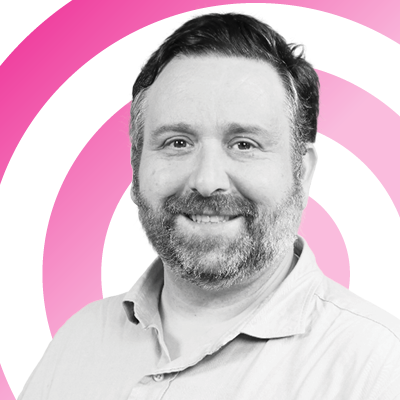 Phil Berne is a preeminent voice in consumer electronics reviews, having reviewed his first device (the Sony D-EJ01 Discman) more than 20 years ago for eTown.com. He has been writing about phones and mobile technology, since before the iPhone, for a variety of sites including PCMag, infoSync, PhoneScoop, and Slashgear. He holds an M.A. in Cultural Theory from Carnegie Mellon University.
Phil was the internal reviewer for Samsung Mobile, writing opinions and review predictions about top secret new devices months before launch. He left in 2017. He worked at an Apple Store near Boston, MA, at the height of iPod popularity. He has been a High School English teacher at Title I schools, and is a certified Lifeguard. His passion is smartphones and wearables, and he is sure that the next big thing will be phones we wear on our faces.