Hulu and Disney Plus have a new Korean thriller series that's the next Squid Game
This star-studded spy thriller is a big hit and now you can see why people love it so much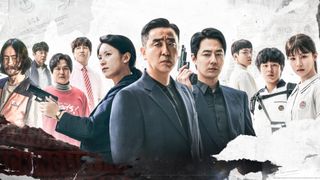 (Image credit: Disney+)
The new Squid Game is here and you can stream it now on Hulu and Disney Plus. The new series is called Moving and it's a star-studded spy thriller from Korea that has become the most-watched Disney series in the Asia Pacific region right now. It's also the biggest series premiere Disney Plus has ever had in Korea and it's available everywhere including on Hulu in the US.
If you haven't already been bitten by the Moving bug, you're in for a treat. It's based on a hugely popular webcomic and features Korean stars including Ryu Seung-ryong (Life is Beautiful), Han Hyo-joo (20th Century Girl) and Zo In-sung (Smugglers) in a tale of spies trying to protect their super-powered kids from sinister government agencies.
Oh, and the spies are super powered too.
What are people saying about the Moving TV show?
According to Carol Choi, executive VP of original content strategy at Disney APAC (Asia Pacific), "from the US to all across APAC, it is fast becoming a breakout hit with its captivating storyline, world-class cast and incredible post-production effects – all coming together to deliver exceptional storytelling." But she would say that. What about the critics?
Right now, Moving is sitting at a whopping 100% on Rotten Tomatoes – although that's based on fewer than 50 ratings. But the early reviews are very positive too. Some note its similarities to Heroes, which NBC aired back in 2006, while Decider gives it a definite STREAM IT rather than skip it. It points out that one of the strengths of the show is that the webcomic creator Kang Full is also writing the series, so it's true to the original without some of the messing around that so often ruins adaptations of brilliant things.
Ready Steady Cut isn't quite so impressed. It too notes the parallels with Heroes and says "that's promising, really. South Korean television has a habit of remaking, either obviously or more subtly, prominent western hits, and they tend to do it better". However, "the bones of the plot are as shopworn as these things get" and while as a family drama Moving is "excellent. It has real heart and complex, relatable characters with sensible arcs". The superhero stuff isn't so good: "everything beyond the low-key character beats feels just slightly tedious".
From what I've seen so far I think I'm going to go with Decider on this one. I tend to skip superhero stuff if it's just CGI supers whacking each other and destroying scenery, but I'm always keen to see shows where the superhero stuff isn't the sole focus, which is perhaps why I love the gory, over-the-top silliness and hardly hidden allegories of The Boys so much. I'm definitely going to give this one a go, and I think you should too.
You might also like
Get daily insight, inspiration and deals in your inbox
Get the hottest deals available in your inbox plus news, reviews, opinion, analysis and more from the TechRadar team.
Contributor
Writer, broadcaster, musician and kitchen gadget obsessive Carrie Marshall (Twitter) has been writing about tech since 1998, contributing sage advice and odd opinions to all kinds of magazines and websites as well as writing more than a dozen books. Her memoir, Carrie Kills A Man, is on sale now. She is the singer in Glaswegian rock band HAVR.