It's a blessing that England didn't make today's cricket World Cup final
A flickering sign that the international game is in health?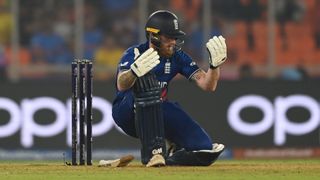 (Image credit: Getty Images / Gareth Copley)
Is sport considered primarily a business or a sport? Well, it is both, but sometimes one side of the equation is in the ascent. Right now, though, money talks louder than it ever did and this is a problem for international cricket.
International cricket has a challenge if it is to remain competitive. The resources available to the different cricket boards are vastly different.
In 2014, a big three in world cricket was created, with proposed changes to the way the global cricket governing body, the ICC, was run and how it distributed its income. Some of the proposals were rejected or watered down but, those reforms that were carried out, further separated India, Australia and England from the rest. The cricket boards of these three nations were already the richest three boards.
---
Swipe to scroll horizontally
---
The worry is that this off-field advantage leads to an on-field one, and that international cricket tournaments will become less competitive, and thus less interesting. All of the big three made it to the semifinals of World Cup 2019. That they did not all do so this time, because England stuffed it up big time, could be said to be a blessing for the cricket world in general, if not for the English cricket fan.
That New Zealand, whose cricket board has a budget smaller than that of Surrey County Cricket Club, can field a team that reached the last World Cup final and the semifinals this time around, can be a source of some comfort, then.
But perhaps it is false comfort. After all, New Zealand did not win the 2019 World Cup, and they were knocked out at the semifinal stage this time, as, indeed, they have been in seven of the nine semifinals that they've reached.
Instead, the final will be contested between two of the big three. That means that each of the ICC titles – for World Test Championship, World Cup and World T20 – will be held by one of India, Australia or England after today's game.
But even the big three has its own hierarchy. It's really a ginormous one and two quite large twos. The wealth of India's cricket board is widely reported as $231m; England's is $41m and Australia's $37.5m. Maybe in time the question which has echoed throughout this World Cup of "can anyone beat India?" will become more of a pressing, long-lasting issue.
India have most of the money and power in world cricket. India is also widely regarded as the hardest place for many foreign teams to do well due to the climate and pitches. India will be co-hosts of the next-but-one World Cup, in 2031, when they again will have home advantage added to their considerable financial one. This may work against an interesting, competitive World Cup. India are also co-hosts of the 2026 T20 World Cup. These are rather concerning signs. Can anyone else compete and does anyone care if 1.4 billion fans are satisfied and the money is flowing?
For the sake of the sport, let's hope those answers are 'yes'. Meanwhile, cricket should count its blessings where it finds them – and England not making the final may be one of them.
Those looking for how to watch the 2023 Cricket World Cup final can find all the information they need on live streams, no matter where you are in the world, in our handy article.
Get daily insight, inspiration and deals in your inbox
Get the hottest deals available in your inbox plus news, reviews, opinion, analysis and more from the TechRadar team.