On paper, the Atom CPU in the Surface 3 indicates that it's not going to match the raw power of laptops or tablets featuring Intel's Core-series chips inside, but unless your day-to-day activities are going to really tax the device there is more than enough horsepower onboard.
I managed to undertake some light image editing in Photoshop CC 2014, which took around half a minute longer to export a high-resolution image - but it still did it. YouTube streamed 1080p video in the background with two browsers open without a hitch - it's only when you get to 10 or more tabs in each browser that windows begin to freeze and the operation begins to fall apart. It's worth remembering that we were sent the version with 4GB of RAM - the entry-level model with 2GB is unlikely to stand up to use with quite the same level of smoothness.
Read more: Microsoft Surface Pro 6 - recension
Whichever version you're considering, if you're only planning on buying one tablet for your computing needs in the next four years, it may be worth holding out to see what the Surface Pro 4 brings. Microsoft's next fuller-bodied tablet is expected to use Intel's Skylake CPU, which will bring the benefits associated with each "tock" in Intel's "tick-tock" 12-18 month product cadence - the main one being that it could be a significantly faster chip compared to the Broadwell ones inside today's crop of tablets.
Benchmarks
3DMark: Cloud Gate: 2,352; Sky Diver: 1,094; Fire Strike: 288
Cinebench R15 CPU Multi core: 144cb; Single core: 37cb
Cinebench R15 GPU: 17.70fps
Cinebench 11.5 CPU: 1.74 points
Cinebench 11.5 GPU: 11.38fps;
PCMark 8 Home: 1,682 points
PC Mark 8 Battery Life: 7 hours and 55 minutes
As you might expect, the Surface 3's benchmark figures are higher than those generated by the Asus T100 Chi. In our PCMark 8 Home test, its 1.6GHz Intel Atom x7-78700 proved 32% faster than the Z3775 in the Chi while beating it by 19% in Cinebench 11.5's Multi-Core CPU test and 48% in its GPU test.
If that was something of a fair fight, things become predictably one-sided when comparing the Surface 3 to the Surface Pro 3, which saw its Core i5-4200U chip hammer the Surface 3's Atom chip in Cinebench 11.5's CPU test, producing a 196% bigger number. The Surface Pro 3 also scored higher in PCMark 8's Home test by 26%, while graphics came on top by 75% on Cinebench 11.5's GPU test.
The Surface 3's 13-watt micro USB charger stretches from to nothing fully-charged in around 2.5 hours and once juiced up can go for a long time due to the efficiency of the 1.6GHz Intel Atom x7-78700. It packs a 27Wh battery, just short of the 30Wh battery in the T100 Chi - and PCMark 8's battery tests, which simulates real-world applications and loops video, produced similar scores as a result.
The high-end Surface 3 finds itself in an unusual position. Compared to the entry-level model, you get 4GB of RAM (instead of 2GB) and 128GB of storage (compared to 64GB) for £80 (around $121, or AUS$155) more. It means you'll be able to store more data on it while enjoying slightly less slowdown when multitasking, but the benchmarks show that it's nowhere near as powerful as the Surface Pro 3 - so its capabilities are still relatively limited.
The Asus T100 Chi proved fine for everyday computing tasks, and that only had 2GB of RAM and an older Bay Trail Atom chip. As such, unless you really need more local storage and have the deep pockets to match, you would be better off picking up the entry-level Surface 3 and a 64GB microSSD online for £20 (around $31, or AUS$38) and putting the rest toward the cost of a accessories.
Gaming potential
The Surface Pro 3 was hardly a gaming powerhouse because of its integrated graphics, and the Surface 3 is a notch (or three) below. It comes with Intel HD Graphics, which aren't particularly powerful - but don't rule out light gaming altogether. After downloading Team Fortress 2 on Steam, I was able to play the game online with graphics quality dialled down and the resolution lowered to 800 x 600.
While it obviously didn't look great, it was perfectly playable at smooth frame rates of between 40FPS and 60FPS - I even managed to get my snipe on and not do terribly. Just don't try cranking up the resolution as even the base 16:9 resolution of 1,280 x 720 saw frame rates drop to a sludgy sub-30FPS. Clearly the Surface 3 is not designed for gaming, and if that's your primary concern then a laptop like the Acer Aspire S3, which offers low-end dedicated graphics, can be picked up for a similar cost.
Camera and webcam
The Surface 3 has two webcams - an 8MP rear facing camera with autofocus and a front facing 3.5MP snapper. The rear camera takes well-composed and clear shots that are full of colours, and the front-facing camera is more than adequate for Skype and other online communications. The Surface 3 isn't going to replace your smartphone as your primary snapper, but it's good to know that it's up to the task.
The Surface 3's speaker, on the other hand, is nothing to shout about. The sound comes out of the top strip along the rear of the tablet and is disappointingly lacking in mid-range and bass frequencies. Microsoft can't use speaker size as an argument in this area - the new MacBook's speakers are much smaller but much fuller-sounding.
Key-bored
If you've never been a fan of Microsoft's Type Cover keyboards in the past, you're unlikely to be swayed by the Surface 3's keyboard. It's narrower than the Surface Pro 3's, a move that was necessary to accommodate the Surface 3's smaller display, but it works in much the same manner, Other features - from its backlit keys to a handy function key that lights up when it turns on and off like a caps lock - are intact.
I've always found Surface keyboards a little too cramped and on the mushy side. Like the Retina MacBook, its keys have incredibly shallow travel that make it difficult to type on but lack the crisp action of Apple's notebook. It's all subjective, of course, and the only way to discover whether it's for you is to try one yourself. The trackpad is once again on the small size but is responsive enough with a clearly audible clicking mechanism and appropriate click zones.
Lappability
Like the Surface Pro 3's keyboard, attaching the keyboard's magnetic strip to the bottom of the display makes it sturdier on your lap, something that seems to work better on the Surface 3 due to its smaller size. I still prefer laying the keyboard flat when typing on a solid surface because it eliminates the flex you get in the middle of it when striking the keys.
For me, the keyboard is still the weakest part of the entire Surface experience - it's expensive, flimsy, suffers from flex, has mushy keys and simply isn't suitable for hammering out long documents. The fact that it's mandatory if you want a cover for your Surface (not a pouch/sleeve) is pretty annoying too.
Why not offer a magenetic protective cover without a keyboard for a very small chunk of change, and a separate dedicated Surface keyboard? Search YouTube and you'll find people using Bluetooth keyboards with their Surface Pro 3 tablets - and it's not hard to see why.
The Asus T300 Chi's keyboard isn't perfect either, but at least it gives you chiclet keys and a sturdy base for destroying those tiny ants throughout the night.
Surface Pen and OneNote
The Surface 3's Surface Pen has 256 levels of pressure sensitivity that lets you press harder on the display to make strokes of different thickness. There is a slight and noticeable lag when the pen gets into use. It's easily fast enough to jot down notes at a leisurely pace but the response isn't razor-sharp - journalism students couldn't use it to write in shorthand, for example.
That said, it works well with the pen's three-button mechanism; the purple one at the top is used for firing up OneNote, while two near the nib are used to select drawing more or erasing mode, allowing you to quickly jot, erase, correct and repeat.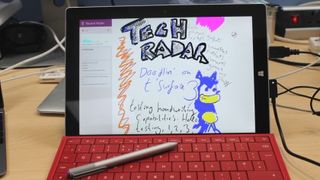 The Surface 3's palm block technology, which prevents you from drawing on the screen while holding the Surface in your hand, works well - but isn't flawless - the screen moved up or down on the odd occasion when I pressed my palm against it to write.
I found the Surface Pro 3 a little unwieldy to hold in portrait mode, but the Surface 3's smaller size and 3:2 aspect ratio make it ideal for using as a notepad. A Surface Mini would be even better for this, but the Surface 3 is one of the best devices out there for the task right now.