Pricing and bundles
This is where it gets a touch complicated. Sky, for the most part, has always been seen as a premium service. Sky Q adds yet another premium layer. This is a service that, if you buy into it completely, is for those who want the best TV experience around - an experience that will come at a price.
The good news is that it is attainable, even if you haven't got the wage of a Premier League footballer. Sky Q is a modular system and its pricing reflects this accordingly.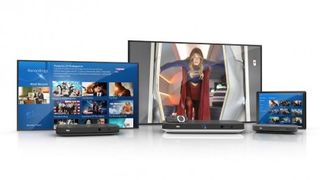 There are, however, setup costs that you need to take into consideration when thinking about Sky Q. Currently the cheapest way to get Sky Q is with a one-off £15 fee for the installation of a standard Sky Q 1TB box.
If you want a 2TB box you'll need to pay an installation fee of £199 for the 2TB box without Sky Multiscreen, or £60 with.
Sky Q Multiscreen will cost you £12 extra a month, with additional Sky Q Mini boxes costing you £99 each.
Meanwhile existing Sky+ customers will have to pay a £199 setup fee.
There are three tiers of Sky Q on a monthly basis. £20 a month gets you 270 channels, £32 a month gets you 300 channels and 4,500 episodes of kids' shows, and £38 a month gets you an additional 50 channels, and access to 350 box sets.
There are also Cinema and Sports add-ons that cost you £14.40 and £22 a month extra respectively.
We Liked
This is, without a shadow of a doubt, a box that is at the absolute cutting edge of television technology. It's brimming with bright ideas, wonderful features (some of which are actually enabled... more below) and yet brought together with a simple, clean and intuitive new user interface which is remarkably quick to fathom.
Sky has invested a lot in this system, emotionally and financially, and it shows. This is, by some margin, the best television box and experience available - knocking competitors like BT and Virgin Media for six
If you want the largest amount of broadcast 4K content around, then there's really no one else that comes close.
That means the 'liked' list is lengthy. The mini boxes and their WiFi hotspot capability is inspired, the streaming across devices and mini-boxes is more-or-less seamless, the 'side-loading' to tablet is fantastic, and everything looks clean, fresh and next-generation.
We Disliked
The lack of Netflix and Amazon Prime really does grate. The Sky Q box is inches away from being the only thing you need to plug into your TV, but most will need to keep a second streaming box to hand for these other services.
There's also no getting around the fact that it is very expensive.
Although we've seen the arrival of 4K at phone apps, the continued absence of powerline functionality means that Sky Q continues to feel like a work in progress.
The UI does have a few flaws - but it would be churlish to be too harsh about them at this stage, and we're hopeful that the Sky Q app will be enabled across a broader swathe of devices as soon as possible.
The package bundle may only be a small jump up from what people are paying now - that is if you have Movies, Sport or broadband with Sky - but the installation costs are very high. Sky will no doubt be doing deals in this area so keep an eye out.
Final verdict
If you want Sky Q, then you will have to really buy into the premise of it, otherwise you will just baulk at these prices.
To be clear: Sky Q is expensive but you are paying for the best television experience on the planet at the moment. It's slick, speedy and a fantastic mix of both on-demand, recorded and live content.
This point is further driven home by the arrival of the first non-streamed 4K television content.
Where the current Sky platform feels a little bloated with the on-demand offerings - they came after the fact, so that does make sense - Sky Q has been built with on-demand at the heart of the whole service.
The setup is sorely lacking other partners, though. For Sky to truly be the beating heart of the smart home, then it needs to collaborate with the likes of Amazon Prime and Netflix. Not having these services available from launch does hobble Sky Q. No matter how much Sky costs, there are still many who pay extra for these platforms and will want them in one place, through one box - you don't get this with Sky Q.
But these will come in time and don't ultimately detract to how good Sky Q is - it's the best TV experience you can get in the home right now, and it's almost certainly going to greatly improve in the coming year.