Acer Spin 5 (2022): Two minute review
The Acer Spin 5 (2022) has a lot going for it performance wise as a productivity-leaning 2-in-1 with its 12-core Intel Core i7 processor, 16 GB LPDDR5 RAM and 1TB SSD. The spec set-up is definitely satisfactory for classwork, numbers-crunching and even some light Adobe Suite work. Expect the fans to make some noise during light tasks but to get loud enough to drown-out the wonderfully sounding speakers during heavier loads.
What really makes the Spin 5 stand out from the best 2-in-1 laptops is its 14-inch 2.5K touch display. Having a built-in garaged stylus and Wacom AES 2.0 support makes it one of the best laptops for graphics design, especially for those who are looking to use creative software like Adobe InDesign on the go. It's definitely enough to make one appreciate the current 16:10 screen ratio over the predecessor's much loved 3:2 display.
When not doodling on the display, the keyboard/touchpad combo makes typing and cursor scrolling a comfortable experience for several hours. Add some quality DTS compatible speakers into the mix and the Spin 5 works well for watching YouTube videos or Netflix films in an isolated room.
Video conferencing is an exceptional experience thanks to the full HD webcam with temporal noise reduction and a built in mic featuring Acer PurifiedVoice noise reduction. Just be mindful that the webcam does miss several modern standards like IR and camera privacy shutter.
Even when working or consuming video content on a plane, the battery life is solid enough for a long flight adding to its portability. Considering all that's packed into the Spin 5, the total weight is roughly under 3lbs. Feeling great to hold while in both traditional laptop or tablet positions, it feels light yet durable enough for a few bumps. Meanwhile, the port layout is more than adequate.
There's a lot of value packed into the Acer Spin 5 (2022) for both business-related and school-based tasks but creatives looking to draw or create graphic assets on the fly have a new champion. The performance is more than fine, it features a gorgeous touch display, and the included stylus is best-in-class.
Acer Spin 5 (2022): Price and availability
Only one available configuration in the U.S.
Two configurations are available in the UK with quad-core CPUs
Not available in Australia yet
There's only one version of the Acer Spin 5 available stateside for $1,379. The only way to purchase it currently is either directly from Acer or from Amazon, but we expect availability to expand in the months ahead.
Potential UK buyers have a few options for their Spin 5. One is similar to the U.S. configuration except offering an Intel quad-core i7 for £1,199. The other has an Intel quad-core i5 and 512GB SSD at £999. Both are exclusively available through Acer's store.
As of now, those living in Australia aren't able to buy the Spin 5.
Acer Spin 5 (2022): Design
Some incremental changes from previous Spin 5
14 inch WQXGA display is beautiful to look at
Keyboard and touchscreen provide great feeling inputs
Acer Spin 5 (2022) Key Specs
Here is the Acer Spin 5 (2022) configuration sent to TechRadar for review:
CPU: Intel Core i7-1260P processor 12-core 2.10 GHz
Graphics: Intel Iris Xe Graphics
RAM: 16 GB LPDDR5
Screen: 14'-nch 16:10 2560 x 1600 touch display with pen support
Storage: 1TB SSD
Ports: 1 HDMI / 1 USB-C 3.2 Gen 2 / 2 USB-A / 1 USB-C / 3.5mm jack / micro-SD slot
Connectivity: IEEE 802.11 a/b/g/n/ac/ax / Bluetooth 5.2
Camera: 1920 x 1080 webcam
Weight: 2.87 lb
Size (W x D x H): 12.3 x 8.6 x 0.67 in
Aesthetically, the Acer Spin 5 (2022) doesn't look much different than the Acer Spin 5 (2020) despite some small differences. While closed, the manufacture logo is a bit smaller and sits near the top instead of the middle. Then there are other changes like moving the fingerprint scanner from the trackpad to the power button and the small display bezel giving a 88 percent screen-to-body ratio.
Also, port layout is a bit different than the Spin 5's predecessor. This time on the right lies the security lock besides the singular USB-A, micro-SD slot and stylus pen charging holder. On the other side lies the two USB-C ports, USB-A, HDMI 2.0 port and 3.5mm jack.
The general design of the Spin 5 doesn't stand out much visually. Expect the same angular looks, steel gray colorway and gold accents. More so, there isn't anything close to military grade protection so users will have to be careful when moving around with the laptop. During the review, the 2-in-1 was dropped on carpet and ran without issue.
What the Spin 5 lacks in looks, it makes up for in pure capabilities. This begins with the beautiful 14-inch 2.5K touchscreen that's a stunner to look at despite lacking features like HDR. Image quality is fantastic even with the 16:10 screen ratio especially if transitioning between tasks like general web browsing, watching video and drawing. Colors are vivid due to a wide color range and brightness is great. Comfortability in viewing the display over long periods of time is maintained thanks to the low-blue-light TUV certification.
Speakers sound fantastic though the volume level could be a tad bit stronger. When in a quiet enough room, audio quality is great. During music listening sessions, mid-range and tribbles are clear while bass can get surprisingly deep without cracking. Film audio quality sounds great as well. With DTS capabilities, there's a DTS Audio Processing app to customize the experience through pre-set options and EQ settings.
Input feels great all around thanks to the keyboard and trackpad. Keystrokes are the right amount of springy and tactile. It would have been nice to have some media controls alongside a webcam shutter button for privacy but at least there's a mic off/on switch. The touchpad is smooth and feels a bit more spacious now that the fingerprint scanner has been moved to the power button. That's also the only biometric security option as there's no IR sensor on the webcam.
Acer Spin 5 (2022): Performance
Performance is great for general computing task
Don't expect much gaming
Video conferencing is great thanks to camera and mic
Benchmarks
Here is how the Acer Spin 5 (2022) performed in our suite of benchmark tests:
Cinebench R23 Multi-core: 6,489
3DMark Time Spy: 2,004; Fire Strike: 5,414; Night Raid: 9,228
GeekBench 5: 1,760 (single-core); 10,282 (multi-core)
Battery Life (TechRadar movie test): 9:26
Acer Spin 5 (2022) performance expectations should be kept toward a minimum of general computing tasks including word processing, watching streaming video, video conferencing and the likes. Productivity apps load and run fairly smoothly thanks to the Intel i7, 16GB RAM and 1TB SSD.
During testing, it was possible to open a little over a dozen Google Chrome browser tabs open without any slowdown or crashing. Like many 2-in-1 laptops, don't expect much gaming that features high fidelity visuals. This is definitely good enough for significantly older titles that don't require newer processors and graphics cards or smaller formed indie titles.
Using the included stylus is a better experience than any other 2-in-1 that includes digital pen support. Having 4,096 pressure levels, tilt detection and 266Hz RPS allows accurate use of the included pen from basic drawing to using InDesign.
The cooling fans already provide an audible level of noise but can really kick into high gear once the Spin 5 is pushed. Like mentioned previously, it can definitely disrupt the audio coming from the speakers.
Even when lighting conditions aren't necessarily the absolute best, the full HD webcam does have temporal noise reduction that does an acceptable job. Meanwhile, mic quality is good thanks to the PurifiedVoice noise reduction technology that even helps against the loud fan noise.
Acer Spin 5 (2022): Battery life
Battery life is very respectable
Can charge to full in around an hour
The 4-Cell lithium Ion battery inside the Acer Spin 5 (2022) provides a legitimate amount of life between charges. During our standard HD video loop test, we were about to get around 9 hours and 26 minutes before it shut down. That should definitely be more than enough for a bi-coastal flight and possibly some international ones as well. Included is a 65W charger that can get the Spin 5 to full battery life in about an hour.
Should you buy an Acer Spin 5 (2022)?
Buy it if...
You want good performance for productivity and creativity
Not only does the Acer Spin 5(2022) handle general computing tasks easily, there's also enough performance power to handle creative tasks like Adobe Suite.
You need an affordable 2-in-1 for graphic design
The Wacom AES 2.0 supported stylus pen included allow some serious work to be done in graphic design software.
You require a great screen and speaker combo
Between the lovely 14inch 2.5K screen and excellent DTS compatible speakers, there's much to appreciate on the audio/visual side of things.
Don't buy it if...
You don't like loud cooling fans
When running general apps like web browsers and video conferencing software, the fans on the Acer Spin 5 (2022) get loud. Once the 2-in-1 gets under heavy load, they can get really loud.
You want a 2-in-1 with a bit of design pizzaz
Looking a lot like its older sibling with light changes, the angular formfactor with the steel gray and rose gold accents lacks excitement.
You require better privacy controls
Despite the improvements to the webcam and mic, the lack of a privacy shutter is a bit disappointing.
Also consider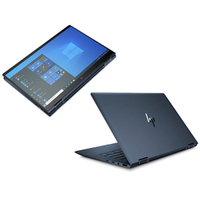 (opens in new tab)
HP Elite Dragonfly G2
The HP Elite Dragonfly G2 may not be as durable or performance heavy as the Dell Latitude 9430 but looks better, has a higher resolution screen and isn't as expensive.
Read more: HP Elite Dragonfly G2 review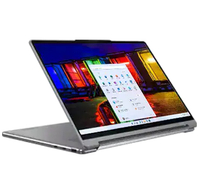 (opens in new tab)
Lenovo Yoga 9i Gen 7
The Lenovo Yoga 9i Gen 7 blends performance with one of the best aesthetically pleasing 2-in-1 designs out there without the high price.
Read More: Lenovo Yoga 9i Gen 7 review
Acer Spin 5 (2022) Report card
Swipe to scroll horizontally
| | | |
| --- | --- | --- |
| Value | Aged design build aside, this 2-in-1 really works superbly well as a traditional laptop and tablet. Having the Wacom AES 2.0 supported stylus pen with the charging holder makes this something graphic designers on the go should consider. | 5 / 5 |
| Design | The design is a bit boring to look at but offers enough refinements from previous entries. | 3.5 / 5 |
| Performance | From general tasks like web browsing to light InDesign work, apps open and run smoothly. | 4.5 / 5 |
| Battery Life | The battery lasts 9 and a half hours while charging to full takes about an hour. | 4.5 / 5 |
| Total | Row 4 - Cell 1 | 4.375 / 5 |
First reviewed October 2022
We pride ourselves on our independence and our rigorous review-testing process, offering up long-term attention to the products we review and making sure our reviews are updated and maintained - regardless of when a device was released, if you can still buy it, it's on our radar.