With Check In on iOS 17, my iPhone sends the "got home safe" text I always forget
You'll use this feature before every trip you take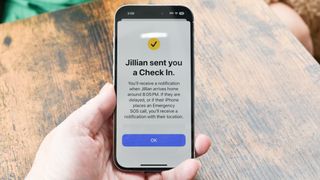 (Image credit: Future / Philip Berne)
Check In is quickly becoming my most frequently used new feature in iOS 17. This new safety feature is so obviously useful and necessary that it should be standard on every phone you buy. I activate a check in and my iPhone 14 will automatically keep someone updated with my progress. If I don't make it to a specific location, or check in after a certain amount of time, that person gets notified with detailed information that will let them help if there's an emergency.
I travel often between Washington, D.C., and New York City, with loved ones on both ends of the trip. Every time I leave, somebody asks me to send a message when I've arrived safely. I usually forget, which is rude of me. With Check In, my iPhone keeps my people updated so I don't have to remember.
I choose someone for my check in, and it sends them a message through iMessage. Check In on iOS 17 public beta only works between iMessage users right now. I'm not sure if that will change for the final launch, and I've reached out to Apple for comment, so I'll update this story if they clarify.
The special Check In message updates itself with my progress. Unlike the Share ETA feature in Apple Maps, it doesn't keep sending new messages with updates periodically. It just sits in iMessage as its own yellow bubble with my current ETA showing. If I start to run late, the time changes, but there's no annoying alert.
When I arrive at my destination, the check in message lets them know I've arrived. I can set a delay, if I want a few minutes to get settled before it lets them know.
Here's what happens when you don't check in
Of course, Check In isn't designed just to send that "got home safe" message that I always forget. It's a real safety feature, and when things go wrong, Check In can help. When I set my destination, if I stop making progress for 15 minutes, Check In will ask me if I'm okay. If I don't respond, it takes action.
The same happens if I set a time limit. Let's say I want to go out for a jog at night by myself. I can set a check in for an hour, and if I don't respond to my phone after the time is up, it will send a message to my Check In contact, just like it does when I'm traveling.
What does your phone send when you fail to check in? That depends on you. You can choose to send a limited amount of information, or you can send more details.
With the limited choice, your phone will send your current location, along with details about how much battery you have left on your phone and your current network signal strength. This could give your recipients some clue about why you aren't responding if your phone is about to power down or your network is spotty.
If you want to share more information, you can also send the complete route you took on your current trip since you started the check in. It will also send the location of the last time your iPhone was unlocked and the last time your Apple Watch was removed.
How to set up and send a Check In message
Check In can be found on iOS 17 in the Messages app. If you press the plus sign to add an attachment, then choose the "More" option at the bottom of the attachment list, you'll find the Check In feature.
If you don't see Check In, that's probably because your recipient isn't using a compatible iPhone. Unfortunately, Check In won't work with Android phones, at least not on the iOS 17 public beta. I've reached out to Apple to see if this will change, because it really should work in some fashion with anybody I choose, Apple buyer or not.
From Messages, start a conversation with the person with whom you want to check in. Tap the plus sign, and scroll down to More, then tap Check In. You will see the options for the type of Check In, the amount of information you share, and the criteria for sending an alert.
After that, there is nothing more to do. You don't need to send another message. You don't even need to manage the check in, as long as you arrive at your destination. If the iPhone needs you to check in because of a change or delay, it will let you know.
Pixel phones have had this hidden feature for a while
Of course, Android fans are free to chime in with the familiar chorus of "our phones have been doing this for years," but I'll bet most Android owners don't know about this feature. It's only available on Pixel devices, but it has been around since the Pixel 4, as part of Google's Personal Safety app.
If you have "Safety" loaded on your Pixel phone, you can set up a similar check in using Google's Safety check feature. Tap on Safety check in the Personal Safety app, and it will ask you to select contacts for your safety check. Then you can choose what information to share if you have an emergency.
Thankfully, the Google Pixel version works via text message, so it doesn't care if your safety check buddy is an iPhone owner or an Android user. As this feature becomes more popular in iOS 17, hopefully we'll see this become a part of Android for all devices, and not just Google and Apple phones.
Sign up for Black Friday email alerts!
Get the hottest deals available in your inbox plus news, reviews, opinion, analysis and more from the TechRadar team.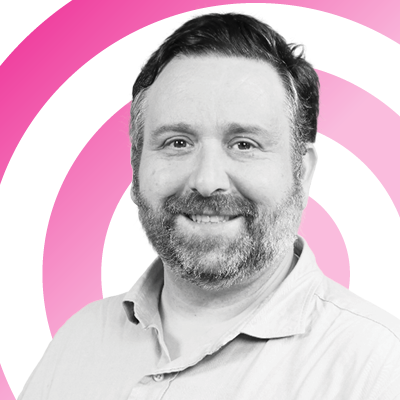 Phil Berne is a preeminent voice in consumer electronics reviews, having reviewed his first device (the Sony D-EJ01 Discman) more than 20 years ago for eTown.com. He has been writing about phones and mobile technology, since before the iPhone, for a variety of sites including PCMag, infoSync, PhoneScoop, and Slashgear. He holds an M.A. in Cultural Theory from Carnegie Mellon University.
Phil was the internal reviewer for Samsung Mobile, writing opinions and review predictions about top secret new devices months before launch. He left in 2017. He worked at an Apple Store near Boston, MA, at the height of iPod popularity. He has been a High School English teacher at Title I schools, and is a certified Lifeguard. His passion is smartphones and wearables, and he is sure that the next big thing will be phones we wear on our faces.