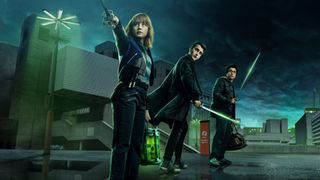 (Image credit: Netflix)
Lockwood & Co: key information
- Releasing on Netflix on Friday, January 27
- Based on Jonathan Stroud's book series
- Positioned as a supernatural detective series
- Written by Joe Cornish
- Stars Ruby Stokes, Cameron Chapman, and Ali Hadji-Heshmati
Netflix's penchant for the supernatural genre has gone far beyond mere flirtation at this point. The streaming giant has become the go-to place for mystical and otherworldly-style shows, with a number of megahits positioning it as top dog in this storytelling field.
However, for every wildly successful paranormal TV series, such as Stranger Things season 4, Wednesday, and The Sandman, there have been critical and commercial duds, including From Fate: The Winx Saga and The Imperfects. Netflix's track record with supernatural shows, then, isn't flawless.
So where does Lockwood & Co, the newest Netflix supernatural show, fall on its spectrum of successes and failures? Having streamed the whole series, I can confidently say this is one of Netflix's better eldritch-tinged TV series. Lockwood & Co's positives outweigh its negatives, and, while there are some niggling issues, they don't prevent the show from being hauntingly good fun.
The Walking Dead
Based on Jonathan Stroud's book series of the same name, Lockwood & Co's story begins 50 years after 'The Problem', an UK-based epidemic that's led ghosts to exist among the living. Their touch brings death, and only psychic-skilled children and teenagers – recruited by corporate agencies – can fight and banish them.
Among those business enterprises, one plucky startup – the titular Lockwood & Co, comprising the charismatic but mysterious Anthony Lockwood (Cameron Chapman) and socially awkward researcher George Karim (Ali Hadji-Heshmati) – battles for relevancy. When Lucy Carlyle (Ruby Stokes), a supremely gifted outsider, arrives on the scene, though, Lockwood & Co's fortunes change for the better. Well, that is until they begin to unravel a larger conspiracy about The Problem's origins, which puts them in greater peril than any specter can seemingly threaten.
From the outset, the parallels between Lockwood & Co, fan-favorite supernatural franchises, and legendary British works of fiction are striking.
With its young adult and teenage ghost-hunting trio, Lockwood & Co has the feel of UK-centric Ghostbusters: Afterlife. The group's psychic abilities, as well as their bygone-era weaponry and tools – rapiers, magnesium flares, salt, and iron chains to name four – are a far cry from Ghostbusters' more scientific approach, as well as the series' infamous proton packs and Neutrona wands. Nonetheless, Lockwood & Co's apparatus and at-times reckless decision-making get the job done (not always efficiently, mind you) as the group become embroiled in multiple terror-riddled adventures.
The nightly escapades that our heroes embark on also bear more than a passing resemblance to Doctor Who. The legendary British sci-fi series has dabbled in its fair share of paranormal investigations over the last 60 years, so similarities between the pair are to be expected. Lockwood & Co's Sherlockian vibe is abundantly apparent, too, with its flair for detective storytelling and clear nods to classic Holmes machinery – the trio's home is a shoe-in for 221b Baker Street, while Lockwood and George are practically stand-ins for Sherlock and Watson – clearly visible.
To dismiss Lockwood & Co as a clonal blend of the above, though, is to do it a disservice. It might subconsciously draw on it contemporaries' best assets, but it's the merging of these elements that gives Lockwood & Co its unique aesthetic and tonality.
Unlike Doctor Who, Lockwood & Co isn't family-friendly, enabling it to enter far spookier territory than the British TV institution. Even then, Lockwood & Co occasionally crosses its 12/PG-13 age rating threshold, branching out into near-full blown horror as Lucy, George, and Lockwood tackle numerous dangerous cases. There are a couple of moments throughout the series – most notably in episode 4 – that are deeply unsettling. As someone who can stomach most horror-imbued films and shows, I found myself tensing up and creeped out at what was playing out on the screen.
In the same way that Marvel's Moon Knight TV series (available on Disney Plus) pushed the boundaries of its 14-plus age rating, Lockwood & Co isn't averse to exploring macabre and grisly content. That's par for the course for a supernatural production. But, rather than explain away such paranormal events with sound scientific reasoning like Sherlock does, or plant itself in supernatural comedy territory like Ghostbusters, Lockwood & Co leans into its spine-chilling, eerie narratives to successful effect.
Nowhere generation
Equally, Lockwood & Co doesn't shy away from real-world sociopolitical issues, particularly concerning generational divides.
From climate change and corrupt systems, to child exploitation and the cost of living crisis, Lockwood & Co's subliminal themes will resonant with the show's various age demographics. Its thematic exploration of the mistakes that previous generations made, and how they impact younger age groups, is particularly prescient. Stroud's novels landed on digital and physical store shelves between 2014 and 2017, so they predate such problems – from a Gen Z (the age group Lucy, George, and Lockwood belong to) perspective, anyway – that continue to mar the modern world.
Thankfully, Lockwood & Co doesn't force this subject matter down viewers' throats. Such topics largely operate in the background, acting as support systems to the intricate and mysterious world, and its eclectic cast of characters, that creator Joe Cornish has adapted from Stroud's literary works.
With its thematic undercurrents being just that, Lockwood & Co has ample time to train a deserving spotlight on its leading trio. And, given their inexperience as leads in any production, Stokes, Chapman, and Hadji-Heshmati are riveting individually and collectively.
Stokes, who some viewers may recognize as Francesca Bridgerton from Netflix's hugely popular period drama series, is the undisputed star of the show. Lucy runs the full gamut of emotions through Lockwood & Co's twisting narrative, with Stokes' portrayal of a traumatized but highly-talented outcast delivering plenty of heart and likeability along the way.
Chapman, too, is on top form, which is all the more surprising when you learn that this is his first-ever acting role. Chapman brings charisma, impulsiveness, and ambiguousness in spades to Anthony Lockwood, and the natural, exuberant chemistry he particularly shares with Stokes belies their tender years. Meanwhile, Hadji-Hesmati's sardonic George provides light relief at every opportunity, though his stand-out moments come during more dramatic scenes alongside Chapman and/or Stokes.
Enthralling as Lockwood & Co is, its at-times derivative action, plot exposition, and schlocky drama drag it down a few rungs.
For one, the rivalry between Lockwood's charges and a corporate group led by Quill Kipps (Jack Bandeira) is as trivial as they come. It might be considered a necessary addition for a classic underdog tale lie this. The bland nature of the gangs' verbal and physical bouts, though, caused my attention to drift whenever a showdown was imminent.
Lockwood & Co's inability to trust its audience to follow certain story beats, too, makes for a frustrating watch. Explaining characters' motives or, even worse, revealing how to solve one of the show's multiple mysteries before I had a chance to come to my own conclusions was regularly irksome. Add in some trivial, by-the-books action sequences, especially in earlier episodes – there are a couple of exceptions, mind you – and Lockwood & Co has glaring gaps in its makeup.
My verdict
Lockwood & Co might seem like another average, young-adult supernatural series, but it's anything but. Its compelling fictional universe, labyrinthine lore (of which there's plenty more to explore), unearthly and dread-inducing atmosphere, and irrepressible cast give it numerous edges over similarly positioned genre shows.
It's unoriginal and schmaltzy in places, but there's enough here to keep viewers entertained. And, with Lockwood & Co's first eight episodes only covering the first two books in Stroud's novel series – there are five in total – there's lot more content for Netflix to mine if the show resonates with audiences. If it does, it'll take a place on our best Netflix shows list.
Ordinarily, shows of this ilk wouldn't be on my must-watch TV list, but I'm pleased it ended up on my radar. Lockwood & Co is one of those shows that can easily be overlooked in favor of something more popular, or a series aimed at a particular demographic – but trust me, this is one Netflix series that you won't want to ghost.
Lockwood & Co debuts exclusively on Netflix on Friday, January 27.
Sign up for Black Friday email alerts!
Get the hottest deals available in your inbox plus news, reviews, opinion, analysis and more from the TechRadar team.
Senior Entertainment Reporter
As TechRadar's senior entertainment reporter, Tom covers all of the latest movies, TV shows, and streaming service news that you need to know about. You'll regularly find him writing about the Marvel Cinematic Universe, Star Wars, Netflix, Prime Video, Disney Plus, and many other topics of interest.
An NCTJ-accredited journalist, Tom also writes reviews, analytical articles, opinion pieces, and interview-led features on the biggest franchises, actors, directors and other industry leaders. You may see his quotes pop up in the odd official Marvel Studios video, too, such as this Moon Knight TV spot.
Away from work, Tom can be found checking out the latest video games, immersing himself in his favorite sporting pastime of football, reading the many unread books on his shelf, staying fit at the gym, and petting every dog he comes across.

Got a scoop, interesting story, or an intriguing angle on the latest news in entertainment? Feel free to drop him a line.