TechRadar Deals: Games, TVs, TomToms, hard drives, headphones + more!
Pick up a great deal on tech before Christmas.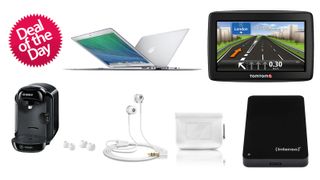 Another day, another set of hot deals on great gadgets and games!
Today we've got hot deals on hard drives, headphones, sat navs, laptops, graphics cards, console games and plenty more.
Let's start with this supreme deal on a second screen TV at eBay. The LG 22MT44 is a 22-inch full HD 1080p Freeview TV, ideal for a bedroom or a kitchen, and it's currently available for just £99.
Ooh and how about this for a good deal for PlayStation gamers? Pick up £50 worth of PlayStation Wallet credit for just £40 at Rakuten - that's free money, yo! Just use the secret code JANOFFER10 at the checkout.
January Sales: quick links
Today's Hot Deals
We always include portable storage options in our deals pages simply because they're so popular. Check out this 1TB - that's 1000GB - portable USB 3.0 superfast hard drive. Currently available at eBuyer for just £41.99.
How about this for a great deal on personal navigation? The TomTom Start 20 - we gave this thing 5 stars a few years ago - is now available for the supercheap price of £69 at Tesco Direct!
Sennheiser headphones always go down well on these deal pages, and the super popular Sennheiser CX 300 II is still just £18.99 at Amazon. They're bargainous earphones that punch well above their weight.
Looking for a new laptop? There's currently a superb deal on a Macbook Air at Amazon. The Core i5 1.4GHz, 4GB, 128GB SSD version is currently just £620 while stocks last - this deal won't be available for long. Go, go, go.
Is it coffee o'clock yet? Of course it is, and you can currently grab this BOSCH Tassimo hot drinks machine for just £35 at Currys!
MORE HOT DEALS
Sapphire R9 290 TRI-X OC 4GB GDDR5 Dual DVI HDMI DisplayPort PCI-E Graphics Card £227.00 @ Amazon
Batman: Arkham Origins XBox 360 £5.86 at Shopto
3DS Ice White + Mario Kart 7 Full Game Download 3DS £89.86 @ Shopto.net
Call of Duty: Advanced Warfare (PS4 - Xbox One) £25 delivered @ Tesco Direct
BOSCH Styline Sensor TWK86101GB Jug Kettle - White or Black £39.99 @ currys
Sennheiser HD203 DJ Headphones - Grey £19.99 @ Argos
Crock-Pot Slow Cooker - Aubergine, 3.5 Litre £19.99 @ Amazon
Gro Clock - Best deals around from £14.99 + £3.95 delivery - £18.94 @ allbabyneeds
Jamie Oliver Super Knife Set @ Argos Now £6.99 R&C
Screwfix 16Ltr Dehumidifier £99.99 (inc next day delivery)
Sistema 1.4 Litre Small Microwave Steamer £3.49 (Add-on Item) @ Amazon
DeLonghi 1.5Kw Oil Filled Radiator White now just £35
Sign up to receive daily breaking news, reviews, opinion, analysis, deals and more from the world of tech.