Three mobile is already famed for its enormous data plans - it remains the only major network to do all-you-can-eat and its 100GB can be really competitively priced - but it just got even better, by removing the old 30GB cap it used to enforce on tethering.
That means for anybody on one of those mighty plans, or anybody looking to jump on to a new mobile phone or SIM only deal at Three, you now don't have to worry about monitoring how much you use your personal 4G hotspot when in the UK. That's going to make Netflix binging, live sport watching and (yes, we know) working away from the Wi-Fi much less stressful as you approach the end of the month.
Three confirmed to us that the change was made this week. But this is a UK-only change, so doesn't apply to roaming abroad. If you're outside the country, then a still-generous 15GB tethering cap remains.
Three recently reduced the cost of its all-you-can-eat plans on many flagship phones. The iPhone 8 is a prime example, where the monthly fee fell to £42 per month (opens in new tab) for unlimited data, calls and texts.
But we still think the crowning glory of Three's range at the moment is with the network's astonishing data SIM only deal. So let us tell you more about it...
The best ever Three SIM only deal in full: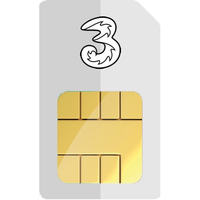 (opens in new tab)
Three SIM only: 100GB data (opens in new tab) | Unlimited calls and texts | £20pm
It's very simple...you just won't find a better SIM only deal than this - possibly ever. No network or third-part retailer gets close to matching this bumper data Three SIM only deal. You'll never have to worry about breaching your data limit again, especially now that limit on tethering has been removed too.