Best 4K TVs Buying Guide: Welcome to TechRadar's round-up of the best 4K TVs you can buy for any budget in 2018.
For years, there was a large audience of people who couldn't care less about 4K TVs. They loudly proclaimed that 1080p was the best standard around, and that while 4K seemed like a good idea, content makers would never support it.
Those people are all eating their words right now. 4K TVs are here to stay.
So why have 4K TVs taken off like they have? Well, for one, they're just as cheap as 1080p screens, and two, they look four times as awesome. (No seriously, 4K isn't just a catchy marketing term, 4K TVs are actually four times the resolution of traditional 1080p displays.)
What you need to know about 4K
Not only do these screens have four times the amount of pixels as their aged (but still-revered) 1080p brethren, but 4K screens also usually pack in screen technology like High Dynamic Range (HDR) and Wide Color Gamut (WCG) that really make those extra pixels shine in all their glory.
The last reason 4K TVs have taken off is that game consoles, like the PS4 Pro and Xbox One X, have totally embraced the 4K future, as have the Blu-ray industry and streaming video player market. Pretty much everyone is on board the 4K Ultra HD train these days.
If all of this sounds weird or archaic or tough to understand, don't worry. We're here to help decipher the wild, wonderful world of Ultra HD. Give us a few minutes of your time and we'll help you get the best 4K TV on the market.
Why can you trust us? Well, over the years, hundreds of TVs have passed through our reviewers' doorsteps. Using that wealth of experience - plus some neat side-by-side comparisons - we've created a list of the best 4K TVs.
We constantly update the list with the latest and greatest panels, so if you see things shuffled around a bit since the last time you were here, don't freak out. Embrace that times change and that these are the best TVs we've ever found.
Additional resources: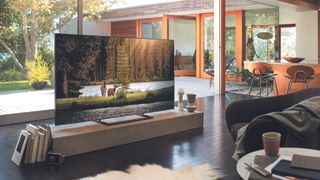 The best 4K TV of 2018: Samsung Q9FN (65Q9FN)
The best 4K TV ever made? We think so.
Spectacular HDR picture quality
Powerful, well-rounded sound
Good smart system
Limited viewing angles
After an underwhelming debut, Samsung's QLED technology really needed to bounce back in style in 2018. It didn't surprise us in the least, then, to discover Samsung threw the kitchen sink in with its new Q9FN QLED Series of TVs.
As well as being even brighter and more colorful than last year's equivalent model, Samsung's 2018 flagship screens use a completely different lighting system to combat its predecessor's contrast problems: Full Array Local Dimming rather than edge-lit LED lighting. The FALD panel works in tandem with Samsung QLED Quantum Dots to produce a picture that's brighter and more colorful than near any we've seen come from the South Korean manufacturer.
Do those features alone make Samsung Q9FN the best TV on the market? No, but throw in technology like HDR10+ and Q HDR EliteMax – what Samsung bills as its maximum High Dynamic Range experience that's exclusive to the Q9FN – and there's very little doubt in our mind that this is Samsung's best TV ever.
Read the full review: Samsung Q9FN QLED TV (65Q9FN)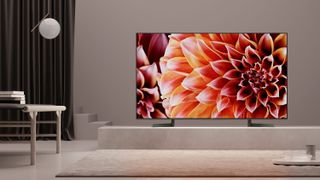 The best mid-range 4K TV: Sony Bravia X900F
This is the 4K HDR flatscreen we've all been waiting for
49-inch: Sony XBR-49X900F | 55-inch: Sony XBR-55X900F | 65-inch: Sony XBR-65X900F | 75-inch: Sony Bravia XBR-75X900F
Excellent motion handling
Great contrast
HDR isn't the brightest
Remote doesn't feel as premium
Short and sweet, the 65X900F is a brilliant mid-priced TV. Every one of the improvements Sony has introduced over and above last year's already excellent X900E series – better processing, more brightness, slightly more backlight dimming zones, improved motion performance – delivers the goods, resulting in picture quality that humbles many more expensive TVs.
Its Android TV system and some generally minor backlight clouding stop it short of perfection, but it's hard to imagine any similarly priced upcoming 65-inch rival getting the better of it.
Read the full review: Sony BRAVIA XBR-X900F
The best budget 4K TV: TCL P-Series (55P607)
TCL's 55P607 is simply the best budget 4K TV
Bright, colorful HDR
Roku TV is amazing
Upscaling isn't world-class
Poor black level performance
TV manufacturers have long sought the formula to a great performing TV at a bargain price and, speaking for the last seven years since LED LCD hit the mainstream, have never quite achieved that perfect balance. Until now.
For us, TCL's P-Series 55P607 does just that – it packs powerful technology under the hood, including support for WCG and Dolby Vision, in an affordable package that will only get cheaper once the seasonal sales start in November.
If you like your TVs bright, colorful and well-stocked with the latest display technologies, the TCL P-Series 55P607 should be at the top of your list.
Read the full review: TCL P-Series (55P607)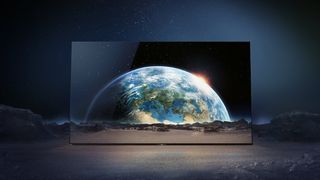 The best premium 4K TV: Sony BRAVIA A1E
Sony's brand-new flagship TV from 2017 is simply amazing
65-inch: Sony A1E OLED
Gorgeous picture quality
Innovative and excellent sound
It's not very bright
Android TV is clunky
If you have the money to bankroll them, the 55A1 – and the A1 OLED series overall – are crowd pleasers in just about every way. Their 'picture only' design has been beautifully realized, managing to be simultaneously subtle and dramatic. Their vibrating screen delivers a far more powerful and effective sound performance than I'd thought possible, too.
The real stars of the show here, though, are the A1's exquisitely detailed, contrast-rich and colorful pictures. These prove emphatically what we've long suspected: More brands using OLED technology can only lead to good things.
Read the full review: Sony A1E OLED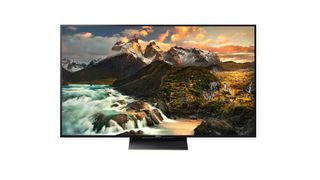 The best LCD 4K TV: Sony XBR-65Z9D
Sony's 2016 flagship TV set new standards
Brilliant SDR picture quality
Ground-breaking backlight
LOOK AT THAT PRICE TAG
Limited effective viewing angle
Look, there aren't many people out there willing to drop 5,500 on Sony's 2016 flagship TV. But those who are will be teated to some of best images this side of a high-tech movie theater. There's just nothing better in the LED-LCD world.
In fact, it might just be the holy grail of television for 2016: a TV able to combine the extreme, high dynamic range-friendly brightness of LCD technology with a 600 LED backlight arrangement capable of getting LCD closer than ever before to the stunning light control you get with OLED technology.
If all that wasn't enough, the 65Z9D also sports the 'X1 Extreme' video processing system and the latest version of Sony's reliable Triluminos wide color technology for unlocking the extended color spectrums associated with HDR sources – a must-have if you want to get the most from your movie collection.
Read the full review: Sony XBR-65Z9D
The best entry-level OLED: LG OLEDB7 Series
LG's entry level OLEDs continue to impress
55-inch: LG OLED55B7V | 65-inch: LG OLED65B7V
Excellent all-round image quality
Complete HDR support
Great smart platform
No Dolby Atmos passthrough
Mediocre onboard audio
LG's 'B' line of OLEDs has consistently offered a great entry point into the display technology without compromising on what makes it so exciting.
And the B7 series is no different.
Contained within the TVs is exactly the same panel that's powering the more expensive C7, E7 and yes even the W7 LG televisions, which means an exceptional bump over last year's OLED panels at a much lower price.
So where has LG saved the money? In a word, sound. The B7's downward firing speakers are the worst all the company's OLED TVs. Not only that, but the set is also currently unable to pass Dolby Atmos to an external sound system over HDMI (although a firmware update to fix this is on the way).
If however, you're content to put up with a standard surround sound experience, then the B7 is a fantastic entryway into a piece of TV tech that still feels futuristic in 2018.
Read the full review: LG OLED B7