Editor's note: May 2023
Now that we're deep into spring, the new TVs have arrived and are being tested, and as that happens our best of lists are being updated. The biggest update is the addition of the new LG C3 OLED, though the LG C2, which now costs considerably less than its original price, retains its top spot in our guide for now. That's because the LG C3 proved to mostly be an incremental upgrade over the C2, though it does add some useful features and smart interface improvements.
Al Griffin, Senior Editor – Home Entertainment
Our guide to the best 4K TVs caters to a wide range of budgets and preferences and features OLED, QLED, QD-OLED, and regular LED sets from premium brands, including LG, Samsung, and Sony, along with more affordable contenders, like Hisense, TCL, and Vizio. Whatever you're looking for, this selection will help you pick the perfect 4K TV.
Not all 4K TVs are created equal, so it's important to consider how the price and specs of each TV compare. We'll be walking you through everything you need to know, as well as calling out important features, like Dolby Vision and Atmos, whether the TVs have 120Hz support for PS5 and Xbox Series X/S gaming, and any other specific display technology details that are worth knowing.
While some of the models on our list are undoubtedly pricey, we've made an effort to strike a balance between premium models and more budget-oriented ones. As part of that effort, we've retained some older TVs that are still available, in some cases at a deep discount. We've also included cheaper 4K TV models from high-value brands like the Hisense U8H and TCL 6-Series, both of which offer an impressive mix of features and performance for the money.
Each of these TVs has been tested by our expert reviewers with careful attention paid to performance parameters such as peak brightness, color accuracy, screen uniformity, and motion processing. We've also evaluated the smart TV interface used for streaming, and taken them for a spin with next-gen gaming consoles, with measurements provided to gauge input lag. There's solid reasoning behind the presence of each TV on this list, so you can be confident that the set you're getting provides good value for the money.
The best 4K TV 2023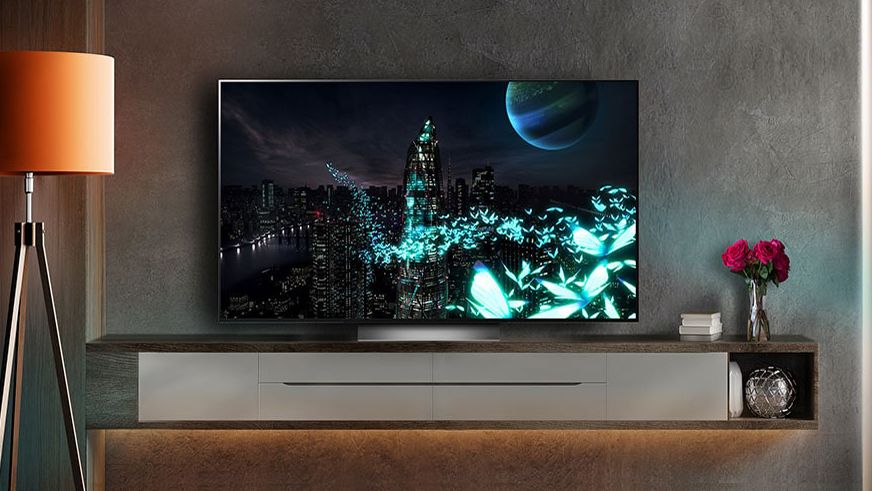 After dropping a few spots in 2021, the LG C2 OLED reclaims the top spot on our list of the best TVs in 2023. That's due to a number of improvements LG has made to this year's model compared to the LG C1 OLED.
Improvements for the C2 include the new Alpha a9 Gen 5 processor, which is designed to offer better object enhancement and dynamic tone mapping than its predecessor. As well as that, you're getting 'virtual surround sound', with the TV upscaling stereo content into 7.1.2-channel sound. While we weren't convinced by the claims of virtual surround sound, the audio performance is good for a flatscreen TV, and a number of different sound modes means you should be able to find an audio profile that suits your needs.
In addition to those improvements, the C2 OLED carries forward the four separate HDMI 2.1 ports that it inherited from the C1 OLED, meaning it's the perfect companion for the PS5, Xbox Series X and Xbox Series S.
The LG C2 isn't flawless, however. Off-axis color saturation does diminish a bit when you move to the left or right of the screen when compared to the new QD-OLED models and LG doesn't support either the IMAX Enhanced or HDR10+ format.
Read the full LG C2 OLED review
TCL's 6-Series TVs are known for their combination of impressive picture quality and high value, and the latest version of the company's flagship not just continues that tradition, but improves upon it. The new 6-Series arrived in late 2022, and it offers both movie fans and gamers on a budget a great big-screen option.
In the 6-Series, mini-LED tech enables high brightness, while a quantum dot layer enhances color reproduction and full array local dimming processing creates deep and detailed shadows. The set features Dolby Vision IQ to make high dynamic range images look good in both dim and well-lit environments, and HDR support extends to HDR10+ and HLG.
Gaming features on 6-Series TV are enabled via a pair of HDMI 2.1 inputs, with onboard support for 120Hz, Variable Refresh Rate (up to 144Hz), and Auto Low Latency Mode (ALLM). FreeSync Premium Pro is also supported, making TCL's flagship an obvious choice for gaming.
A new design with a sturdy center stand (55-, 65-, and 75-inch models only) improves the look of TCL's 6-Series, and a vanishingly thin bezel creates an "all-picture" effect. Sound quality is a bit disappointing: dialogue is clear, but there's very little bass, and a resulting thin overall audio balance. The TV's Roku smart TV interface (a version with Google TV is also available), meanwhile, is one of the less cluttered and easy to navigate options on the market.
Overall, the TCL latest 6-Series is a high-value TV lineup with a surprisingly high level of refinement.
Read the full TCL 6-Series review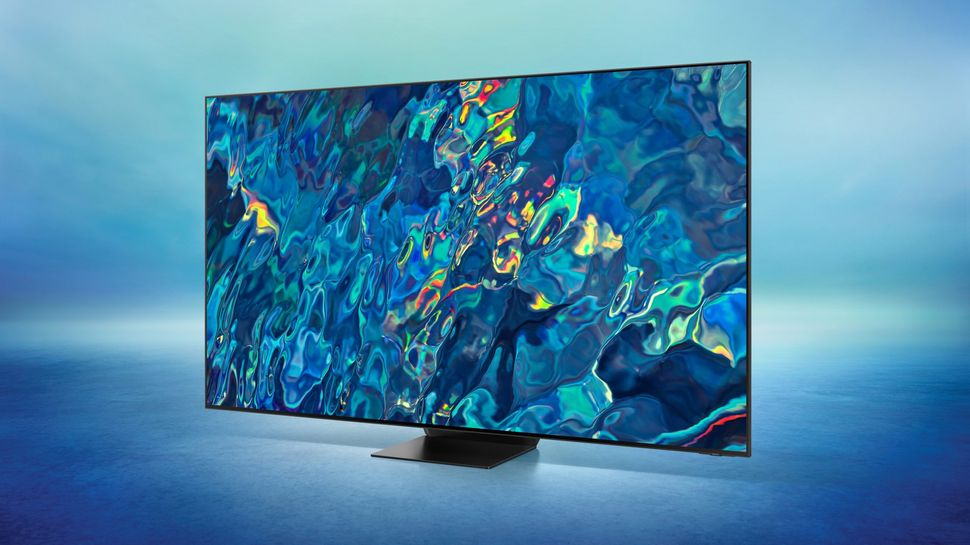 The Samsung QN95B was the company's flagship 4K TV for 2022, featuring a mini-LED backlight for dazzling HDR brightness. That backlight delivers precise local dimming and light-shaping tech so that light doesn't bleed into the darker areas. That's particularly important for movies where much of the action takes place after dark or in gloomy indoor spaces: if you struggled to see scenes in the rather murky The Batman, you won't have that problem here.
The Samsung delivers superb SDR and HDR images with deep blacks and brighter highlights, all of which are delivered without blooming or loss of shadow detail. The QN95B delivered over 2,000 nits of brightness in Filmmaker Mode in our tests, which is just astounding. Samsung's quantum dot technology delivers saturated and nuanced colours, and thanks to the Filmmaker Mode these images are also extremely accurate.
The combination of that mini-LED technology, quantum dots and Samsung's fantastic image processing is spectacular. Motion is smooth without looking artificial, 4K detail is impeccable and HD is upscaled with utter conviction. As we said in our full Samsung QN95B review, you get extreme clarity and detailing with an organic and natural feel.
The QN95A doesn't just look good. It also sounds fantastic thanks to Object Tracking Sound Plus (OTS+), which uses an array of speakers around the TV's ultra-slim chassis to deliver positional audio that appears to come from where the action is on-screen.
This is another triumph of industrial design from Samsung, with a minimalist but elegant shape, solid metal stand, and nearly bezel-less screen. The connections are all pushed out to an external box that you can hide away, which connects to the TV over a single small cable. It's not just one of the best 4K TVs – it's one of the best-looking too. And there's a brand new version, the QN95C, just around the corner so you can expect to see some decent discounts very soon.
Read the full Samsung QN95B review
After years of rubbishing OLED, here's Samsung with an OLED TV. But it's no ordinary OLED. It's a quantum dot OLED with an incredible specification. As we said in our review, "we're looking a TV that has had the kitchen sink thrown at it, with Samsung's latest AI-inspired picture processor, a massively comprehensive and re-designed Tizen-based smart system, the latest gaming features, and even, despite the ultra-slim design, a clever object tracking sound audio system".
The QD-OLED panel delivers exceptionally bright and colourful images and comes with Samsung's Neural Quantum Processor, which draws on multiple neural networks to constantly optimise what you see on screen. It's great for upscaling HD content to 4K, and it means class-leading HDR performance too. On the subject of which, as this is a Samsung there's support for all the key HDR standards except for Dolby Vision.
The Tizen software here is decent enough but we feel Samsung has taken a step backwards with its menu design this year: the home page feels a little overwhelming, the navigation is sometimes downright odd and the menus run sluggishly when you first turn the TV on. But these irritants aside, the Samsung is a tremendous OLED display that's incredibly bright, incredibly detailed and incredible fun.
This is another Samsung that's about to be succeeded, this time by the S95C, and once again you should expect some decent discounts on this set when the new one starts shipping.
Read the full Samsung S95B review
The Sony X90K is be a good shout for those with a large enough budget who aren't bothered about a high-end OLED screen.
As Sony's next-to-flagship LCD TV, the X90K series delivers impressive performance for the price. Its full-array LED backlight features local dimming for deep blacks, and its LCD panel has quantum dots for enhanced brightness and color.
It sounds good too. The X90K's Acoustic Multi-Audio feature uses separate tweeters located on the top left and right sides of the TV to deliver above-average sound quality, with consistently clear dialogue and even spatial effects with Dolby Atmos soundtracks. You can get much better audio quality by using a separate soundbar system, but until you make that buying decision, the X90K's built-in speakers will tide you over.
The X90K's excellent suite of gaming features ranks it up there with the best 120 Hz 4K TVs. Aside from 4K/120Hz video support (available only on two of the set's four HDMI inputs) it has both variable refresh rate (VRR) and auto low latency mode (ALLM). Input lag as measured by our 4K test meter was 13.8ms, a very good result.
It's not the brightest TV you can buy – you'll need to step up to a mini-LED model for that – and some blooming and uniformity issues make it a lesser choice compared to OLED TVs, but the X90K's video and audio quality, Google TV interface, ATSC 3.0 tuner, and extensive gaming features including 4K 120Hz support make it great value.
Read the full Sony X90K 4K TV review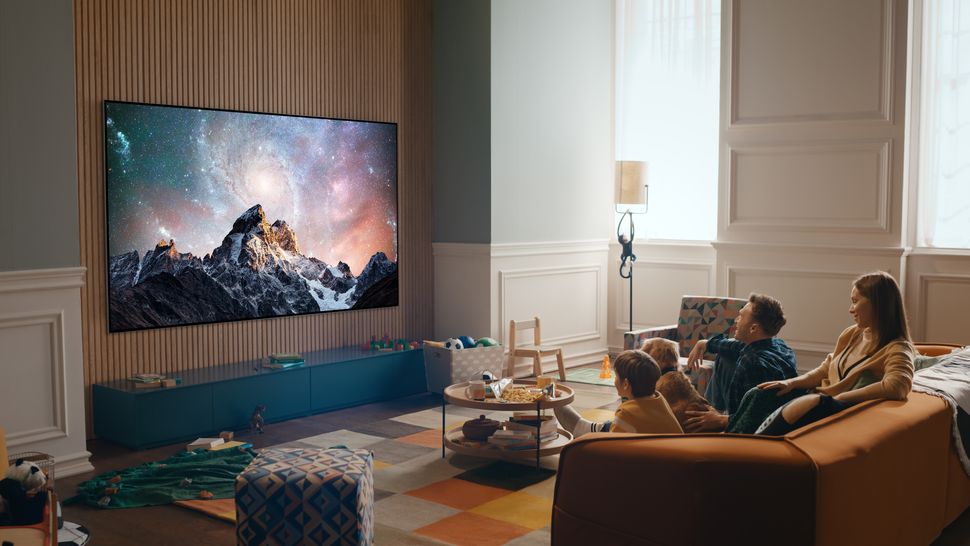 If price isn't a concern for you and you simply want the best TV you can buy at any price point – well, then you want the LG G2 OLED. The OLED65G2 uses its extra brightness to make pretty much every frame of any source you care to mention look even more sublime than it has on any LG OLED before.
Although the G2 OLED shares the same 'Gallery' design name as its GX and G1 predecessors, it actually looks completely different: gone is the dark frame and chamfered edges, in is a nifty two-layer effect where a thin black rear 'slab' sits proud of and slightly narrower than a chunkier front tier housing the screen that's encased in a very fetching and opulent-looking silver metal coat.
The quality of the G2 OLED's connections is beyond reproach. In particular, all four of its HDMI ports are capable of handling the maximum 48Gbps of data supported by the HDMI 2.1 standard. This means that hardcore video gamers could simultaneously attach an Xbox Series X, PS5 and cutting-edge PC graphics rig to enjoy full-fat 4K at 120Hz, variable refresh rates and automatic low latency mode switching from all of them. That, plus you'll still have one HDMI left for adding a 4K Blu-ray player or streaming box.
To anyone familiar with LG's OLED TVs over the years, the impact made by the extra brightness the heat sink unlocks is instantly obvious: the extra brightness gives colors more volume and punch, regardless of whether you're talking about a very vibrant, rich tone, or a subtle, mild one.
The end result is an OLED TV so supreme that it just barely misses the mark of our number one spot – only because its price puts it a bit far out of reach for the average TV watcher. Cinephiles, however, should certainly invest.
Read the full LG G2 OLED TV review
LG's C3 OLED is the company's follow-up to the C2, our top pick TV of 2022. The new model is every bit as impressive as its predecessor, and then some, with a new Alpha9 Gen6 chip used for picture processing that brings new HDR-improving features including OLED Dynamic Tone Mapping Pro and Expression Enhancer, both of which have an impact on image quality.
The C3's extensive feature set makes it a great choice for gamers and movie fans alike. It has four HDMI 2.1 inputs with support for 4K 120Hz, VRR, ALLM, along with FreeSync Premium Pro and Nvidia G-Sync. Cloud gaming options include Nvidia GeForce Now and Utomik.
The webOS 23 smart TV interface used in the C3 is also a step above the version found in last year's LG models. It has a more streamlined and pleasing appearance, as well as new features like Quick Cards for grouping apps by theme and an editable Quick Menu for accessing picture, sound, and other adjustments.
It may not be a dramatic advancement over last year's C2, but LG has delivered another winner with the C3 OLED.
Read the full LG C3 OLED TV review
Sony's A80K lies in the middle of the company's OLED TV line at the time of writing. Even so, the performance delivered by the 65-inch A80K set we tested proved it to be a great all-around offering for the price, and one that provides some competition to LG's similarly priced C2 OLED TVs.
Overall picture brightness is satisfactory, if a bit below what you'll get from the very best OLED TVs, such as the LG G2 and also the LG C2 series. Still, Sony's mid-tier OLED manages to look great even in well-lit rooms, and it stuns in ones that are dimmed for best-quality movie viewing.
The A80K has a sleek, attractive design and a useful multi-position stand. For a set this slim, audio performance is impressive thanks to Sony's Acoustic Surface Audio+, a feature that vibrates the screen itself to make sound, helped by two bottom-mounted subwoofers.
Gamers will find much to like about the A80K, which provides two HDMI 2.1 inputs that support 4K 120Hz video, variable refresh rate (VRR), and auto low latency mode (ALLM). Rounding out the Sony's excellent and highly competitive feature package is a built-in ATSC 3.0 tuner, making the A80K primed to receive next-gen digital TV broadcasts in the US.
Read the full Sony A90K OLED TV review
The U8H series' chief claim to fame is its mini-LED backlight, a feature first implemented in LCD TVs by rival TCL that was quickly adopted by Samsung, LG, and Sony in their own sets. A major benefit to mini-LED is high brightness – something the U8H series readily delivers.
But high brightness isn't the only thing about the U8H that impresses. It uses a Quantum Dot filter for enhanced color, and the 504 local dimming zones on the 65-inch model deliver deep and detailed blacks. Some backlight blooming – a typical artifact with LED-backlit TVs that feature local dimming – can be seen with challenging material, but that's the exception rather than the norm.
With support for Dolby Vision, HDR10+, and HLG, the U8H series is ready for any HDR format you stream or feed to it, and it also has a Filmmaker mode that provides mostly accurate out-of-box color. Another impressive aspect of the U8H is its extensive support for next-gen gaming consoles: along with 120 Hz display, it offers Variable Refresh Rate (VRR), Auto Low Latency Mode (ALLM), and FreeSync Premium Pro.
There's a lot to say about U8H series, but the key takeaway is that Hisense provides great value here.
Read the full Hisense 65U8H review
The LG B2 series is the company's step-up OLED offering from its entry level A2 OLED TVs. It provides the same basic picture quality as the A2 series, but does it one better by offering a comprehensive set of gaming-related HDMI 2.1 features such as 120Hz, Variable Refresh Rate (VRR), auto low latency mode (ALLM), and more.
Like the LG A2, LG's B2 series TVs have limited peak brightness, making them a better option for rooms where you can carefully control lighting conditions. Otherwise, they deliver the same deep, detailed shadows, punchy HDR highlights, and excellent image uniformity you can expect from the best OLED TVs, even the pricier models. Color rendition is also a B2 series strong point, though you will need to spend time making adjustments to get it to look its best.
There's no question that the B2 series is a great value, especially if you're interested in using it for gaming with a PlayStation 5 or Xbox Series X console. If not, the A2 series will a more sensible option if you're simply looking for a good, cheap OLED for watching movies.
Read the full LG B2 review
THE BEST 4K TVs 2023: FAQ
What is 4K?
4K is, essentially, an ultra-high-definition screen resolution. Also called UHD or 4K UHD, the display technology has become the default screen resolution across all of the TVs that you're likely to see in stores today – as well as many PC monitors, too.
The very best UHD TVs pack over eight million pixels in their high-res displays – that's four times the amount you'll find on the Full HD panels in today's small TVs.
You don't necessarily need access to 4K entertainment content to enjoy the benefits of 4K resolution, either, since many of the best 4K TVs (and most of those on this list) boast impressive upscaling technologies that enhance content filmed in HD.
The other reason 4K TVs have taken off in recent years is the 4K support offered by games consoles like the PS4 Pro, Xbox One X, PS5 and Xbox Series X, as well as 4K Blu-ray players and streaming devices.
Should I buy a 4K TV in 2023?
The short answer: yes! As much as 8K TVs are beginning to carve out a space in the home display market, they're still not widely available – most brands only offer a handful of 8K models – and, of course, they're much, much more expensive.
What's more, 4K TVs are more affordable than they've ever been with plenty of TV deals available. The advent of 8K technology and ever-increasing TV screen sizes means some of the best regular-sized 4K TVs are no longer the inaccessible, wallet-hungry products they once were.
Sure, some (like the Sony A90J OLED) still demand the big bucks, but there's such a great range of 4K displays nowadays that you'd be hard pressed not to find a 4K TV within your budget that can deliver an amazing viewing experience.
What types of 4K TV are there?
There are plenty of different screen types out there, all working in different ways to produce the same results. Each technology has its own unique strengths and weaknesses, so here are some basics to consider when looking for the right 4K TV for your needs:
LED TV: Direct LED
These displays are backlit by an array of LEDs (light emitting diodes) directly behind the screen. This enables localised dimming – meaning immediately adjacent areas of brightness and darkness can be displayed more effectively – and greatly improves contrast. LED TVs are also more power efficient and capable of a wider colour gamut than CCFL sets. Because of the extreme cost of mounting these arrays of LEDs, cheaper TVs usually use Edge-Lit LED screens over Direct or Full-Array LED screens.
LED TV: Edge LED
With these TVs, LEDs of the backlight are mounted along the edges of the panel. This arrangement enables radically slender displays and offers superior contrast levels to CCFL, but can't achieve the same picture quality as directly lit LED sets. However, they do come in far cheaper which is why most LED TVs out there now use this technology.
OLED TV
The backlighting on OLED (organic light emitting diode) sets is achieved by passing an electric current through an emissive, electroluminescent film. This technique produces far better colours and higher contrast and also enables screens to be extremely thin and flexible. This is the holy grail display technology and LG, Sony, Philips and Panasonic have all adopted it in their flagship sets.
Quantum Dot
Quantum Dot is Samsung's big play in the LED TV space. With it, the brand claims that it's able to produce more colorful pictures than LG and Sony while offering even brighter panels. LG's Super UHD TVs all use a variation of Quantum Dot called Nano Cell, and Hisense makes a number of Quantum Dot TVs for the US and China.
Today's best 4K TV deals