If you're ready to ditch your 1080p set for a 4K TV, you've come to the right place. Over the last 12 months, we've been hard at work evaluating which TVs are worth the money and which ones ... well, are better left on the shelf.
To narrow down a year's worth of high-caliber screens to just eight is a tough job – and has meant that a lot of really good screens didn't make the cut. If you recently bought something in the 40-inch TV range that was great and you don't see it on this list, it doesn't mean we've intentionally snubbed it. Unfortunately best-of lists are tiny and we can only squeeze so many screens on here.
That said, the list you'll find below is what we believe to be the best 4K TVs on the market – from Samsung's outstandingly bright QLEDs to LG and Sony's beautifully dark OLEDs, these are the TVs that can move you to tears.
Of course, you might have reservations of whether now is the right time to pickup a 4K TV. Broadcasters still haven't adopted 4K as a standard and you might've heard somewhere that 4K Blu-rays sometimes contain upscaled 2K content. All of this might lead you to believe that 4K is still just a pipe dream.
It's absolutely not.
4K content from the likes of Netflix and Amazon has become the new norm and the very latest add-ons to UHD, including High Dynamic Range and Wide Color Gamut, promise to take all those pixels and make them really shine.
4K might not have had the best start, but these days it's 4K or the highway.
What's so great about 4K TVs?
Not only do 4K UHD screens have four times the amount of pixels as their 1080p predecessors, these 4K TVs also usually pack in screen technology like High Dynamic Range (HDR) and Wide Color Gamut (WCG) that really make the most of those extra pixels.
The other reason 4K TVs have taken off is that game consoles, like the PS4 Pro and Xbox One X, have totally embraced the 4K future, as have the Blu-ray industry and streaming video player market. Pretty much everyone is on board the 4K Ultra HD train these days, so what better time to get a set?
If all of this sounds weird or archaic or tough to understand, don't worry. We're here to help decipher the wild, wonderful world of Ultra HD. Give us a few minutes of your time and we'll help you take home the best 4K TV on the market.
What is 4K? Watch the video below to find out:
What are the best 4K TVs in 2018?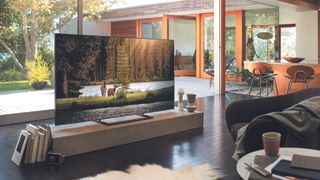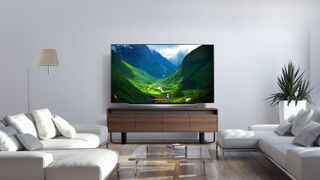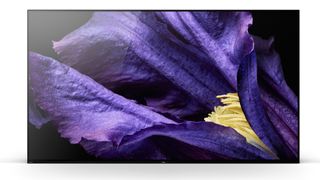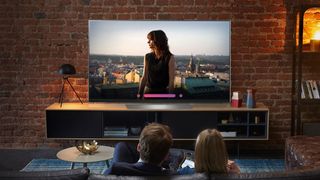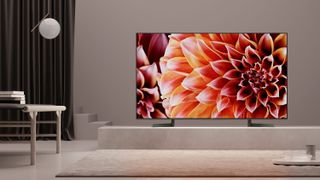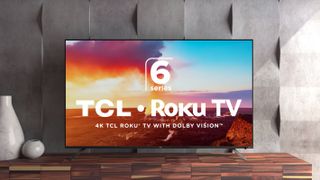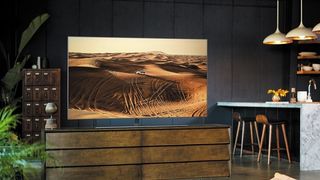 7. Samsung Q7FN QLED TV
The best 4K TV for overly bright rooms
Startling color accuracy
Great for daytime viewing
Edge-Lit VA panel
Limited viewing angles
While Samsung's Q7FN isn't quite the pinnacle of 4K QLED technology – that honor is reserved for the Q9FN – it is a great compromise between price and performance, offering a bright screen, three forms of HDR and incredibly accurate colors for $1,799 (£1,999, AU$3,699).
Ambient Mode adds a design aesthetic sure to please even the keenest of eyes and its low-latency game mode makes it a competent companion for the Xbox One X and PS4 Pro. HDR+ mode helps liven up HD/SDR content and of course 4K/HDR content has an eye-watering sheen when viewed on this set. While the Q7FN isn't quite a home run, it's still a solid swing at the mid-range for 4K UHD TVs.
Read the full review: Samsung Q7FN QLED TV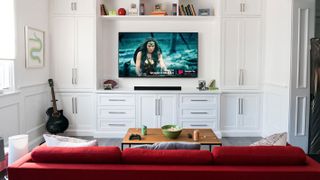 8. Vizio P-Series (2018)
Vizio's new P-Series puts Samsung's QLED screens to the test
Beautiful color reproduction
Stellar 4K HDR picture
Solid HD upscaling
SmartCast OS is slow
Vizio's 2018 P-Series is a great choice if you're after a TV that performs at an above-average level with great pricing. It has a number of top-shelf features with good black levels, but has its share of problems, too, like some audio reproduction issues and a slower operating platform.
Thankfully, there's nothing to complain about with the TV's 4K HDR performance. In fact, considering how much work it takes for other screens to come close to natural colors, the P-Series is supremely good right out of the box.
Read the full review: Vizio P-Series 2018