Should I buy a Hisense TV? A look at the budget smart TV brand
News
Contributions from
last updated
Hisense TVs: how do they stack up against the competition?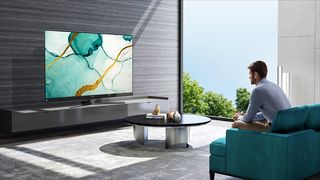 (Image credit: hisense)
The latest Hisense TVs demonstrate how far the company has come as a TV brand in just a few short years. Hisense now claims to be the number two TV maker in the world in terms of units shipped, which would put it ahead of key budget competitors such as TCL, Vizio, and Amazon.
Not only do some of Hisense's affordable sets rank among the best 4K TVs, but the company has also successfully expanded into the projector market, with certain models in its Laser TV lineup, such as the PX1 Pro, counting among the best 4K projectors.
As a TV brand with broad market coverage, the company offers an impressive range of models, with everything from premium 8K and OLED sets (both not available in the US) to ultra-affordable basic LED ones with 4K or regular HD resolution screens. The bulk of its offerings are at the budget end of the Smart TV spectrum, however, with the Google, Roku, Android, and Fire TV platforms all represented.
Given this budget focus, Hisense is a name you'll regularly come across when shopping for an inexpensive TV, especially one with screen smaller than 55 inches. But you'll also find plenty of feature-packed options in the company's TV lineup, including models with quantum dots and even mini-LED backlights.
We're going to cover the more premium Hisense options here, since they're the ones with performance-related features that we believe readers will be most interested in. If you're keen on just finding a good cheap TV, check out our guide to the best TVs under $500, which happens to be topped by a Hisense 4K model.
Should I buy a Hisense TV?
The best Hisense TVs are proving to be serious competitors, and not just among budget TV brands, but among TVs in general. In our U8H series review, for example, we found it had a measured peak brightness closely matching what we normally see in models priced twice as much, and its other performance-related features were similarly impressive.
That's not to say all Hisense TVs will look as good as the U8H series, which are the company's current flagship TVs in the US, but it's a good indication that the company takes performance seriously. (Specs for the UK U8H model, which has significantly fewer backlight local dimming zones and uses an IPS LCD panel with poorer contrast, are different than those for the US one, however.)
So, despite the brand's budget prices, you should be in no doubt that Hisense is a major player with a solid presence in the competitive television market.
Which Hisense TVs are best?
The top Hisense TVs in the US for 2022 are the U8H, U7H, and U6H series sets. These all feature quantum dots for enhanced color and brightness, plus a full array LED backlight with local dimming. As noted above, the U8H series additionally features a mini-LED backlight. Other notable features include 4K 120Hz display on the U8H and U7H series TVs, along with an ATSC 3.0 tuner for receiving next-gen digital TV broadcasts in the US. All models support Dolby Vision and HDR10+ high dynamic range.
Another top Hisense TV in the US is the U9DG series, which uses a unique dual-layer LED backlight for enhanced contrast, with a claimed 2,000,000+ local dimming zones.
U8H series: 55, 65, 75 inches
U7H series: 55, 65, 75, 85 inches
U6H series: 50, 55, 65, 75 inches
U9DG series: 75 inches
The top Hisense TVs in the UK for 2022 are the U8HQ and U7HQ series. These have similar specs as the US models, but use different LCD panel tech and have fewer local dimming zones.
U8H series: 55, 65, 75 inches
U7H series: 55, 65 inches
Just below the options mentioned above are the company's mid-range A7H and A6H series sets. These are regular 4K TVs that lack fancy performance-oriented features like quantum dots, a full array local dimming backlight, and 120Hz support. If you're looking for a decent cheap TV with a Google TV interface and Dolby Vision, and one available in a wide range of screen sizes, however, these are the Hisense models to check out.
A7H series: 85 inches
A6H series: 43, 50, 55, 65, 70, 75 inches
Hisense smart TV reviews
What did TechRadar make of Hisense's latest TVs?
We've reviewed Hisense models of all sizes and price ranges – and you can check out our full thoughts with the links below:
US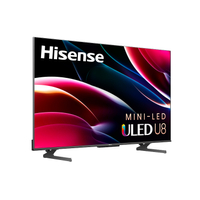 Hisense U8H Series TV review: This flagship model is the first Hisense TV with a mini-LED backlight, a feature that delivers high brightness along with rich color courtesy of quantum dots. It's also a fine match for next-gen gaming consoles, with 120Hz display, VRR, and ALLM all on tap.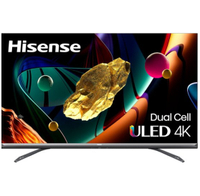 Hisense U9DG Series TV review: The brand's 2021 flagship model delivers brightness in spades and exceptional contrast thanks to its Dual Cell design. However, Issues with motion processing and color oversaturation were apparent in our tests.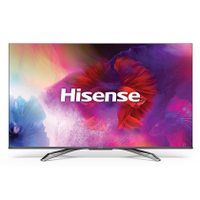 Hisense H9G Quantum Series TV review: This successor to the H8G offers an excellent 4K HDR picture, a solid OS, and a good selection of ports. Audio isn't great, but otherwise this is a high-performing TV available at a surprisingly mid-range price.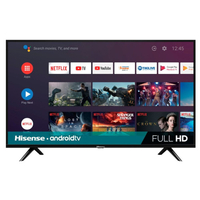 Hisense H8G Quantum Series TV review: The Hisense H8G Quantum Series does so much at a price that will make you wonder why you'd even consider "premium" televisions. Overall this is an affordable, high-quality television and we highly recommend it.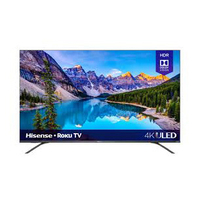 Hisense R8F 4K ULED TV review: Hisense adds its proprietary ULED technology to a Roku TV, offering boosted brightness, contrast, color and motion handling. The only downside is that the bass response isn't all that powerful, and might mean you need to invest in a soundbar.
UK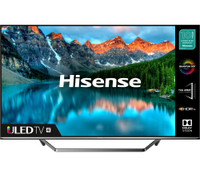 Hisense U7QF ULED TV review: The U7QF makes a great case as a mid-price LCD with exceptional brightness control, decent HDR, and a sleek TV stand solution. Notable motion problems are mainly what holds it back from greatness.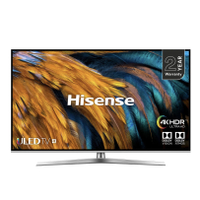 Hisense U7B ULED TV review: While the Hisense H55U7B ultimately comes up a bit short on the picture quality, mostly due to some backlight and motion problems, it's ambitious and feature-rich enough to still add up to a potentially tempting package.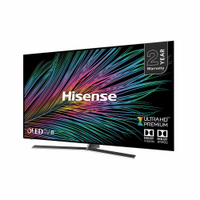 Hisense O8B OLED TV review: The cheapest OLED TV on the market inevitably comes with some compromises. At £1,399 for the 55-inch UK model, was it worth the trade off?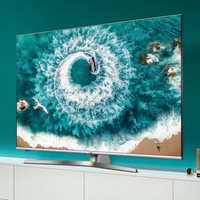 Hisense U8B ULED TV review: One for the UK only, but this high-spec TV comes in at only £999 for a 65-inch model, offering a big-impact screen at a pretty low price.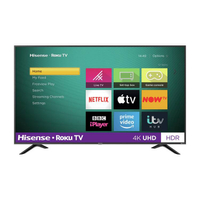 Hisense Roku TV (R50B7120UK) review: The Hisense Roku TV is a brilliant introduction of the Hisense-Roku collaboration for the UK. With a strong and vivid picture, great HDR for the price, and the Roku smart platform to sweeten the deal, this is undoubtedly one of the best televisions under £500 you can get right now.
AU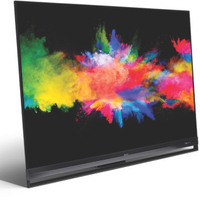 Hisense 65SX Dual Cell TV review: Hisense's Dual Cell technology offers the best contrast levels of any LED/LCD television we've seen to date, achieving blacks approaching that of an OLED without sacrificing brightness. That said, the 65SX suffers somewhat from image processing issues.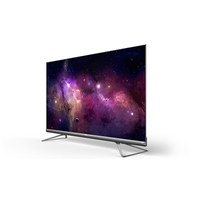 Hisense U80G ULED 8K TV review: Leaving behind the image processing issues of previous TV models, Hisense knocks it out of the park with its first 8K television, achieving brilliant visuals and delivering the high-end features expected from flagship TV.
Sign up to receive daily breaking news, reviews, opinion, analysis, deals and more from the world of tech.
Henry is a freelance technology journalist, and former News & Features Editor for TechRadar, where he specialized in home entertainment gadgets such as TVs, projectors, soundbars, and smart speakers. Other bylines include Edge, T3, iMore, GamesRadar, NBC News, Healthline, and The Times.