Fuji X-Pro1 firmware upgrade improves autofocus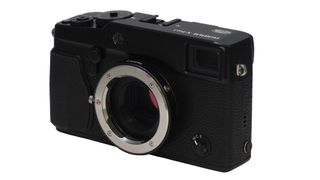 Fuji has issued a firmware upgrade which improves the performance of the X-Pro1's autofocusing speed and distance.
One of the most highly praised cameras of the past year, the Fuji X-Pro1's biggest criticism was the speed of autofocusing. Fuji, which has been very keen to correct this issue, has now issued a new firmware upgrade that boosts the speed to 0.1 seconds when using the new 18-55mm f/2.8 lens.
According to the company, focusing in challenging lighting conditions, where light is either low or very bright, will now be much faster. Focusing distance has also been improved, enabling you to get closer to the subject and capture a great shot without having to switch to macro mode.
Along with autofocus performance, Fuji has made improvements to manual focusing. The speed of the image coming into focus when turning the focus ring has been vastly improved.
When adjusting the focus ring using the electronic viewfinder or the LCD panel on the back of the camera, it is now much easier to focus, always displaying the image closer to full aperture with minimum depth of field.
The focus check feature, which magnifies the image to be captured by 10x, has also been tweaked to now include an additional 3x magnification option. It's now also possible to find the optimum focus point while viewing the entire screen.
Speedy
Writing and processing speeds have also been improved, with the maximum speed now twice as fast for writing to memory cards. Image playback is also faster, occurring less than one second after pressing the image playback button.
Previously, for example when using continuous shooting, you had to wait until the images had been processed before it was shown on the screen.
The final improvement in performance comes with the addition of a new Auto (6400) to the ISO setting.
Compatibility with the new 18-55mm f/2.8 lens also forms part of the update.
This version of the firmware is already pre-installed on the new Fuji X-E1 compact system camera, which was also announced today.
Users will be available to download the updated firmware from September 18.
Sign up to receive daily breaking news, reviews, opinion, analysis, deals and more from the world of tech.
Amy has been writing about cameras, photography and associated tech since 2009. Amy was once part of the photography testing team for Future Publishing working across TechRadar, Digital Camera, PhotoPlus, N Photo and Photography Week. For her photography, she has won awards and has been exhibited. She often partakes in unusual projects - including one intense year where she used a different camera every single day. Amy is currently the Features Editor at Amateur Photographer magazine, and in her increasingly little spare time works across a number of high-profile publications including Wired, Stuff, Digital Camera World, Expert Reviews, and just a little off-tangent, PetsRadar.