Sprint may help BlackBerry move backwards up the alphabet with A10
A10 said to arrive by holiday time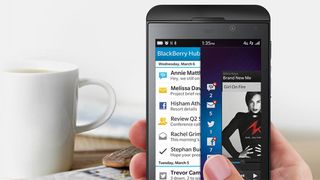 BlackBerry's year has been a roller coaster, thanks largely to efforts to re-establish itself as a contender in the smartphone market.
The touchscreen Z10 launched earlier this year, with more than 1 million units sold through the first quarter, though some of those sales numbers were likely marred by the news the Z10 was also being returned at an alarming rate.
The QWERTY-enabled Q10 is readying for its launch in the U.S., which the Canadian company believes will be a big hit with those already entrenched in the BlackBerry style.
But BlackBerry's plans for a comeback apparently don't end there though, as a new report indicates the company already has a Z10 successor in the works, one slated to arrive by the end of 2013.
Z to A
According to CNET, BlackBerry has its sights set on Apple and Samsung with an all-new A10 touch screen smartphone.
The BlackBerry A10 will reportedly take the Z10's place as the company flagship, with the Z10 dropping to a mid-tier offering at retail alongside the Q10, with the Q5 on the lower end of the spectrum.
Few details about what the A10's features have surfaced to this point, but BlackBerry apparently already has one U.S. carrier waiting in the wings to push the new phone in Sprint.
Sprint hasn't to this point carried Z10, which was a decision that reportedly came about after the cellular company was made aware of BlackBerry's plans for the A10.
The BlackBerry A10 almost made an appearance at BlackBerry Live last month, but BB didn't want to take any attention away from the Q10's imminent launch.
Just what BlackBerry thinks will help set the A10 apart from the Galaxy S4, iPhone 5S, or even the HTC One remains to be seen, but the phone will have the odds stacked against it almost from the start when it purportedly arrives in November.
We've reached out to BlackBerry and Sprint for more on the possible future partnership, but aren't expecting either company to "shift focus away" from the upcoming Q10.
Sign up to receive daily breaking news, reviews, opinion, analysis, deals and more from the world of tech.