Kindle Fire HD 8.9 price drop in US undercuts iPad
The Wi-Fi and 4G LTE models gets the Amazon discount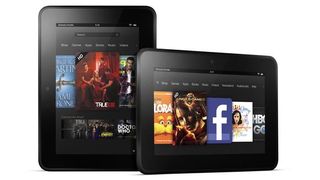 A Kindle Fire HD 8.9-inch price drop went into effect on Amazon this week for the both Wi-Fi and 4G LTE models of the popular tablet.
At $399, the Kindle Fire HD 8.9-inch 4G LTE model with 32GB of storage received the biggest discount, $100 off of the original $499 price.
An even better entry-level price is now being sported by the Kindle Fire HD 8.9-inch WiFi models. The 32GB is $299, while the 16GB starts at just $269.
This week's new prices for the Kindle Fire HD WiFi models, Amazon's first such discount in 2013, is $100 off the original cost.
Kindle Fire HD 8.9 tablet launches in Europe, Japan
In addition to making its largest-screen Kindle Fire HD models more cost-effective for U.S. consumers, Amazon launched the 8.9-inch Kindle Fire HD model in Europe and Japan.
Specifically, the Kindle Fire HD 8.9-inch tablet is now on sale in the UK for £299 (USD $342) and in Germany, France, Italy, and Spain for €269 (USD $349).
In Japan, the Kindle Fire HD 8.9-inch is cheapest of all, selling for ¥24,800 (USD $258).
Kindle Fire HD vs the iPad
Amazon is setting an attractive price for the Android-based Kindle Fire HD 8.9-inch in its challenge against Apple and that company's full-sized iPad.
Android phones have been able to capture 75 percent of the smartphone market worldwide, but tablets running Google's mobile operating system have yet to catch up.
However, with the larger iPad 4 with Retina display starting (starting) at $499, Amazon is certainly making the Kindle Fire HD vs iPad debate more interesting.
Apple may make the next move, though, as an iPad 5 and iPad mini 2 said to have a Retina display are rumored to be the Cupertino company's next big announcement.
Sign up to receive daily breaking news, reviews, opinion, analysis, deals and more from the world of tech.