If you want the best Olympics viewing experience, stream the Summer Games
Opinion: Sick of NBC's Olympics TV coverage? Watch online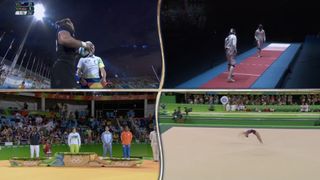 Streaming is coming on strong during the 2016 Summer Olympics, and for many people - myself included - it's a welcome relief from NBC's archaic TV coverage.
Between the network's roundly criticized primetime tape delay, non-sports fluff, blundering announcers and incessant commercials, I sought a way out. Online streaming, it seems, is the perfect escape plan.
Though the NBC Sports app (iOS and Android) offers a similar live streaming experience (and lets you watch replays), I spent most of a recent workday glued to nbcolympics.com, a tab open in my browser while I went about my workday.
Armed with my cable login information, I had unlimited access to watch any sport that was "Live". I saw the US women's gymnastics team capture gold, a bronze medal judo match, some heroic sailing and Michael Phelps 20th gold medal swim. Not only did I watch these events unfold live, but I then hopped on Twitter to join the conversation, rather than learning about the results for the first time there.
The lack of commercials - and, in the case of some events, commentators - was refreshing after three straight days of TV viewing, where ads are so disruptive and NBC would rather focus on pre-packaged content it claims female viewers prefer over the sports themselves.
With the live stream, you don't get any of that. It's a nearly unfiltered look at the events as they happen. There's no time delay, no sponsored segments. The feeds I watched offered an all-around more comprehensive look at the entire event, rather than focusing almost exclusively on US athletes. It's the competition presented as-is, nearly as good as if I were in the stands.
Streaming advantage
The US rights holder through the 2032 Games, NBC is catching extra flack this year because of its tape delay for primetime. As a West Coast dweller myself, it's particularly brutal. Not only does NBC's coverage last until midnight, but I'm seeing events hours after they've happened and the results have been blasted all over Twitter.
Someone there had the perfect quip as the women's gymnastics qualifying round wrapped up on Sunday night: "Sure glad NBC decided to tape delay tonight's Olympics to the 11:45pm Prime Time. #nbcfail"
I understand NBC is beholden to advertisers who've spent millions for those savory primetime spots, and it wants as many eyeballs on them as possible. I'm also aware of NBC's "packaging" strategy, and Sally Jenkins of The Washington Post has a great column on how turning the Olympics into a story-driven reality show - one created because that's what NBC thinks female viewers want to see - is hugely problematic.
But Twitter complaints aren't the only thing NBC has to worry about: ratings were way down in the Olympics' first few days, though they're starting to recover as the Games go on, according to Variety.
Still, NBC is skating on thin ice, to use an out-of-season metaphor. Advertisers won't be satisfied with low ratings, just as viewers are frustrated with its poor broadcasting decisions.
Olympics online
Turns out, NBC is seeing better results online. On August 6, the first full day of competition, NBC's Olympics digital platforms had their best day ever, Deadline reports. Live streaming was up 263% from the same day of the London Games, with unique users up 7%. According to that same Variety article, 13.4 million unique viewers watched Olympics coverage online on Monday, another record day for the network's digital platforms.
The online numbers illustrate what everyone already knows: people's viewing habits have shifted away from traditional TV. NBC is cognizant of the change, and this year's Games are the first time it's adopted streaming as one of the primary modes of delivering Olympics content.
The jump in streaming also suggests viewers really do want live sports (shocker), and not the feel-good programming NBC hammers home for four hours every night.
Needless to say, I enjoyed my day spent live streaming because it was free of NBC's primetime baggage, and I plan to keep streaming throughout the remainder of the Games (so long, productivity). There are so many sports to see, all so easily accessible, that it feels like a waste not to sample them all.
That said, I can still see the appeal of watching the Olympics on TV. NBC does produce some exquisite supplemental content, and their athlete access is unmatched. Many people can't watch the Games during work, and primetime allows them to catch up on the biggest events when they get home.
My advice to NBC is to strike a balance between the immediacy of streaming and the human interest-style pieces it does do well. Then, it may have a formula that engages viewers without enraging them.
Is there a happy medium somewhere? I'm still trying to figure that out for myself, as I'm sure NBC is, too. The network has another two years before it has to worry about it again, and who knows, maybe by then NBC will have it all figured out. Until then, though, I'll keep streaming, thanks.
Sign up to receive daily breaking news, reviews, opinion, analysis, deals and more from the world of tech.
Michelle was previously a news editor at TechRadar, leading consumer tech news and reviews. Michelle is now a Content Strategist at Facebook. A versatile, highly effective content writer and skilled editor with a keen eye for detail, Michelle is a collaborative problem solver and covered everything from smartwatches and microprocessors to VR and self-driving cars.