The HTC Vive is one of the best virtual reality headsets out there – or at least it was, until HTC announced the Vive Pro, a new headset that's lighter, more comfortable, and which offers 10 meter by 10 meter tracking and a new 2880 x 1600 resolution.
The new headset will have a Dual OLED display with a 615 dpi resolution – that's a 78% increase over the current HTC Vive's resolution. The headset will use dual microphones with noise cancellation to make communication easier.
It will enable you to use four Lighthouse sensors at the same time – and, if you've just purchased a complete Vive setup, it'll be available without the 2.0 sensors or controllers for a lower price.
The headset itself will be available by itself in the next three months, and a full kit will be coming later this year.
And, if a new headset wasn't enough, HTC Vive will finally go wireless thanks to the new Vive Wireless Adapter – a product we're just itching to get our hands on.
Cut to the chase
What is it? An upgrade to HTC's existing Vive headset
When is it out? The first quarter of 2018
What will it cost? HTC says it will announce pricing details soon
HTC Vive Pro release date
The HTC Vive Pro will be available by itself – without Lighthouse sensors and controllers – within the first quarter of 2018. A complete package will be available later this year, with pricing to be announced at a later date.
The original HTC Vive headset was released on April 5 2016.
HTC Vive Pro first images
Image 1 of 9
Image 2 of 9
Image 3 of 9
Image 4 of 9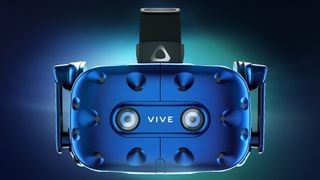 Image 5 of 9
Image 6 of 9
Image 7 of 9
Image 8 of 9
Image 9 of 9
HTC Vive Pro controllers
We're already seeing new prototype controllers that might end up being the controllers that accompany the HTC Vive Pro.
The controllers were spotted at last year's Steam Dev Days, and feature a strap that attaches the controllers to your wrist, allowing you to completely let go of the grips in order to simulate 'dropping' a virtual object.
The exact specs of the new controllers are unconfirmed, but one report claims they contain a total of 21 sensors.
Without official confirmation from Valve we don't yet know if these controllers will be available for the current headset or an updated model, but current estimates suggest the new controllers will be available at some point in 2018.
More photos of the new Vive controllers! #SteamDevDays #Vive #VR pic.twitter.com/o99QHPZvvDOctober 12, 2016
HTC Vive Pro features
We don't know too much about what features the new HTC Vive Pro might end up sporting, but some recent developments give us some interesting clues about the direction HTC is taking the hardware in.
Recently, HTC announced an audio strap, which adds some headphones to the headset's strap in a similar vein to what the Oculus Rift currently provides. Without the audio strap you're left to struggle to put on both the headset and headphones simultaneously, but with it the whole unit is left as one, and should therefore be much easier to put on and take off. We hope this ends up being something that's included as standard with the HTC Vive Pro.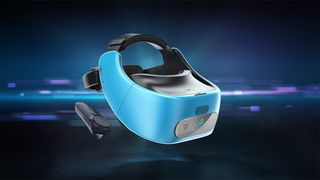 Back in September we reported that Bulgarian company Quark VR was working alongside HTC to build a wireless prototype headset.
More recently, a startup called TPCast has developed a wireless add-on for the existing headset, which it started shipping in mid 2017. The company claims that the lack of wires introduces no noticeable latency.
These developments suggest HTC isn't looking to leave behind the graphical horsepower of the PC any time soon. While its China-exclusive Vive Focus headset does all its processing internally on a smartphone processor, the HTC Vive Pro looks like it's going to rely on an external computer to do the graphical heavy lifting.
A recent report suggested that the Vive's inconvenient Lighthouses are getting a re-design. The new Lighthouses will apparently make use of fewer moving parts, swapping out the dual-rotor laser sweeping system currently used in favor of a single rotor movement. This will reduce manufacturing costs, and make them less prone to breaking, too.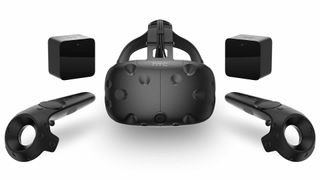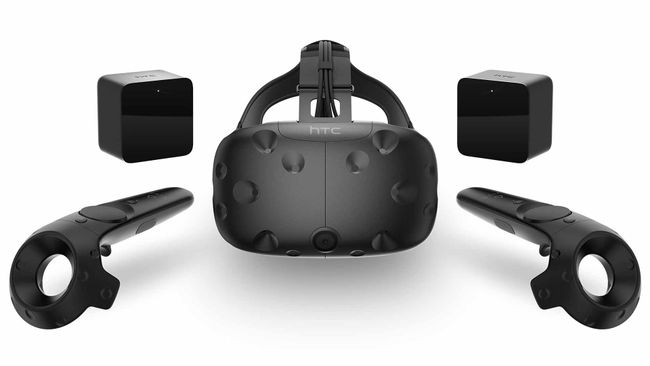 What we'd like to see
There are a number of things we hope HTC fixes with the next iteration of the headset.
Although the resolution of the current headset means images are fairly sharp when up close to your face, we'd still like to see resolutions go higher. A pair of 4K screens would be a decadent addition to the headset, but that's probably unlikely because of how difficult they'd be to drive at an acceptable frame rate.
We'd also like to see a more convenient technology to enable the headset's room-scale functionality. The current Lighthouses are pretty tricky to get set up right, and their short power leads make them more inconvenient still. In an ideal world we'd like to see them disappear entirely, but if that's impossible then making them more convenient to set up would be ideal.
As a final point, Sony's PlayStation VR has proven how it's possible to make a very capable VR headset that also looks great. In contrast, the first generation of the Vive looks more like a piece of industrial equipment. It's definitely good looking in its own right, but it hasn't got the sleek finish of the PS VR.
A sleeker look for the HTC Vive Pro would make what is already a fantastic bit of kit an absolute necessity.