Whatever your needs for the start of the 2017 school year, HP has something that will fit. From the highly portable 2-in-1 HP Spectre x2 and high-performance HP Omen gaming computers to its budget-minded Pavilion laptops, HP makes it easy to find a device that's right for you.
Take a look at the range of HP devices available to find the right device for all of your classes. Some computers may even be perfect to leave at home, so parents can have high quality video calls whenever they want and avoid the empty nest syndrome so closely associated with this time of year.
If you're looking for a computer that can do a bit of everything and do it everywhere, check out the HP Spectre x2 laptop. Or is it a tablet? In fact, it's both. The Spectre x2's keyboard can detach, allowing you to use it in tablet mode.
The capabilities of this computer just start there. Add a stylus into the mix, and the Spectre x2 is ready to write up essays, take notes in class, doodle when class gets a little boring, stream movies on the weekend, scribble notes on PDFs, read eBooks or digital comics and even do some light gaming with the integrated Iris Plus Graphics 640.
The small size of this laptop also means you can use it just about anywhere: in class; on the bus to class; on trains or planes back home. For a powerful 2-in-1 that goes everywhere you go this school year, look no further.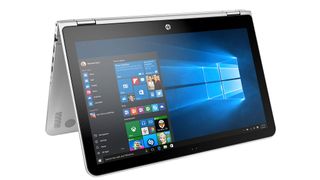 If the HP Spectre x2 has everything you want in a back-to-school computer but is a little out of your budget, check out the HP Pavilion x360. In terms of raw performance, it's a close match to the Spectre x2, but packs that power in a more modest shell that can save you some money.
The Pavilion x360 can't detach its keyboard, but it can be bent over backward to be used in tablet mode with your fingers or a stylus. It has a 15.6-inch Full HD display for a clear picture and entertainment, and the Intel HD Graphics 620 will offer light gaming performance.
For a bit of everything on a budget, the HP Pavilion x360 is a solid choice.
If you already have a laptop that can handle your in-class needs, a desktop may be in order. And if you want that desktop to give you the upper hand playing video games against your classmates, check out HP's Omen Desktop PC.
With a quad-core Intel processor, 8GB of RAM, 128GB of SSD storage, and an Nvidia GeForce GTX 1060 Founders Edition for under $1000, this gaming desktop is ready to rock with high frame-rates at 1080p or even 1440p.
Using a powerful desktop, you can blast through your school work, and then hop online to blast through enemies with your classmates in PlayerUnknown's Battlegrounds. And when you need to upgrade your computer, a desktop offers an easy pathway to install new parts that extend it's life for years to come.
Just because the kids are the ones going back to school doesn't mean parents don't deserve a computer upgrade as well. The HP Pavilion All-in-One is a capable computer that's easy to set up by skipping a lot of the cables involved in a traditional desktop, so for parents that often seek their kids help with computers, this is a great option while the kids are away at school.
This HP Pavilion All-in-One comes has a 7th generation Intel Core i5 processor, more than enough RAM for most work and plenty of storage for home videos or all the movies you've been waiting until the kids were off at school to watch.
Central in the HP Pavilion All-in-One package is the 23.8-inch Full HD touchscreen display with built-in speakers at the bottom and a webcam at the top. This computer is ready for video calls to your kids, or gives them a machine to do schoolwork on when they're home.
Be sure to check out the rest of HP's essentials for kids going back to school as well as its weekly deals to find the exact computer your looking for at a price that's right for you.