Whether you're looking to upgrade or switch to a new fibre broadband package, we have a deal that could be just what you need. Right now, you can get Virgin Media's M125 Fibre Broadband for only £26.50 per month (opens in new tab), without any setup fees, on an 18-month contract.
This particular deal is perfect if you live in a small to medium-sized property with a number of others who want to stream in UHD, game online and casually browse. This is thanks to the 132Mbps fibre connection and the excellent and innovative Virgin Media WiFi hub that can easily handle these download requirements.
If you're an O2 customer, you'll also be interested to know that if you choose this deal you'll be able to access additional perks and experiences, courtesy of O2 Priority.
After 18-months, the monthly cost goes up to the original price of £44 per month. If this deal doesn't sound right for you, or you want something a little faster or even cheaper, then head to our best broadband deals page for more great offers.
Our Virgin Media broadband deal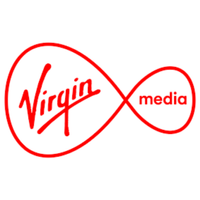 (opens in new tab)
Virgin Media M125 Fibre Broadband | £26.50/month | No setup costs | Avg. speed 132Mbps | 18-month contract (opens in new tab)
With this Virgin Media broadband deal you get average speeds of 132Mbps, without any setup costs, for £26.50 per month. This is also an 18-month contract and with it you get Virgin's top spec WiFi hub, plus access to perks and extra benefits if you're an O2 customer via O2 Priority. The deal is a great choice for any small to medium households as the 132Mbps speeds can comfortably handle high streaming and online gaming demands.
Why choose Virgin Media?
You're probably already familiar with the fact that Virgin Media is one of the UK's most popular broadband providers. We believe this status is more than justified for a variety of reasons.
Firstly, Virgin Media offers a selection of great and dependable broadband speeds on its own UK-wide cable network. This ranges from its M50 (54Mbps) option, through to its ultrafast Gig1 (1130Mbps) package. As a result, you can essentially find every speed for every online need.
Virgin also has some great tech in the form of its WiFi hubs. The one you'll receive depends on your broadband speed, but each comes with 'intelligent WiFi' to automatically optimise the connections of any devices attached to it.
Much like Sky and BT, you can also add on different TV bundles which cover everything from sport to movies and all the free-to-air channels. Although, these can make your monthly costs much pricier.
As you'll see in our breakdown of the latest Virgin Media broadband deals, there are regular promotions and offers you can get your hands on. However, if you'd like to see how Virgin compares with the rest of the market, simply pop your postcode in our widget below to see what's available near you.
Loading...