Best iPhone 8 cases and iPhone 8 Plus cases: protect your all-glass iPhone
Pick from our list of top iPhone 8 cases to safeguard your iPhone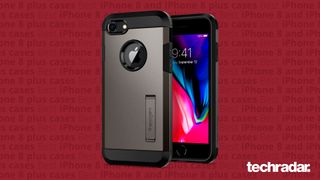 (Image credit: Apple)
The iPhone 8 and iPhone 8 Plus are both well worth protecting, given that they have glass on both the front and back. That's where this guide comes in, as we've picked out a selection of the best iPhone 8 cases and iPhone 8 Plus cases.
We've included iPhone 8 cases at a range of prices, so whatever your budget you'll find something here. You'll also find cases of various different styles and from a number of brands, so there should be something for everyone.
While the iPhone 8 and iPhone 8 Plus are getting on a bit and have been superseded several times over (most recently by the iPhone 13 range) the phones remains popular, so there's no shortage of cases to choose from, and we've filtered through the available offerings to find some of the very best ones.
These are products that we haven't had in our test labs, but based on our experts' opinion and knowledge of the most reputable brands around, we think these are worth looking at.
Our selections, ranked from cheapest to most expensive, take into account online reviews, brand reputation, product capability and unique features, to help you pick through the maze of choices available to you.
Best iPhone 8 cases and iPhone 8 Plus cases
Why you can trust TechRadar We spend hours testing every product or service we review, so you can be sure you're buying the best. Find out more about how we test.
1. Torras Slim Fit iPhone 8 Case
Barely bigger than the phone itself
Reasons to buy
+
Ultra-thin case
+
Simple, elegant look
Reasons to avoid
-
Almost surely won't protect as well as thicker cases
The Torras Slim Fit case is perfect for those who want a simple, inexpensive case that won't glitz up their iPhone 8. It won't have the multi-stage protection of an OtterBox, but buying one of these is certainly better than keeping your phone naked, and this is the next closest thing: aside from a 1mm lip around the camera, the Torras Slim Fit is only fractionally larger than the phone itself.
This is the case for those who want a no-frills case that will fit in pockets and small bags. Get it for $11 (£8, AU$15) on Amazon here.
2. Speck Presidio Grip case
Cheap and protective
Reasons to buy
+
Grip design
+
Will protect against scratches
Reasons to avoid
-
Limited colors for iPhone 8
Looking for a simple protective cover that will help you grip your iPhone 8? This option from trusted case manufacturer Speck is basic, but does exactly what you need it to.
It won't protect the screen of your phone, but the grip material at the back will help you keep hold of your phone when you really need to.
3. X-Doria Defense Clear case
Clear, form-fitting and to the point
Reasons to buy
+
Raised lip prevents screen scratching
+
Doesn't totally mask phone's design
Protection for your pricey iPhone 8 can come at a high cost, but it doesn't have to. The X-Doria Defense Clear case costs less than most ruggedized cases.
One understated feature this one boasts is that it tucks the iPhone 8's screen under a bit of its lip so as to avoid scratching it on a table if you like to set your phone face down. This case is no frills, but if all you're looking for is protection on the cheap, look no further.
4. Tech21 Pure Clear case
Protection that allows you to see your phone
Reasons to buy
+
Clear design
+
Easy to take on or off
Tech21 offers a great protective case here that will ensure the back or edges of your phone won't get scratched and will hopefully be able to take a bit of the brunt when you next drop your iPhone 8.
There's no front to this case, so you may want to buy a screen protector, but this see through option may be a good idea if you want to be able to see your phone while it's protected.
5. Mujjo Leather case
A stylish mix of form and function
Reasons to buy
+
Tight fight
+
Relatively inexpensive
Reasons to avoid
-
Likely won't age gracefully
-
Doesn't seem like it'll protect the camera
If style is your modus operandi, this leather case by Mujjo should fit your tastes nicely. In terms of its looks, it's reminiscent of Apple's own leather case, but it's going for a much cheaper rate.
It likely won't be the most protective case, given that it doesn't look to hug the camera unit closely, so it's probably not the wisest choice for those who like to take their phone out in the elements. That said, if you biff, you'll really be going down in style.
6. iPhone 8 Official Leather case
Officially premium
Reasons to buy
+
Premium leather
+
Lots of color choices
Reasons to avoid
-
Doesn't offer protection for screen
This is another choice you can buy directly in the Apple Store when you grab your iPhone 8, but we really like the leather version of Apple's official case.
Apart from the material it's made of, the design is very similar to the silicone version up above and it comes in a great variety of colors too including pink, brown and bright red.
7. LifeProof Fre case
Colorful, rugged protection for your iPhone 8
Reasons to buy
+
Available in a few colors
+
Matches phone design
Reasons to avoid
-
Might not fit everyone's taste
-
Expensive
If protecting your phone is your number one priority when investing in a case, LifeProof's signature offering looks to fit the bill with its colorful suite of cases.
By hugging around the back and securely over the iPhone 8's front, it protects its fragile glass build materials on every front.
While the phone looks as much like an iPhone 6 as it does an 8 while covered, at least you'll still be able to take advantage of all the new features, like wireless charging and the improved camera. The big downside is that this ruggedized case is nearly $100.
8. Otterbox Defender case
Several levels of protection
Specifications
Material:
Plastic and rubber
Reasons to buy
+
Serious protection
+
Ample color options
Otterbox's Defender Series of cases is the perfect choice for anyone who wants to ensure their iPhone 8 is safe from just about anything. This case offers multi-layer protection for the front, back and sides of the phone. An attachable clip can even help you keep it easily accessible without making it more prone to falls.
9. Spigen Slim Armor CS case
A case and cardholder in one
Specifications
Colors:
Black, Gunmetal, Jet White, Red, Blush Gold, Rose Gold
Reasons to buy
+
Good protection
+
Handy cardholder
Spigen's Slim Armor CS is a handy case for the iPhone 8. It not only protects your phone with a two-layer combination of soft TPU and hard PC, but it also lets you store two card inside.
Throw a credit card and license in there, and you're set for a night on the town.
10. Caseology Parallax case
Style meets security
Reasons to buy
+
Interesting designs
+
Multi-layer protection
Caseology's Parallax iPhone 8 case has a stylish design combining a soft shell with a 3D effect on the back and a hard shell for extra reinforcement.
While it might cover up most of the iPhone 8's own design, the Parallax case's look is interesting enough that you might not even mind. Plus, there are plenty of color combinations to choose from.
See the Caseology Parallax iPhone case at Amazon here.
11. Otterbox Strada case for iPhone 8 and iPhone 8 Plus
Classy and secure
Reasons to buy
+
Complete coverage
+
Classy look
Otterbox makes great cases, and the Strada series for the iPhone 8 and iPhone 8 Plus sticks to that trend. The case features mutli-layer protection for your phone. And, thanks to its folio style, it can protect your screen as well.
It may be pricey, but it's a lot cheaper than a serious repair. It also has room for a credit card, so you can store one in your case if you don't like bringing your wallet everywhere.
See the Otterbox Strada case for iPhone 8 at Amazon here.
See the Otterbox Strada case for iPhone 8 Plus at Amazon here.
12. iPhone 8 faux leather wallet folio case
Style and room for cards
Reasons to buy
+
Handsome
+
Room for cards
+
Protects front screen when closed
Reasons to avoid
-
Folio needs to be opent o access
This folio-style wallet is great for anyone who doesn't want to bring their wallet along with their phone. Its faux-leather looks nice (in photos, at least), comes in multiple colors and has three pockets for cards or cash.
It may be a bit cumbersome for frequent texters, but it will keep your phone's front screen a bit more protected from damage. Pick up this iPhone 8 faux-leather wallet case on Amazon here for $19 (£15, AU$26).
13. Decoded Back Cover Card Case
Cheap yet practical
Reasons to buy
+
Room for a credit card
+
Nice mix of colors
Thin and lightweight, the Decoded Back Cover Card Case is best for those occasional scratches and bumps. It uses full-grain leather to protect your iPhone from scratches and dust with impact-resistant TPU for small bumps too.
A 1mm raised bezel helps protect your screen and there's room to secrete a card too. This isn't a heavy duty solution but it's a good everyday fix for those aggravating clumsy moments.
You might also want to check out the best Apple Watch screen protectors, and best iPhone screen protectors.
In addition, check out the best iPhone SE cases, and best iPhone 12 Pro Max cases.
Sign up to receive daily breaking news, reviews, opinion, analysis, deals and more from the world of tech.
David is now a mobile reporter at Cnet. Formerly Mobile Editor, US for TechRadar, he covered phones, tablets, and wearables. He still thinks the iPhone 4 is the best-looking smartphone ever made. He's most interested in technology, gaming and culture – and where they overlap and change our lives. His current beat explores how our on-the-go existence is affected by new gadgets, carrier coverage expansions, and corporate strategy shifts.