Suiting up your iPhone in a case used to be necessary for a variety of reasons. First off, you want to protect your investment from dings and scratches. Then, before the iPhone 7 arrived, there was the constant worry of dropping it in the sink, or worse, the toilet.
The iPhone 8 continues the water-resistant trail that its predecessor started, but due to its all-glass back, investing in a case is basically a must. That is, unless you like spider web-like cracks putting splinters in your fingers.
We haven't had a chance to test out any of the following iPhone 8 cases that we're recommending and we're not guaranteeing that all of them will be as protective or suave as they claim. However, once we do some testing, this list will become more definitive, so stay tuned.
Note: we've not used all of the cases in this list - instead we've chosen some options from some of our favorite brands. We've ranked these from cheapest to most expensive according to prices at time of writing.

1. Speck Presidio Grip case
Grip design
Will protect against scratches
Limited colors for iPhone 8
Looking for a simple protective cover that will help you grip your iPhone 8? This option from trusted case manufacturer Speck is basic, but does exactly what you need it to.
It won't protect the screen of your phone, but the grip material at the back will help you keep hold of your phone when you really need to.
2. Spigen Neo Hybrid Herringbone case
Grip without dust build up
Premium look
Good grip
Buttons may be hard to press
We particularly like the look of this case from Spigen and considering its price point it looks very premium. You've got a few different color options for the Neo Hybrid option, but we particularly like the burgundy version of this Spigen case.
Some have complained in online reviews that the buttons are a little difficult to press though, so watch out for that if you're set to buy this case.
3. X-Doria Defense Clear case
Clear, form-fitting and to the point
Raised lip prevents screen scratching
Doesn't totally mask phone's design
Fairly bulky
Protection for your pricey iPhone 8 can come at a high cost, but it doesn't have to. The X-Doria Defense Clear case costs less than most ruggedized cases.
One understated feature this one boasts is that it tucks the iPhone 8's screen under a bit of its lip so as to avoid scratching it on a table if you like to set your phone face down. This case is no frills, but if all you're looking for is protection on the cheap, look no further.
4. Tech21 Pure Clear case
Protection that allows you to see your phone
Clear design
Easy to take on or off
No front protection
Tech21 offers a great protective case here that will ensure the back or edges of your phone won't get scratched and will hopefully be able to take a bit of the brunt when you next drop your iPhone 8.
There's no front to this case, so you may want to buy a screen protector, but this see through option may be a good idea if you want to be able to see your phone while it's protected.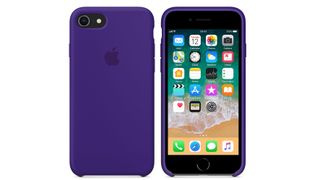 5. iPhone 8 Official Silicone case
Straight from Apple itself
Officially made by Apple
Lots of color choices
No front protection
Apple makes its own official cases for the iPhone 8, and unsurprisingly they're worthy of inclusion in this list. This one is made from a silicone material that should feel comfortable in your hand.
But perhaps the best element is the color choices on offer here. You have the choice of nine colors, including bright red, so you can make your phone look like the red iPhone 7.
6. Mujjo Leather case
A stylish mix of form and function
Tight fight
Relatively inexpensive
Likely won't age gracefully
Doesn't seem like it'll protect the camera
If style is your modus operandi, this leather case by Mujjo should fit your tastes nicely. In terms of its looks, it's reminiscent of Apple's own leather case, but it's going for the much cheaper rate of about $38 (around £28, AU$47).
It likely won't be the most protective case, given that it doesn't look to hug the camera unit closely, so it's probably not the wisest choice for those who like to take their phone out in the elements. That said, if you biff, you'll really be going down in style.
7. iPhone 8 Official Leather case
Premium leather
Lots of color choices
Doesn't offer protection for screen
This is another choice you can buy directly in the Apple Store when you grab your iPhone 8, but we really like the leather version of Apple's official case.
Apart from the material it's made of, the design is very similar to the silicone version up above and it comes in a great variety of colors too including pink, brown and bright red.
8. Mous Aramid Carbon Fibre case
Specifically to allow for wireless charging
You can still use wireless charging
Comes with free screen protector
Nearing the expensive end
Mous offers lots of materials for its cases, including wood, but our favorite is the Aramid Carbon Fibre option. It has what Mous calls its Airoshock technology, which uses thousands of micro air pockets to help protect your phone when you drop it.
It won't protect the front of your phone, but it comes with a free screen protector for that so you can make sure you don't scratch up your iPhone 8's display.
9. LifeProof Fre case
Colorful, rugged protection for your iPhone 8
Available in a few colors
Matches phone design
Might not fit everyone's taste
Expensive
If protecting your phone is your number one priority when investing in a case, LifeProof's signature offering looks to fit the bill with its colorful suite of cases.
By hugging around the back and securely over the iPhone 8's front, it protects its fragile glass build materials on every front.
While the phone looks as much like an iPhone 6 as it does an 8 while covered, at least you'll still be able to take advantage of all the new features, like wireless charging and the improved camera. The big downside is that this ruggedized case is nearly $100.
10. Greenwich Horo iPhone 8 case
Premium leather, but it's pricey
Premium feel
Protection all around your phone
Expensive
This case from Greenwich is a folio and will protect the screen of your phone when it's closed. It sits comfortably in the hand and won't look bulky in your pocket either.
The leather used feels premium, but you need to bear in mind this is an expensive option.
11. Otterbox Defender case
Several levels of protection
Colors: Many | Material: Plastic and rubber
Serious protection
Ample color options
Bulky
Otterbox's Defender Series of cases is the perfect choice for anyone who wants to ensure their iPhone 8 is safe from just about anything. This case offers multi-layer protection for the front, back and sides of the phone. An attachable clip can even help you keep it easily accessible without making it more prone to falls.
12. Otterbox Commuter case
A slightly slimmer protective option
Colors: Black, Aqua Mint Way, Ballet Way, Bespoke Way, Indigo Way, Ocean Way, Plum Way, Rosmarine Way | Material: Rubber and plastic
Good protection
Not overly thick
Bland design
Otterbox's Commuter Series still offers plenty of protection for the iPhone 8, but it makes it a bit less bulky than the Defender Series. It's also easier to put on, as it's a simple two-layer design. For serious but affordable protection, this is a great choice.
13. Spigen Slim Armor CS case
A case and cardholder in one
Colors: Black, Gunmetal, Jet White, Red, Blush Gold, Rose Gold | Material: TPU and PC
Good protection
Handy cardholder
Added bulk
Spigen's Slim Armor CS is a handy case for the iPhone 8. It not only protects your phone with a two-layer combination of soft TPU and hard PC, but it also lets you store two card inside. Throw a credit card and license in there, and you're set for a night on the town.