Can you feel it? Google certainly can: the annual hike in searches for Mariah Carey's All I Want For Christmas has already begun, and it's expected to crack six million plays by the time Christmas is over. And quite right too. With the right music, Christmas can be even more magical.
You can't beat the feeling of pressing Play on the first Christmas playlist of the season, or the dirty looks you get if you break The Rule of Cliff (which states that Mistletoe and Wine is fine but the Millennium Prayer is not).
And thanks to streaming services, you don't need to spend any money on terrible Christmas albums to create the perfect playlist. All you need is a phone, an internet connection and a Bluetooth speaker.
It's hard to overstate the usefulness of your phone at Christmas. Not only is it taking care of the music, but if you're streaming music via Bluetooth you can still use your phone for the important stuff: taking photos, Googling to avoid arguments turning into fist-fights, and putting your unwanted presents on eBay.
The best playlists perfectly balance Christmas cheer and Christmas cheese, jumping across genres and decades to put Bing next to Boney M and Bono alongside Bieber.
It's tempting to just open up your chosen streaming service and add songs as you find them, but Christmas tends to be quite structured – and you can put together your playlist to match.
For example, you might want a pumping Christmas tune to soundtrack the frenzy of unwrapping presents, but prefer something a bit softer while you're having your Christmas dinner. Think of it like being a DJ, but with everyone on sprouts and sherry instead of illicit substances.
So what streaming services are available, what do they cost, and how easy is it to create the perfect Christmas playlist?
Let's find out – and we'll also recommend some of the best Bluetooth speakers to play your tunes through.
The best apps for your Christmas playlist
Spotify
£9.99 / $9.99 / AU$11.99
Spotify's USP is the ability to create collaborative playlists, where you start things off but friends or colleagues can add their own tracks, plus you can also share your own playlists via email, social media or instant messaging.
The range of tracks is truly massive, the app's a joy to use, and it's one of the best streaming platforms around.
YouTube
Free
YouTube Music Key is US-only, so for everyone else putting together a YouTube playlist means using the plain old YouTube app. That's not a huge problem, as the process of creating playlists and adding to them is simple: find a video, tap on the add button, and then either create a new playlist or select an existing one.
However, it does mean you're going to get ads, and you're streaming video whether you want to or not.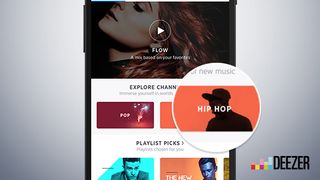 Deezer
£9.99 / $9.99 / AU$11.99
Deezer looks and works very much like rivals such as Spotify and Tidal, and creating a new playlist is just a matter of tapping the More icon next to a track and then tapping Add to Playlist – you can then add other songs in the same way.
Once you've created your playlist you can share it with other Deezer users, or post it to Facebook or Google Plus.
Tidal
£9.99 / £9.99 / AU$11.99
The price we've quoted here is for Tidal's standard service, but if you're willing to pay double you can stream lossless tracks instead of 320Kbps AACs.
That's best suited to high-end audio, though; for background music 320Kbps is fine. Creating a playlist is just a matter of choosing a song, tapping the More icon and then making a new playlist; hitting the share icon will give you a link to send out or bring up your phone's share sheet for sharing by email or social media.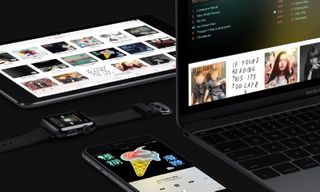 Apple Music
£9.99 / $9.99 / AU$11.99
Apple's recently overhauled Apple Music is less confusing than it used to be, and its playlist management is great: create your playlist, tap on Add Music and you can tap away through entire albums, adding songs as you go.
Sharing is via the iOS share sheet for email and social networks, and you can also share to iTunes Connect. Because that's really popular.
Music, maestro
If you have a Chromecast dongle or Chromecast Audio, you can stream from your phone to your home AV setup (and if you have Apple kit, you can do the same via AirPlay).
But at Christmas we think the best combination is a phone and a Bluetooth speaker, because that means you can take your music wherever you happen to be: in the front room opening presents, sitting down for Christmas dinner, losing the will to live as obscure relatives bang on and on… you get the idea.
We're always looking for the around, and these are our picks for the festive season.
Creative Muvo Mini
For less than £50 / $60 / AU$70, the Muvo Mini punches way above its weight – and its weatherproofing means it's not going to explode if a tipsy relative spills their sherry on it.
The 10-hour battery should last through even the longest Christmas get-together, and with a wireless range of 32 feet / 10 meters you don't need to spend the whole day sitting with your phone on top of it.
JBL Charge 3
Here's another water- and wine-resistant speaker, and while it's much bigger than the Muvo Mini that's because it houses some massive drivers for seriously-kicking bass response.
It's probably overkill for The Little Drummer Boy, but Run DMC's Christmas In Hollis is lots of fun.
The battery's good for 20 hours, the range is 30-ish feet, and it and while it's a little more expensive at £129.99 / $161 / AU$211 it's a superb all-rounder.
Harman Infinity One
With a list price of $360, a street price of $299 (around £255 / AU$370) and limited availability outside the US, it's safe to say that the Infinity One won't be a huge seller.
However, the lucky few that do get their hands on it will be absolutely delighted. The bass is amazingly deep, and the overall sound is best in class.
If you can't track one down, JBL's similarly-priced Xtreme comes very close – hardly surprising when you remember that JBL's parent company is Harman.
And finally
There's another option to consider too: the (or the cheaper ) with its modular accessories.
Those accessories include a clip-on JBL speaker, which is brilliant – it's surprisingly loud for something so small, and a cinch to start up (just clip it on, and off you go).
The Moto isn't cheap, but if you're in the market for a new phone as well as gearing up for Christmas tunes it's probably the best option out there.
This article is brought to you in association with Tesco Mobile