So, you've got the equipment you need to begin livestreaming your gaming, but how do you get started? We spoke to Tabitha Lyons, who goes by the handle artyfakes on Twitch.
As a livestreamer who combines playing games with building game-based props with her father (you can see their work on the Artyfakes website), Tabitha has cultivated a large, and growing, following online.
"One of my friends streams on Twitch, and I was like 'that's an interesting idea!'," Lyons tells us. "I've always wanted to do some sort of webcam series with making props in the workshop… so I actually came to EGX [a games convention in the UK] and I saw some Twitch streamers, and I literally went up to them and I said 'Look, I want to stream props'.
"Skyrim was out at that time and I loved the designs. And I was like, 'If I stream making the props, is that allowed if I put it under the Skyrim game category?' and my friend said 'Yeah!' So I was like 'Okay' and I went home, I got him to help set up my stream, and that's it, I started creative streaming. A couple of weeks later Twitch brought out their creative channel, like Bob Ross, and now it's…exploded."
While Lyons is primarily a creative streamer, she also livestreams games. "I was the first creative streamer on Twitch, making costumes and props," she says. "Obviously, though, Twitch is primarily a gaming platform, and I've always been a gamer. I've been playing games since I was really young. So I always like to game as well."
Do you need to be brilliant at the games you're streaming? "I'm awful at games!" Lyons confesses. "But it doesn't matter, it's all about having fun. I play PlayerUnknown's Battlegrounds. Fortnite is another game, and they've just brought out a mode that's very similar called Battle Royale and I love that at the moment, I've been playing that a lot."
So, that's good news if you want to get into livegame streaming but you're not the most confident of players, and Lyons' advice about primarily about having fun is right on the money. However, if there's a game you love playing, and then a more popular game comes out, is there pressure to drop your favorite game and move over to the flavor of the month?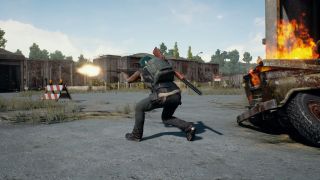 "For me, I'd always say stay true to yourself," says Lyons. "Because if you're playing a game that's popular, but that you might not enjoy, then I feel like your audience can see that and they won't enjoy watching it as much, because you're not enjoying it.
"But I can see that other people feel pressure sometimes that they have to play a certain game, especially if they have a larger following, because if they change games the viewers may stop watching. So there is that fear, but for me I'm like 'no, I want to stay true to myself and do what I want to do'."
While we've set about building our own ultimate streaming PC, we were curious to know what kind of hardware Lyons uses. "When I went to an event my friends introduced me to Asus. The guys there were so helpful, so friendly. So, I partnered up with them, I joined their stream team, and now occasionally they'll send me stuff, or I can give discounts to my followers. Most of my hardware is Asus. I wouldn't not want to have their stuff! They are so good."
We have to agree – as far as gaming brands go, Asus, and its ROG (Republic of Gamers) line of components and peripherals, are great ones to be associated with. "I have the mechanical keyboard, the ROG Claymore, and the ROG Gladius II mouse," Lyons tells us. "I even did a cosplay for them, as a Sith character with their logo hidden in the costume."
However, Lyons is the first to admit that she's not the most technically-minded when it comes to hardware and software, and that's where her community steps in to help out.
"That's the great thing about Twitch. I'm not the greatest, but someone in the community will know, and they are so happy to help," she says. "I'll just ring up one of my mods and be like 'ooh don't really know how to work OBS (Open Broadcaster Software), or something is going wrong, will you help me out?'. The community gets a lot of hate, sometimes, but honestly, I have only found love! They are like 'yeah, let me help you!'"
In mentioning hate, Lyons touches on a subject that many people looking to get into livestreaming will be concerned about. There have been recent news stories about how online communities, including ones surrounding livestreaming, can be subject to online bullying and harassment. We asked Lyons about if she had any experience of this.
"It is tougher being a girl, I'll be completely honest. So when I stream without my dad, I will get different comments from when he is in the room. So, I can really see the difference. I don't know, if you put yourself out there you've got to be prepared, you're going to get some negative feedback."
However, Lyons is quick to point out that this is a small minority. "The amount of good stuff you get overrides it all. I've had fans come to me and say 'thank you so much, I now have a group of friends I can hang out with'. We've made a little community and it's great."
So what advice does Lyons have for people who want to start out with livestreaming? "I'd say stay true to yourself," she tells us. "Play a game that you enjoy, so other people can see that you're having fun. And, it doesn't matter how many viewers you have, pretend the whole world is watching. If someone comes into your stream, notice them. Say 'hi, thank you so much!' Even when I have a popular stream with more viewers, I still notice everyone, I still give them as much attention as I can. They are taking time to watch you, so appreciate them!"
Should people who begin streaming try to have a routine as well? "Always have a schedule, so they know when you're going to be online," Lyons advises. "It's hard, sometimes events will come up and I won't be able to stream at the weekend, but they understand. So social media is really good for this, because if you have things like Twitter and Instagram you can let them know and say 'sorry guys, can't do tonight but I'll be back on Monday.'"
So a regular routine will help build up your online audience, as people will know when to tune in. How often, and for how long, does Lyons recommend people stream for? "I try to do it every day that I'm home. But, it's been hard," she says. "This month there's been a lot of events. I've just come back from LA and Germany. So, when I am home, I try to make the most of it. I recommend two hours, at least. I tend to stream between two and four hours."
Is there a particular time of day that's best for streaming? Lyons doesn't think so. "It doesn't matter what time, and where in the world you stream from, someone is going to be up watching!" she says. "I have fans in Australia who stay up to 6am to watch me. They have babies so they're up anyway!"
That remind Lyons of what she feels i one of the best reasons for livestreaming, and why all the expense and hard work is worth it. "That's another great thing about Twitch, I now have friends from around the world," she adds. "I would never have met them otherwise."