Halving the number of chores needed to keep hard floors clean, the Tineco Floor One S5 Pro packs in a bunch of useful features for a wet/dry vacuum. It's designed so everything snaps easily into place, has handy voice prompts and comes with a comprehensive, but superfluous, app to help manage a busy cleaning schedule. Between two wet modes and a suction-only setting, it will even adjust its performance to provide the optimal clean and maximise battery life. While its price is reasonable when considering its overall performance and features, it does cost more than some competitors that offer similar functionality.
Pros
+

Vacuum and mop at the same time

+

Built-in sensor for dynamic suction

+

Voice prompts when the vacuum needs maintenance
Cons
-

Hard floors only

-

Outpriced by competitors

-

Clean water tank not big enough
Why you can trust TechRadar We spend hours testing every product or service we review, so you can be sure you're buying the best. Find out more about how we test.
Tineco Floor One S5 Pro: Two-minute review
The Tineco Floor One S5 Pro offers a great way to reduce time spent on chores – by combining both mopping and vacuuming in one package, you only have to make a single pass over your hard floors to keep them speck-free and spotless. It's genuinely a great time saver, albeit not a perfect solution, as it won't quite make it into all the tight spaces throughout your home.
To achieve the dual functionality, Tineco has crafted a nice-looking cordless hard floor vacuum that comes with some handy features and smart functions. To prolong battery life and increase suction strength on hard to move grime, Tineco has developed what it calls an iLoop Sensor – this detects dirt and grime to automatically add a little more grunt to your cleaning session, allowing for a more optimal clean, similar to what the piezo sensor does in the Dyson V15 Detect and newer models. This also helps to maximise battery life, as you won't need to have the Tineco Floor One S5 Pro on maximum power the entire time to get a thorough clean.
Voice prompts are built into the vacuum to let you know when it needs maintenance, such as refilling clean water or emptying the dirty-water tank. This, along with the Tineco Life app, offer some foolproof ways to keep your home and the machine clean.
My test space – which was my one-bedroom inner-city apartment – has floating boards in the living room that can't stay wet for too long, so I can't just mop that room and leave it to dry without the risk of damaging the rental's flooring. The Tineco Floor One S5 Pro eliminates this issue, and even has a suction-only mode to help pick up spills and water buildup without adding anymore onto the surface.
I also live with two cats and, between fur, dried-up food and kitty litter that gets kicked everywhere, the Tineco Floor One S5 Pro was faced with a pretty big challenge. I was pleasantly surprised by the Tineco's performance right from the start – not only did it lift any kitty messes with ease, even while mopping, but it also kept solids separate from the dirty-water compartment despite using the one tank for both.
The biggest downside, and what really restricts the Tineco Floor One S5 Pro, is that it can't be used on carpeted areas and isn't rated for outdoor use. So if your floors are mainly carpet, this one isn't for you. And, when you consider some mid-range robot vacuums will set you back similar money – and will do all the work for you – Tineco's dual mop-and-vacuum becomes a bit harder to justify at its regular price.
Tineco Floor One S5 Pro review: price and availability
Priced at AU$999
Available in Australia
Tineco Floor One S5 Pro 2 available in the US/UK for $599.99 / £629.99
Priced at AU$999, the Tineco Floor One S5 Pro slips in just under the AU$1K mark, but given that it's only useful for hard floors, that price can be hard to justify, especially when there's competitors out there that slip in cheaper with a similar offering. Additionally, you will eventually have to purchase the Tineco Deodorising & Cleaning Solution which can be found at Godfreys, Amazon, Bing Lee and more starting at AU$24.99 for 1L. This will be an ongoing cost you'll need to factor into your buying decision. Additionally, if you need to replace the dry HEPA filter or the roller attachment, these can be found in an accessory kit with the cleaning solution from Godfreys for AU$49.99.
This model is only available in Australia, but US and UK shoppers after a similar device can get the Tineco Floor One S5 Pro 2 for $599.99 / £629.99 (which is roughly AU$895 at the time of this review), or can opt for the Tineco Floor One S5 which retails for less at $499.99 (about £390.99 / AU$747), though it has a more limited LCD display and doesn't offer a suction-only mode.
When comparing the Tineco Floor One S5 Pro to the Roborock Dyad Pro, which retails for $449.99 / £489.99 / AU$799, the Tineco's AU$200 premium doesn't quite justify its differences in my opinion. The two hardfloor cleaners share many similarities, including design, similar tank capacities and cleaning modes, though the display on the Tineco Floor One S5 Pro is much more advanced than that of the Dyad Pro, and the Tineco Life app is more comprehensive than Roborock's.
On the flip side there's the Samsung Bespoke Jet, which can tackle both carpet and hard floor spaces, but comes with a more expensive price tag of $1,035 / £629 / AU$1,299. Samsung's hybrid offering comes with one of the most powerful suctions we've seen in a vacuum, and it justifies the higher cost by offering two batteries in the box, a mopping head and small water tank, and an auto-cleaning charging dock that means you never have to empty the bin canister yourself. It also ships with far more accessories than the Tineco Floor One S5 Pro.
Then there are also the robot vacuums, a lot of which now offer both mopping and vacuuming across the entire range of floor types. The Bissell Spinwave R5 slips in cheaper at $549.99 / about £455.19 / AU$799 and will do all the hard work for you, but might not lift the larger debris and harder to move dirt that the Tineco Floor One S5 Pro can. Several models from Ecovacs' Deebot range can also do a similar job for a lower price.
Price and availability score: 3.5/5
Tineco Floor One S5 Pro review: specs
Swipe to scroll horizontally
| | |
| --- | --- |
| Dimensions | H: 1100mm W: 270mm D:220mm |
| Weight | 4.5kg |
| Display | LCD, animated, 90mm diameter |
| Dust box/bag volume | N/A |
| Water tank volume | 0.8L |
| Used water tank | 0.7L |
| Lowest noise level | 78dB |
| Maximum runtime | 35 minutes |
| Waterproof rating | IPX4 |
| Included accessories | Charging dock, cleaning brush, extra roller and dry HEPA filter, Tineco Deodorising & Cleaning Solution (1L) |
Tineco Floor One S5 Pro review: design
Handy LCD display located at the top of the unit
Four buttons in total including a self-cleaning button
Everything snaps into place easily
It may not compare to a Dyson, but the Tineco One S5 Pro is a sleek-looking cordless hard floor cleaner with an attractive black/white colour scheme. Its dirty-water tank is located at the front of the machine, while the clean water is tucked away nicely around the back.
The top-mounted LCD screen is the standout on the vacuum, offering crisp animations, a clear battery indicator, and displays what the iLoop sensor is detecting. The display offers more information than both the Roborock Dyad Pro and the Samsung Bespoke Jet, which is quite handy, and when swapping between modes you can clearly see what you're changing to when pressing the button.
With a capacity of 0.7L, the dirty-water tank can hold just enough mop water for a small apartment, so anyone considering this for a larger family home will need to empty this tank out every time it fills up. However, the tank is built larger than its max capacity so there's a bit of wiggle room if you're lifting any additional spills, and the voice prompts will let you know when you're hitting the maximum capacity. Similarly, you'll also get a voice prompt to refill the 0.8L clean-water tank – which can take regular tap water and the Tineco Deodorising & Cleaning Solution.
You only get 1L of this cleaning solution included with the Floor One S5 Pro, and while you may be able to substitute it with similar cleaning detergents, Tineco recommends using this specific solution and other brands could void the warranty on your device. Thankfully, Tineco's cleaning solution is available across a wide range of retailers including Amazon and Godfreys, so you can find it easily online when you need a replacement.
Both water tanks snap in and out of the vacuum easily, though you need to make sure that when you snap the dirty-water tank back in, you feel it click into place. If you don't, you might fall victim to an additional water spill while cleaning, like I did on my second use. Thankfully, realising that a little extra pressure is needed to lock it into place stopped that from repeating, and I was able to quickly clean up that mess once again with the Floor One S5 Pro itself.
There's only one tank for anything the Tineco Floor One S5 Pro sucks up, so solids and liquids are all collected in the one canister. There's a small ledge that catches any large solids or hair, but since they've been suctioned up alongside the water, they're damp if you go to empty the dirty water tank directly after your cleaning session. This means you won't have bits flying about when you open up the dirty water tank, but you will have to clean off the solids on the ledge before emptying out the water itself unless you want the two to mix.
Removing hair, fur and other solids from the vacuum's tube is also simple, and Tineco includes a long-handled brush to help reach in. If you do encounter tangles inside, Tineco has thoughtfully added a small blade on the brush that can be used to cut through the mess.
The floor cleaning head – which is the only attachment you get with the Tineco Floor One S5 Pro – is also easy to maintain. It even has a decently large footprint, so you can get your cleaning done quickly enough, depending on how big your home is. That said, its large size means it has trouble squeezing into corners and tight spaces. It also won't effectively get into the grouting between tiles, so while it'll lift up any dirt in these spaces using its suction, it doesn't quite get in to mop the grooves.
Design score: 4.5/5
Tineco Floor One S5 Pro review: performance
Dynamic power adjustments
iLoop sensor lets you know when it's tackling more
Suction-only mode available
Finding the right balance between the overall size of the machine and tank capacity is a tricky one for a manufacturer and I'm lucky that the Tineco Floor One S5 Pro hits the right mark for my needs. However, my apartment is small, and the water tank capacity might not be sufficient for larger spaces. The clean-water tank has a capacity of 0.8L, and that was just enough to cover my floors in a one-bedroom apartment on Auto mode before needing a refill.
There's three different cleaning modes offered – Auto mode, which the machine is set to by default, Max mode for increased suction and waterflow, and Suction-only mode that turns the water cycle off. You can switch between the modes simply by pressing a button on the front of the handle, and the display will show you which one you're swapping to.
I found Auto mode to be the most useful, as it regulates the amount of water and suction based on what the iLoop Sensor detects. If there's a large spill or particularly dirty area, it'll increase both. This helps to maximise battery life as you're not necessarily powering through easy-to-clean spaces. Given the different types of mess found in my home, from litter to hair and fur, Auto mode sufficiently adjusted its suction to lift up everything – even some fairly large bits of cardboard one of my cats had managed to rip off a box.
Then there's Max mode which, as the name would suggest, boosts the suction strength and water flow, but chews through the battery to do so. This will lift up hard-to-move dirt and cycle through water extremely fast – quicker than the battery will drain. I used Max mode mainly in my kitchen, and it easily lifted dried bits of cat food – which can sometimes be quite stubborn to move – in one easy passover.
Finally, Suction-Only mode will turn off the mopping feature. This is handy if you just want to pick up a dry or wet spill, or want to only vacuum your hard floors. Note that Tineco says this machine is not rated for any carpet cleaning, so the suction-only mode may not do a sufficient job on wall-to-wall carpeting, but could handle a rug or two. I used this mode when I wanted to dry up the water on the floors quicker, and to pick up the oopsie spill I had when I didn't snap the dirty-water tank back in properly. It handled both extremely well, giving me peace of mind that my floating boards wouldn't remain too damp after cleaning up.
While not as self-sufficient as a robot vacuum like the Bissell Spinwave R5, the Tineco Floor One S5 Pro does take the effort out of pushing around a vacuum by pulling itself forward while you clean. This tug can take a bit of getting used to unless you've used other similar cleaners, but it reduces the force you need to apply to navigate it around your home.
After all the hard work was done, cleaning the Tineco Floor One S5 Pro was a breeze. Popping it back on the charger, it'll give you voice prompts reminding you to clean out the water tank, refill the clean-water tank or to simply run the autoclean cycle. It's pretty noisy while it does its own cleaning, but it takes very little time. If you don't want to listen to these prompts, you can turn them off by pressing the small button hidden on the back.
Performance score: 4/5
Tineco Floor One S5 Pro review: app
Schedule cleaning times and track cleans
Quick access to user manuals
Multi-device app for compatible Tineco devices
There's also the option to connect the Tineco Floor One S5 Pro to the Tineco Life app, and while it's handy for keeping track of cleaning cycles and if you need to find manuals, it does feel a little redundant for some of the functions.
The app will let you set a schedule for the Floor One S5 Pro's self-cleaning cycle, something you're prompted to do after every clean anyway by the voice assistant within the vacuum itself. In the same vein, it also lets you know what's going on with your vacuum, if you need to empty out debris or charge it, but again, the Tineco Floor One S5 Pro shows all this on its display.
Given that you'll have the vacuum in your hands, it's much easier to set up the self-cleaning cycle on the device itself, and I found that I didn't need the app as much as I initially thought. The app does have some uses though – like accessing data on each cleaning run or setting up a regular cleaning schedule for your home. Again, the latter is unnecessary as it's not a robot vacuum cleaner. Additionally, it houses manuals for the vacuum, so if you lose any physical copies, they're right there in the one spot.
Connecting your device to the app is pretty simple – the same button that switches off voice prompts will also make the Tineco Floor One S5 Pro detectable for any devices you want to link it to. It's also a general app for all compatible Tineco devices, so you can link multiple machines if you have them.
App score: 3.5/5
Tineco Floor One S5 Pro review: battery life
Up to 40 minutes of run time (suction only)
Full charge in 3.5 hours
Water tank runs out before battery in Max mode
The max runtime I was able to squeeze out of the Tineco Floor One S5 Pro was 40 minutes on the Suction-only mode. While this exceeded the claimed maximum runtime of 35 minutes, it doesn't fulfil the full dual functionality of the machine, thus not eating through the battery as quickly.
When using Auto mode, on average I could get 32 minutes for each cleaning run, which was more than sufficient for my apartment, but if you have a house with multiple rooms, you're going to have to take it in shifts to both recharge the battery and refill the water tanks. This runtime will vary, as Auto mode adjusts the suction strength and waterflow based on what the iLoop Sensor detects, so if you have more hard-to-lift scum on the floor, it will equal a shorter runtime.
Max mode really blasts the power, so as expected, battery life is much less than the other two. I didn't get to the end of the battery with this mode as the water tank emptied before the battery did. That said, it did chew through 50% of the battery in 12 minutes.
Keeping in mind that larger homes are going to require multiple charges, I would have liked to have seen a quicker recharge time or a bigger battery capacity. The Floor One S5 Pro takes 3.5 hours to fully recharge, so this will need to be taken into account in your purchasing decision if you have a large home.
Battery life score: 3.5/5
Should I buy the Tineco Floor One S5 Pro?
Swipe to scroll horizontally
Tineco Floor One S5 Pro score care

| Attributes | Notes | Rating |
| --- | --- | --- |
| Price and availability | The Tineco Floor One S5 Pro boasts a lot of features that justify this price, but it does have some fierce competition. | 3.5/5 |
| Design | Sleek, stylish and cordless – everything on the Tineco Floor One S5 Pro snaps into place with ease. Plus its LCD display is a real standout to help keep an eye on your settings and battery. | 4.5/5 |
| Performance | Offering both wet and dry cleaning modes, the Tineco Floor One S5 Pro easily handles hard to move dirt and scum. | 4.5/5 |
| App | The app is a little unnecessary, but does have some useful functions including scheduling, cleaning data and manuals for the device. | 3.5/5 |
| Battery | The battery on the Tineco Floor One S5 Pro is a lacklustre. Its charging time also leaves a lot to be desired, especially if you have a large home to clean. | 3.5/5 |
Buy it if…
You want to reduce your chores
Removing the need to go over your hard floors with both a vacuum and a mop separately, the Tineco Floor One S5 Pro combines these two functions so you'll only have to use the one device to get a full clean.
You want to see how effective your clean is
The LCD display on the Tineco Floor One S5 Pro is one of the nicest out there for a vacuum. It clearly shows the battery life, what setting you're on and also indicates when it's increasing suction and waterflow as necessary when detected by the iLoop Sensor.
Don't buy it if…
You have a big home
The Tineco Floor One S5 Pro has a fairly limited battery life and takes 3.5 hours to fully charge. Plus the tanks will need refilling or emptying (as the case may be) fairly often. If you have a large home, you'll need to clean in shifts, with a lot of downtime between charges.
You mainly have carpeted floors
It's only rated for hard floors, so you can't use the Tineco Floor One S5 Pro on carpets or rugs. If you don't have many hard floors but still want a wet/dry vacuum, consider something like the Samsung Bespoke Jet instead.
You don't want to push around a vacuum
While the Tineco Floor One S5 Pro easily halves the workload when it comes to keeping your hard floors clean, you still have to do that work. Given that you can find robot vacuums for a similar price point, vacuums like the Bissell Spinwave R5 will also mop and vacuum your floors too.
Also consider
Swipe to scroll horizontally
| Header Cell - Column 0 | Tineco Floor One S5 Pro | Tineco Floor One S5 Pro 2 | Samsung Bespoke Jet | Roborock Dyad Pro |
| --- | --- | --- | --- | --- |
| Price | AU$999 (N/A US or UK) | $599.99 / £629.99 (N/A Australia) | $1,035 / £629 / AU$1,299 | $449.99 / £489.99 / AU$799 |
| Run time | 35 minutes (40 minutes suction only) | 35 minutes | 120 minutes | 22 minutes on max |
| Tank/bin size | 800mL CWT, 700mL DWT | 800mL CWT, 700mL DWT | 500mL CWT | 900mL CWT, 770mL DWT |
| Dimensions | 270 x 220 x 1100mm | 270 x 220 x 1100mm | 211 x 29 x 1001mm | 310 x 269 x 1110mm |
| Weight | 4.5kg | 4.5kg | 2.7kg | 4.3kg |
Want to check out some other options before purchasing the Tineco Floor One S5 Pro? Consider the below cordless wet/dry vacuums as alternatives: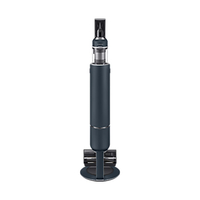 Samsung Bespoke Jet
You'll be paying a little more for the Samsung Bespoke Jet, but it does come with the added benefit of being able to be used on carpets. Boasting one of the most powerful suctions we've seen in any vacuum, it also has hybrid functions and can be used as a hand vac. Plus it ships with an auto-emptying station that's just as powerful. In addition, you can opt for models with two battery packs, giving you a total of 120 minutes of runtime, plus a plethora of attachments to get into most spaces.
Read our full Samsung Bespoke Jet review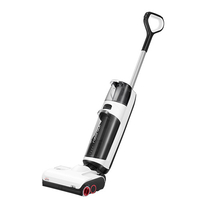 Roborock Dyad Pro
The Roborock Dyad doesn't offer the comprehensive display that the Tineco Floor One S5 Pro has, but it does squeak in at a more reasonable price of $449.99 / £489.99 / AU$799. It can't go on carpeted areas, but it does have larger water tanks.
Read our full Roborock Dyad Pro review
How I tested the Tineco Floor One S5 Pro
Used across three different types of hard floors
Tested on dry spills, hard-to-move dirt as well as spilt water
Across the eight weeks that I had the Tineco Floor One S5 Pro, I used it on average once a week as my main vacuum, when not testing out additional features. There are three types of hard floors in my home, ranging from floating boards in the main part of the apartment, to tiles in the bathroom and linoleum in the kitchen. I used it on a variety of different messes on my floors, ranging from cat litter, fur, dried cat food, dirty water, cardboard pieces, and general dirt and dust that gathered on my floors. There were a number of obstacles in my home to manoeuvre it around, including those that could be moved and those that couldn't, and I used these spots to see how well it manoeuvred around different obstacles.
Find out more about how we test
[First reviewed August 2023]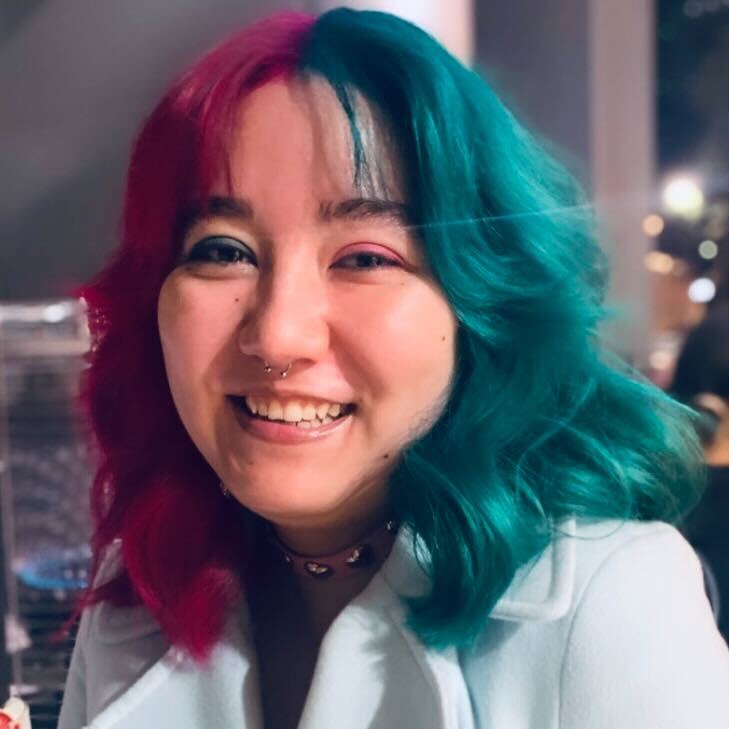 Writer, TechRadar Australia
Petra is new to the industry, but has had a long-time love of tech, gaming and entertainment, which she now gets to indulge by writing for TechRadar. She's also keen on sharing news about deals and discounts in the APAC region – with a background in archaeology, she'll dig deep to find the best deals and thanks to her long history in retail, knows what makes a good bargain. She also is a bit of a keyboard hobbyist, having found enjoyment with mechanical keyboards during 2020's lockdown, and has big plans to build a fully custom matching keyboard and PC in the near future.