A brave new frontier for WiZ into the world of home security, I was pleasantly surprised with the highly capable WiZ indoor camera. While its hardware isn't much to write home about, and the build quality is a little cheap-feeling, the options for local storage and non-paywalled features give it a huge advantage over similar cameras with ongoing costs.
Pros
+

Local storage

+

SpaceSense and smart light security features

+

Great onboard features
Cons
-

Narrow field of view

-

Limited further security device options

-

Value for money versus. build quality and hardware
Why you can trust TechRadar We spend hours testing every product or service we review, so you can be sure you're buying the best. Find out more about how we test.
One-minute review
The WiZ Indoor camera is a neat, if not slightly cheap-feeling, home security device that offers some peace of mind when you're away from home.
WiZ is best known for its more affordable smart lighting alternatives to its sister brand Philips Hue, but now the brand is going boldly where only a few smart light specialists have gone before: the home security camera market.
For a first attempt, I have been pretty impressed by the WiZ Indoor camera. Sure, it looks a bit basic and feels a bit cheap, plus the hardware specs leave much to be desired, but it arrives with plenty of features right out of the gate, and these aren't ringfenced by a pesky subscription; what you see is what you get. I also love that there's a local storage option in the form of a microSD card.
The features work pretty well and reliably, especially given that I've been using the brand-new WiZ v2 app, which I did expect to have more bugs at this stage. There are lots of customizable settings, and with WiZ's proprietary SpaceSense technology combined with some neat smart light compatibility, this camera is an exciting addition to any WiZ fan's home.
There is some room to grow, however. As mentioned, the design is very basic, and it feels plasticky to the touch; for its price point, I'd want at least a little more quality here. Camera quality is fairly standard for the price, but seeing as many of its rival's devices are now a few years old, I'd have rather seen the inclusion of 2K resolution or a wider field of view than the WiZ Indoor Cam's 120-degrees, for a bit more money.
Does it do enough to join the leagues of the best home security cameras? In some senses, yes; it will hands-down be the best option for a number of people thanks to its freely available features. However, the hardware just isn't quite there, and if you want something that can integrate into a wider security system, is capable of 2K or has the greatest possible field of view, this camera isn't it.
Right now, you're limited in how far you can take WiZ's indoor security features; but I suppose you have to start somewhere. If you're taking your first few steps with regards to your home security setup, and are also a fan of WiZ's smart lights, this could be a great starting point.
WiZ Indoor camera review: price and availability
List price: $69.99 / £79.99
Available in the US and UK directly from WiZ or on Amazon
At $69.99 / £79.99, the WiZ Indoor Cam is on the pricier side of 1080p indoor cameras. It's available in the US and UK through WiZ's website or Amazon.
In the box, the camera arrives with an instruction manual, some screws for mounting, and a USB-A cable – but there's no adapter; you'll need to source this yourself.
Examining the pricing for the WiZ indoor cam is a little tricky. On the one hand, the design, build quality and hardware aren't terribly exciting, and until WiZ releases more home security devices, you're limited when it comes to expanding your home security network.
On the flip side, WiZ isn't twisting your arm into paying for costly ongoing subscription fees, and there are lots of features and options in the app that aren't available as standard with devices from Amazon, Google and Arlo, for example. Of course, if you do want cloud storage, that's available – as of writing, we don't yet have confirmed pricing – and it's end-to-end encrypted to keep your recordings safe and private.
Personally, I'll always opt for on-device, subscription-free storage and features; but I'd still say the build quality of the WiZ Indoor cam merits a slightly lower price tag, especially in the UK.
Value: 4/5
WiZ Indoor camera review: specifications
Swipe to scroll horizontally
The specs of our WiZ Indoor camera review unit

| | |
| --- | --- |
| Camera resolution: | 1080p with night vision |
| Dimensions: | 11.9 x 3.5 x 6.6cm |
| Field of view: | 120° diagonal |
| Wi-Fi connectivity: | 2.4GHz |
| Audio specs: | Two-way audio |
| Compatibility | Alexa, Matter, IFTTT, Google, SmartThings and more Plug-in power |
WiZ Indoor camera review: design
Quite cheaply made
MicroSD card slot
Robust base plate
At 11.9 x 3.5 x 6.6cm, the WiZ Indoor Cam is one of the larger indoor security cameras I've seen in recent years, but only by a few centimeters. Its front features an ovular black faceplate, which houses the 1080p camera and an LED light to indicate the power status of the device (green), or if it is recording (red).
The rest of the device is encased in a white, fairly cheap-feeling shell. On one side there's a microSD card slot to store footage locally, and on the rear is the recessed USB-A port and the speaker and microphone for two-way audio.
A ball and socket joint connects the main camera unit to the baseplate, offering a fair amount of flexibility when it comes to positioning your camera. I placed mine on a shelf, but the baseplate can be easily affixed to the wall with the included screws.
The camera is far from an eyesore, but compared to more "attractive" indoor cams such as the budget-friendly Arlo Essential Indoor Camera or the adorable Ezviz C6 2K security camera, it feels basic and a little uninspired. Note that the cable is also pretty short, meaning that unless you have your own longer cable or a high-up socket, mounting this camera at a higher vantage point will prove difficult. That being said, it feels robust despite the cheaper-feeling materials.
Design: 3.5/5
WiZ Indoor camera review: performance
Works as a motion detector
Lots of great features and settings
Decent camera quality, but not great
After unboxing the WiZ Indoor Cam, I forged my way through a slightly frustrating setup process – the bane of which was a non-functional QR code, which I abandoned for old-fashioned manual pairing, but was left waiting around for things to load. It's worth noting that this was in the early days of the WiZ v2 app, so there were likely a great deal of bugs to wade through still.
The app is pretty intuitive, and offers a significant upgrade on the original. It's clearly taken a few cues from WiZ's sister brand, Philips Hue, which is no bad thing.
After tapping on the now-paired camera, you can watch the 1080p live stream and toggle the camera between its armed, automated recording mode, and its standard on/off settings. The feed takes a few seconds to load up sometimes, especially if it's been a while since you last accessed it, but quality is pretty good once it does. Note that you have the option to toggle the quality from low to high, if you're struggling in terms of connection. Night vision is a little weaker, but passable.
Similarly, the quality of the two-way audio is just "decent", but I don't expect broadcast-quality mics and audio from a diddly little security camera. Sound from the speakers is a little muffled, as is the pickup, but the microphone has a good level of sensitivity and the speakers are loud enough to hear from the next room.
Tapping on the three dots in the top-right corner enables you to adjust a whole host of settings, from recordings and storage to the orientation of your camera and the sensitivity of its sound and motion detection. The best part is, none of these features are sitting behind a paywall.
There aren't really any built-in privacy features, unless you count scheduling the camera to go on or off at certain times – which I don't, as someone who doesn't live to a strict weekly schedule. There's also a slightly puzzling setting in the notifications that allows you to trigger person detection notifications, but to my knowledge, there's no person detection in the app; perhaps a glimpse into future updates for the camera?
Back on the live feed screen, you can also view a timeline of events, and control any paired WiZ lights in the room. Annoyingly, this also controls any WiZ smart plugs you have in the room – something I learned the hard way when testing the camera in conjunction with the WiZ Smart Plug, so be careful when connecting the smart plug with things you might not want unwittingly turned on and off.
Otherwise, though, this WiZ light combination is a great tour de force for WiZ. The ability to quickly control your lights in the room from the live feed is superb, and I enjoy the ability to sync up the response from my lights to the security. But most exciting is WiZ's proprietary SpaceSense technology, in which 80 to 90% of WiZ's existing lights can use Wi-Fi to detect motion in the room. Now, it didn't work super well, but often enough that it was a nice little feature to enjoy.
There are some things that are gated behind WiZ's "Heads Up" subscription; namely, cloud storage, activity zones, manual recording, and 30 days of timeline logs rather than 10. Activity and privacy zones are the only real loss here, in my personal opinion, and even then it's pretty minimal.
Performance: 4/5
Should I buy the WiZ Indoor camera?
Swipe to scroll horizontally
WiZ Indoor camera score card

| Attributes | Notes | Score |
| --- | --- | --- |
| Price | It's pretty affordable as a device, which is great, but so much of the real meat is behind a subscription that will rack up the price over time. | 4/5 |
| Design | The new base plate and privacy cover are really nice additions, thought it would be nice to see a little more finesse in the finish. | 4.5/5 |
| Performance | While it doesn't 'wow' us at this price, the specs and performance of the Ring Indoor Cam (Gen 2) are consistent and reliable. Plus, the app experience is decent. | 4/5 |
Buy it if...
You already own WiZ lighting
With its SmartSense and smart light integration options, the WiZ Indoor camera will be the perfect addition to any security-conscious smart home already using WiZ lights.
You don't want to pay for a subscription
While WiZ is offering a subscription service for cloud storage of security camera footage, you're not forced into it. Instead, you can just use an SD card and store all your footage on-device. Plus, you don't lose out on any features.
You want something customizable
Unlike some of its biggest competitors, WiZ has opted not to paywall its security features, meaning you can customize your camera's behavior to a pretty granular level in the WiZ app.
Don't buy it if...
You want something that looks and feels premium
The form factor is fine, if a little basic, but the build quality of the WiZ Indoor cam is on the cheap side. It isn't the end of the world, with many indoor cameras following suit, but it's worth noting.
You want the best quality footage available
1080p for a brand new model priced at £69.99 / £79.99 would have been passable a few years ago, but with its narrow field of view and fairly basic hardware specs, I'm a little underwhelmed in 2023.
You value privacy
The only automated way to shut off the camera is using schedules, and I couldn't even get my voice assistants to switch off the camera; it requires manual action in the app. Not my favorite thing, so I was glad to at least have a smart plug handy for hands-free control.
WiZ Indoor camera review: Also consider
Swipe to scroll horizontally
| Header Cell - Column 0 | WiZ Indoor camera | Ring Indoor Cam (Gen 2) | Blink Mini | Arlo Essential Indoor Camera |
| --- | --- | --- | --- | --- |
| Price | $69.99 / £79.99 | $59.99 / £49 / AU$99 | $34.99 / £34.99 | $99.99 / £119.99 / AU$159.99 |
| Camera resolution | 1080p with night vision | 1080p HD with color night vision | Up to 1080p 850nm Infrared LED | 1080p |
| Dimensions | 11.9 x 3.5 x 6.6cm | 4.9 x 4.9 x 9.6cm | 4.8 x 4.8 x 3.4cm | 5.2 x 4.9 x 11.32cm |
| Field of view | 120° diagonal | 143°; diagonal, 115°; horizontal, 59° vertical | 110° diagonal | 130° diagonal |
| Connectivity | 2.4Ghz | 2.4GHz | 2.4 GHz | 2.4GHz |
| Audio specs | Two-way audio | Two-way audio with noise cancellation | Microphone and Speaker | Full Duplex 2 way Audio, Single Microphone with noise and echo cancellation |
| Smart home compatibility | Alexa, Matter, IFTTT, Google, SmartThings and more | Alexa | Alexa | HomeKit, Alexa, Google Assistant, SmartThings, IFTTT |
| Power supply | Plug-in power | Plug-in power and 7W USB-A power adapter | 5 volt/1 Ampere USB-micro connector | Wired only |
Decided against the WiZ Indoor Cam? Why not check out these alternatives...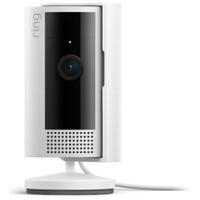 Ring Indoor Cam (Gen 2)
Ring is the de facto video doorbell champion, but its security cams are slipping somewhat with the number of features that are ring fenced behind a subscription. Still, its field of view is pretty good, its design is very tidy, and it opens you up to a far wider ecosystem of security devices.
For more information, check out our full Ring Indoor Cam (Gen 2).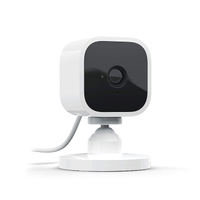 Blink Mini
Also owned by Amazon, Blink offers a cost-effective alternative for one of the most basic cameras around. Of course, it's less affordable when you factor in subscriptions, which also gate-keep many of the Blink Mini's best features.
For more information, check out our full Blink Mini review.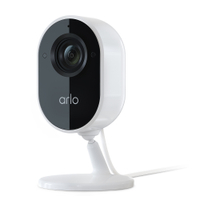 Arlo Essential Indoor Camera
It's almost twice the price as Ring's Indoor Cam (Gen 2), but it's still affordable and has a much better privacy cover, which is automated. You still need a subscription for the full experience.
For more information, check out our full Arlo Essential Indoor Camera review.
How I tested the WiZ Indoor camera
I tested the WiZ Indoor cam for three weeks in my home
I tested its audio, motion and recognition triggers, as well as its various settings and automations
I also tested the SpaceSense feature with my WiZ LED strip lights
I used the WiZ Indoor camera for three weeks in my living room, using it to monitor motion and audio in my home around the clock.
After pairing the device in the WiZ v2 app, I went through all of the possible settings and features, including those available as part of the "Heads Up" subscription, testing how well they worked. I put the two-way talk feature through its paces to ascertain the clarity of the sound played and captured. I set up notifications to assess how reliably the camera was able to alert me to the goings-on within my home.
Having recently tested the Ring Indoor Cam (Gen 2), I benchmarked my experience with the WiZ against this, alongside previously reviewed and used devices to see how the audio, microphone and video quality compared.
Read more about how we test.
First reviewed July 2023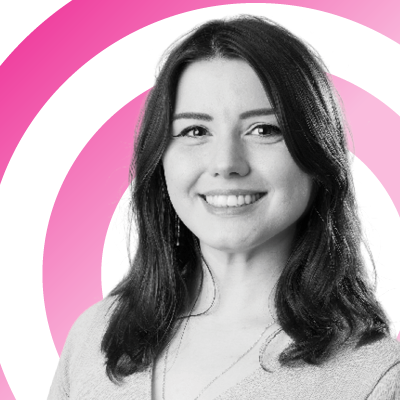 Managing Editor, Lifestyle
Josephine Watson (@JosieWatson) is TechRadar's Managing Editor - Lifestyle. Josephine has previously written on a variety of topics, from pop culture to gaming and even the energy industry, joining TechRadar to support general site management. She is a smart home nerd, as well as an advocate for internet safety and education, and has also made a point of using her position to fight for progression in the treatment of diversity and inclusion, mental health, and neurodiversity in corporate settings. Generally, you'll find her watching Disney movies, playing on her Switch, or showing people pictures of her cats, Mr. Smith and Heady.