The Schlage Encode Smart WiFi Lever has a plethora of entry options and, once installed, setup and use are straightforward. Schlage's own app is solid, and works well with Google Assistant, and with some but not all expected apps. With 100 key codes to use, built-in Wi-Fi, and an alarm, and options to specify times, dates, and run routines for when entry should be granted or the lock activated, it's a recommended choice of smart lock for those who need multiple access options.
Pros
+

Rock-solid sturdy build

+

Choice of key or keyless entry

+

Support for iOS and Android apps
Cons
-

Only available in US and Canada for now

-

Limited smart home app support

-

Fairly expensive
Why you can trust TechRadar We spend hours testing every product or service we review, so you can be sure you're buying the best. Find out more about how we test.
One-minute review
Schlage's Encode Smart WiFi Lever is a sturdy side door or internal door lock which you can control remotely via a choice of apps, as well as with a key or keypad access code. It's ideal for securing kitchen or side access doors, and it's also suitable for small offices, student flats, and homes occupied by different individuals or groups, such as Airbnb-ers.
The Encode Smart WiFi Lever is manufactured by one of the most trusted security brands in the US. Its rock-solid build, brand pedigree, and lifetime warranty augment the Encode's similarly solid feature set. It's aimed at US homeowners, for which its fixtures and fittings match the 54mm standard shaft size. Although it can be fitted to a UK door – we are able to do so, after some initial preparation – as with existing Schlage products that you can buy in the UK, it's better suited to its home market due to differences in door designs.
Schlage sells its lock range to professionals, as well as pitching them as simple-to-install DIY items that you can purchase from a hardware retailer or, more conveniently, online where brand and product comparisons can easily be made. The Encode Smart WiFi Lever joins an existing lineup of locks, including a keypad-and-app-only version of the Encode Smart WiFi Lever.
Keys, of course, are easily lost, and can also end up in the possession of someone who no longer lives at the address or who is no longer welcome. A smart lock allows the lock keeper to control and monitor access on an ad-hoc basis, as well as provide everyday access to other residents. The Encode Smart WiFi Lever appealed to our household because it offers both key and keyless access options with remote monitoring. We can lock valuables in one room and have friends or, potentially, a pet-sitter stay while we're away, and give them full access to the rest of the house.
Access codes for 100 different situations, visitors, and times can be programmed into the system. Using a different code for each person means you can easily see whether it's the window cleaner who popped by, or the dog-walker dropping off your pooch. The Schlage Home app provides a pop-up notification, and also saves events as a color-coded list of how the lock was unlocked, when, and by whom. Forceful attempts to open a locked door result in a two-tone blast that sounds for roughly 20 seconds, warning off a would-be intruder. Should you trigger the alarm accidentally, you'll need to wait for the alarm to stop before disabling it via the keypad.
Schlage is an established brand in the US, where it has a century-long reputation for the build and reliability of its hardware, and is a trusted name for household locks. Comparative tests between Schlage and its next-most-chosen brand competitor show a sturdier build that's more resistant to physical onslaughts from a determined housebreaker, and a less generous cylinder tolerance that makes using a lock pick far less likely to be successful. Importantly, the Encode range of euro cylinder locks are anti-snap: the Master Locksmiths' Association says lock snapping is the number one concern for locksmiths at the moment. Additional cylinder pins help prevent locks from being broken this way.
Specifications for the Schlage Encode indicate that it's been given the highest possible rating for residential security: certified highest residential Security, Durability and Finish rating, with a Certified Grade 1 rating by BHMA (Builders Hardware Manufacturers Association), which "develops and maintains performance standards for locks, closers, exit devices, and other builders hardware". Schlage is sufficiently confident of the Encode's durability that it offers a limited lifetime warranty for the mechanical design and finish.
Schlage Encode Smart WiFi Lever review: Price and availability
Price: $309
Currently US-only, but we expect it will come to the UK
At $309 retail, the Schlage Encode Smart WiFi Lever is pricier than some of the smart lock options out there.
However, few can match Schlage's century-long trusted brand status in the US, and in any case, the price reflects the sheer number of features and access options provided, plus the not insignificant inclusion of Wi-Fi being built into the lock itself.
This is in direct contrast to some rival brands that come with seemingly as much functionality, but with the gotcha that a wireless bridge is also required in order to use apps and other remote-access locking options.
Value: 4/5
Schlage Encode: Specifications
Swipe to scroll horizontally
The specs of our Schlage Encode review unit

| | |
| --- | --- |
| Lock type: | Cylinder lock |
| Dimensions: | 3 x 5.9 x 3 inches / 76mm wide x 149mm x 76mm deep inside of the door/8.25mm on the outside |
| Other entry options: | Key entry, keypad |
| Bore key shaft length: | 2.1 inches / 54mm |
| Security features: | 50dB forced entry alert |
| Weight: | 2lbs / 907g |
| Power: | 4x AA batteries |
Schlage Encode Smart WiFi Lever review: Design
Attractive brushed aluminum escutcheon
2.1-inch / 54mm bore
Light-up keypad with lock and unlock buttons
The Schlage Encode Smart WiFi Lever promises "easy and secure access" to your home via key and entry pad access. However, while it can be used on external doors, it's designed for your 'other' front door rather than being a deadbolt version to replace your existing main entry lock. If you're looking for a smart front door lock, Schlage also sells a Deadbolt version as well as a keyless Encode lock and a full range of standard cylinder and deadbolt locks without smart functionality.
Distinctively American in its chunky good looks, the 3-inch / 76mm-wide by 5.9-inch
/ 149mm tall Encode Smart WiFi Lever comes in a choice of matte black or the attractive brushed aluminum finish we selected. The keypad lights up when in use, which is useful if you're coming in late at night and don't want to disturb others. In standby, the light aluminum background with silvered touchscreen keys looks classy and doesn't 'shout'. In case the meaning of the house and padlock icons aren't clear, pressing the latter results in a blue tick appearing inside the 'house' confirming that the door is locked. You'll also get an audible beep, plus a confirmation event notification on the Schlage app.
The handle is easy to grip and manipulate, and not so stiff that you couldn't nudge it to open the door with an elbow if you'd previously unlocked the door and were manhandling lots of luggage. Note, though, that a built-in security feature auto-locks the door after 10 seconds (a setting you can adjust in the app). Once inside, you can either use the handle to open the door, or press the lock and unlock trigger buttons if you want someone else to be able to let themselves in.
The smart features require power, and this is provided by four AA batteries which you just pop into place when setting everything up; the advantage of AAs is their ubiquity when the time comes to replace them.
Overall, the Encode is an attractive smart lock with a useful range of access options.
Design: 4.5/5
Schlage Encode Smart WiFi Lever review: Performance
Easy to set up and use
Plenty of customization options
Reassuring choice of entry options and restrictions
I'm based in the UK, and the Schlage Encode Lever required a fair amount of preparatory work, simply because the lock fitting is not really designed for UK doors. Companies such as Yale, SwitchBot, and Ultion are likely to be a more obvious brand choice if you're after a simple off-the-shelf purchase to replace your existing lock with a smart version. However, the styling of the Schlage lock and its formidable security pedigree may make it worth the extra work if, like us, you're refurbishing your home anyway.
The Encode Lever is suitable for any residential door with a single borehole, but it's worth noting that it's not the same size or fitting in other territories. Working on the presumption that the Encode Lever will eventually get a UK launch (a fair bet since other Schlage locks can be bought here), we asked a friendly local carpenter (and regular lock fitter) to create the necessary 54mm borehole on our 1930s solid wooden door. This involved cutting a deeper recess into the door jamb and chiseling out a slightly wider groove for the faceplate, as well as drilling a new borehole. Kits for this cost between £20 and £50, so UK homeowners should factor that in, or possible sweeteners for your neighbor who has one handy, when costing up the installation and purchase price for the Schlage Encode. US readers can safely ignore this aspect as Schlage's lock range is designed to fit standard US lock sizes.
Once we'd overcome the challenges of prepping a UK door for a US lock, fitting the lock and setting up the smart features was extremely straightforward. Should you need to check anything, Schlage provides clear visual guides, as well as animated video clips showing the installation process. It's vital to have the Quick Start guide to hand before you press the lock icon on the control keypad, since the all-important access codes are listed on the back. Press lock, then enter access code A – a simple four-digit PIN.
Pairing with the lock once we were on the wireless network took moments. We were immediately able to use our access codes and begin sorting out schedules and routines via the app. We heard a distinctive thud of the door locking or unlocking as soon as we prompted action by app or on the keypad, which was reassuring too.
Besides the usual robust Schlage build, the Encode has intrusion alerts. An attempt to gain entry without a key or code for the alarm to trigger, emitting a 50dB two-tone beep that can be heard a couple of rooms or a floor away as long as there's little in the way of background noise. There's a slider to adjust the sensitivity of this feature from least to most sensitive – a sustained key rattling attempt can trigger the alarm but pumping the lever to check whether the door is locked won't. A determined shunt certainly will!
Performance: 4.5/5
Schlage Encode Smart WiFi Lever review: App
Straightforward setup and user options
Manage multiple locks and multiple users from the app
Notifications of lock/unlock events across all apps and in-person
The impressive Schlage Home app shows you who has used their unique code to access the door, whether in person via the keypad or remotely via an app. It can be used to grant access to others, sending them a text or email with their own unique access code along with details of when they can gain entry. If you set this to 'always' they'll see every day of the week listed, with no time restriction. Conversely, restricted access will state as much.
There are easy-to-use toggle options for features such as forced entry attempts and a slider to adjust the sensitivity of this. Switching between time-limited and 'always' options for when a user can gain entry is a simple matter of choosing from the listed options and then specifying times. You're prompted to name both the lock's location and the person granted access, so that when an event flashes up on your smartphone screen it's clear who's involved. Since multiple locks can be added to the system and automatically monitored, this is worth doing.
The primary app (and lock) owner receives notifications, regardless of which method of entry was used. These initially appear on the smartphone home screen, but are also stored in the app's History list, with events searchable by date and by event type – ideal if you need to see when there was an attempted entry, for example.
A free Schlage Home account is needed to access the lock's smart features via other apps. Connecting them up makes sense, but when you get a notification there's no indication of which mobile app is involved, just which user's access code was used. This means you can't necessarily tell whether someone overheard you calling out your PIN via Google Assistant and asked to unlock the room using it, or whether a connected app was legitimately used to prompt the unlock. This shouldn't be a big issue, but getting Google Assistant to correctly hear the PIN code required half a dozen attempts and speaking quite slowly and clearly – ideal for a snooper's ears too.
Although Apple HomeKit and Amazon's Alexa voice assistant are both nominally supported and showed up as linked devices, neither actually worked with the Encode Smart WiFi Lever in practice. More usefully, the smart lock works well with the Yonami app which, once linked via our Schlage Home app, we were able to use to set up routines such as securing the door automatically if our location showed we'd left the house.
App: 4/5
How I tested the Schlage Encode Smart WiFi Lever
Followed Schlage's quick start installation guide
Connected Encode Smart WiFi Lever to home network
Set up keypad entry as well as installing each of the apps that works with Schlage Home
Shared access codes with others to check they could use their own entry codes;
Trialled forced entry alerts
Tested remote locking routines and scheduled entry options
To test out the Encode Smart WiFi Lever, we began with the key, which is really intended as a backup method of entry, and should be stashed well away from accidental view if you don't want to negate the whole point of handing over hundreds of pounds for a sophisticated lock setup that keeps tabs on who enters and when. The coppery-gold key fitted well, turned easily, and proved a reliable entry and locking option.
Next, we set up the Encode Smart WiFi Lever's keypad entry system. This involved installing the Schlage Home app, clicking through the setup instructions, enabling iPhone camera access, and then hovering over the QR code on the back of the printed quick start guide. To complete the pairing process we removed the black plastic battery cover plate from the inside of the door and pressed the button to initiate pairing. We then connected to the home Wi-Fi network, named the room being secured, and added an entry code. The Schlage Home app then searched for and soon located our Encode lock and confirmed setup was complete. To check it was working, we locked the door using the keypad lock button and successfully unlocked it using our newly specified entry code.
Over the course of a couple of weeks' testing, we found the keypad entry system worked flawlessly, never dropped the Wi-Fi connection, and was always synched with the Schlage Home app, meaning we instantly got notifications – all as it should be. It was a similar story when testing entry via the app, plus those we got working alongside it: Google Assistant and Yonami. These offer voice control access and location-based locking, adding some neat additional ways of interacting with Schlage's own easy-to-use Home app. We were out of luck with Apple HomeKit and Amazon Alexa on the app front, and we're awaiting news from Schlage about when support for these might come to the UK and Australia (as they are currently US and Canada-only features).
The Schlage Encode Smart WiFi Lever is ideal for those with secondary access such as a side door into the kitchen – "the other front door" as Schlage's marketing would have it. It's also a great choice for small businesses that might need lockable internal doors, AirBnB owners, landlords of HMOs, student digs, and families who have kids old enough to appreciate being able to control access to their room without recourse to a DIY webcam-based security setup or the bucket of water on the door frame jape.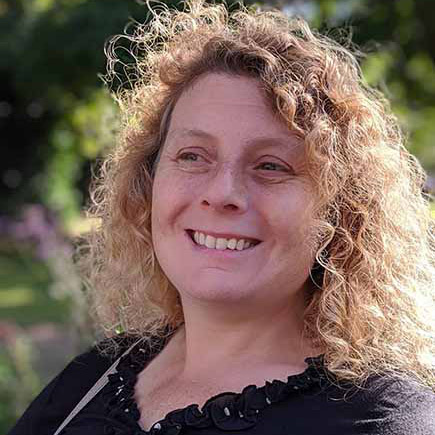 Rosie Hattersley has been writing about technology and how to use it for more than two decades for titles such as PC Advisor, Computeractive and Macworld. Despite living in a houseful of digital radios and streaming devices, she still likes old-school tech and has sizable collections of CDs and vinyl. A fan of crafting and upcycling, she's a regular contributor to maker community magazine Hackspace and Raspberry Pi-focused The MagPi. Rosie enjoys live music, vegetarian cooking, campervanning adventures and unexpectedly long walks.