MyFitnessPal just made calorie counting a lot easier on WearOS smartwatches
Macro management without the phone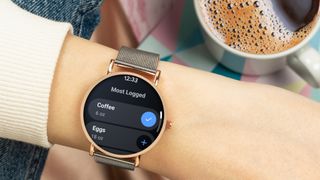 (Image credit: MyFitnessPal)
MyFitnessPal has proven to be an immensely useful tool for anyone wanting to lose a bit of weight, bulk up and pack on muscle, or to simply take control of their macronutrient intake.
If that sounds like gobbledygook to you, the app essentially provides the ability to calculate how many grams of carbohydrates, fats, protein and sugars the food you are intaking contains. From here, MyFitnessPal will make suggestions on how much of each you need to reach certain goals, or how many calories in total you require to put on or lose weight.
The basic package is free to everyone and the app integrates with everything from Garmin Connect to Strava and beyond, so you can get an accurate picture of a total calorie burn on any particular day.
But now, MyFitnessPal offers greater integration for Wear OS users, making it much easier for Android-based smartwatch and fitness trackers to log foods and hydration, as well as track those all-important macros, all from the wrist.
The functionality has been available to Apple Watch users for some time, but opening it up to Android users means those plumping for the hotly-anticipated Pixel Watch 2, for example, will be able to take greater control of their diets and exercise.
One of the handy features the Wear OS app includes is the ability to easily add your most logged meals – so if you have saved regular breakfasts, you can add these with a few taps. On top of this, it's possible to track your top three nutrients (sugar, carbs, fats etc), log the amount of water you are drinking each day and quickly add a calorie intake per meal to see a daily total.
Most of the above is shown in easy-to-read colored rings, which gradually fill up as you head towards your targets - or should that be limits? It's available to download now from the Google Play Store.
A win-win for fitness fans, but not everything is free
Although it is not healthy to obsess over every single morsel that passes your lips, having a handle on your macronutrient intake is an important step towards reaching fitness goals. After all, how many time have you heard the phrase "abs are made in the kitchen"?
The addition of a Wear OS MyFitnessPal app opens up a much more convenient avenue for Android users to log regular meals.
That said, if you're eating something that isn't on your favorites list, you will still have to go into the smartphone app and search for it the normal way.
On top of this, MyFitnessPal has some premium features behind a monthly subscription paywall, including the option to quickly input the macros of a particular meal.
Anyone cooking with HelloFresh or Gousto will know that the respective companies provide this information on their recipes, but unless you are willing to pay for Premium MFP, it's a case of inputting every single ingredient. Painful.
You might also like
Get daily insight, inspiration and deals in your inbox
Get the hottest deals available in your inbox plus news, reviews, opinion, analysis and more from the TechRadar team.