The Leesa Sapira excels in terms of comfort and support for most lightweight sleepers and side sleepers, plus select combination sleepers (side and back). Co-sleepers across these categories will also appreciate its stellar motion isolation. Meanwhile, its cooling properties and edge support are neither top-notch nor major red flags.
Pros
+

Great for lightweight and side sleepers

+

Impressive motion isolation

+

Made with high-quality foam
Cons
-

Not ideal for heavier bodies

-

Not ideal for stomach sleepers

-

Not the best value vs. competitors
Why you can trust TechRadar We spend hours testing every product or service we review, so you can be sure you're buying the best. Find out more about how we test.
Leesa Sapira mattress: two-minute review
The Leesa Sapira is the bestselling mattress from the Phoenix-based brand. It's a premium hybrid mattress with six layers: from a soft, zip cover through dense foam layers, then coils in the support layer and a base layer for durability. While the brand cites it as medium to medium-firm (6 to 8 out of 10)—which, per the official product page, 86 percent of customers agree with—I believe it's a solid 6 out 10, i.e., leaning closer to medium.
As a lightweight combination sleeper (side and back) prone to side sleeping, I can attest that the Leesa Sapira was exceptionally suited to my needs. Since it offers a perfect balance of contouring and support for my body type and sleep preferences, I highly recommend it for similar sleepers. Given its limited motion transfer per our tests, it's a great investment for co-sleepers who rouse easily and/or move around at night if they're part of the aforementioned groups, as well.
Several design elements (across the cover, top foam layers, and coils) are meant to provide cooling properties. While the Leesa Sapira is cool to the touch and doesn't necessarily cause overheating, sleepers who run extra hot at night may find these elements to be lacking. Similarly, despite the reinforced perimeters, the edge support isn't great.
With these potential cons in mind, they shouldn't be deal breakers for most—though the hefty price tag may make you think twice before buying. Moreover, some competitors in the same tier provide greater value and customization to back up the cost. Be sure to read the TechRadar best mattress buying guide for greater insights.
I'll expand on each of these points throughout this review. Ahead, learn more about the Leesa Sapira and how it performed across all major areas of performance—including pressure relief, motion isolation, edge support, cooling, and ease of setup—during my 3-week testing period.
Leesa Sapira mattress review: price
Premium range mattress
Ongoing sales can save $150 to $400 off MSRP
Comes with complimentary no-contact shipping and 2 pillows
No matter if you buy the Leesa Sapira at full MSRP or during one of its many promotional periods, it still comes with a luxury price tag. Leesa offers two other hybrid mattresses—the Original Hybrid and the Legend Hybrid—with the Sapira priced in between the two.
Here's the current price list for the Leesa Sapira mattress, both at full MSRP and usual promotional pricing:
Twin size: MSRP $1,349 (normally sells for $1,199)
Twin XL size: MSRP $1,399 (normally sells for $1,249)
Full size: MSRP $1,699 (normally sells for $1,499)
Queen size: MSRP $1,999 (normally sells for $1,699)
King size: MSRP $2,299 (normally sells for $1,899)
Cal king size: MSRP $2,299 (normally sells for $1,899)
In most cases with mattress brands, there's almost always a deal to be had. The Leesa Sapira is no different. Be sure to time your purchase right in order to save as much as $400 off the MSRP. (Note: Total savings will largely depend on your mattress size.) Don't forget to bookmark TechRadar's mattress sales guide, which is regularly updated with the latest promotions.
Leesa offers free no-contact delivery, as well as two free pillows, with your Sapira purchase. These perks help increase the value for what you pay. If preferred, you can also shell out $199 for in-home setup and removal of your old mattress.
Leesa Sapira mattress review: specs
Swipe to scroll horizontally
| | |
| --- | --- |
| Price (queen size) | MSRP $1,999 (usually sold at $1,699) |
| Firmness | Medium to medium-firm (6/10) |
| Materials | Memory foam, coils, additional foams |
| Depth | 11 inches |
| Sizes | Twin, twin XL, full, queen, king, Cal king |
| Delivery | Free standard delivery, $199 for in-home setup |
| Trial period | 100 nights |
| Warranty | 10 years |
Leesa Sapira mattress review: materials and design
Hybrid mattress with memory foam, coils, and other foams
Foam in comfort and recovery layers are top-notch
Several elements are intended to enhance breathability
The Leesa Sapira has six layers, starting with a soft zippable cover consisting of ultra-fine fibers of viscose and plant-based rayon that are intended to wick moisture. The comfort foam layer is 1.5 inches thick and 3 pounds in weight, contours to the body, and is punctured with air channels to maximize airflow. The memory foam recovery layer is 1.5 inches thick and weighs 4 pounds, and is designed to further contour the body and alleviate pressure across the shoulders, back, and hips. (These two foam layers are denser than most across competitors and thus enhance the value of this premium hybrid mattress.) The transition foam layer is 1 inch thick and 2 pounds in weight, and functions as a structural buffer above the coiled support layer.
The responsive support layer is 6 inches thick, consisting of 1,000+ pocket springs, which reduce motion transfer while aiding air circulation. The final base layer, which offers support and stability, is 1 inch thick and 2 pounds in weight.
Each of the foams used in the Leesa Sapira is CertiPUR-US certified. This means that they meet precise standards for human and environmental safety, including having a low amount of volatile organic compounds (VOCs) compared to other foams lacking this certification.
Design score: 4 of 5
Leesa Sapira mattress review: comfort
Medium feel that balances softness and support
Best for lightweight side and combination sleepers, plus select back sleepers
Lacks support for heavier sleepers and most stomach sleepers
Over the course of 3 weeks, I tested the Leesa Sapira for comfort and support across all sleeping positions. For reference, I'm a combination sleeper naturally prone to side sleeping (though I'm striving to sleep more on my back), and I weigh under 130 pounds.
The Leesa Sapira gently contours the body. While laying down, I felt that I was neither "sinking in" (which you may feel with softer mattresses or full memory foam mattresses) nor "bouncing up" (which you may feel with firmer innerspring mattresses).
I was pleased to discover that it was the perfect fit for my needs while side sleeping. It offered exceptional comfort and pressure relief in my neck and hips in particular, places where I always carry tension. (I had just reviewed a slightly firmer mattress without the cushion of the memory foam, and my body thoroughly enjoyed the extra cradling.) Back sleeping was just as comfortable; I felt supported and didn't experience any discomfort sleeping in this position. Average weight sleepers who prefer these positions and medium mattresses may also take well to the Leesa Sapira.
While stomach sleeping, I didn't feel much sagging or misalignment, in part given my relatively light body weight. However, most stomach sleepers should aim for a firm mattress (8+ on a scale of 10) for optimal comfort, support, and spinal alignment.
According to Leesa, the Sapira has a medium to medium-firm feel (6 to 8 out of 10). I believe it's closer to 6 and thus medium, based on other reviews and carrying out a kettlebell test. When I placed a 55-pound kettlebell—which mimics body weight—at the center of the mattress, I measured the sinkage as 3 inches. This was a half-inch shy of a medium to medium-firm mattress I'd gauged as a 6.5, also based on previous mattress reviews.
Comfort score: 4.5 out of 5
Leesa Sapira mattress review: temperature regulation
Cool to the touch
Cooling properties aren't too impressive given the design features
Not ideal for very hot sleepers
The Leesa Sapira has several elements meant to enhance breathability and airflow. There's a moisture-wicking cover, a comfort foam layer super-charged with air channels, and a support layer with pocket springs to help with circulation and keep cool.
Despite these features and the fact that the mattress is cool to the touch, I wouldn't say it boasts an exceptional performance for temperature regulation. I sometimes run hot at night, and did so on a few occasions during my testing period. (Note: I reviewed the Leesa Sapira during a Southern California summer with nightly temperatures averaging in the high-60s Fahrenheit, so some level of warmth was anticipated.)
That said, enhanced cooling properties in a mattress are a nice perk rather than an absolute necessity for me. Long-term hot sleepers may find greater relief from the heat with another mattress with exceptional cooling properties. Non-hot sleepers, however, should fare just fine.
Temperature regulation score: 4 of 5
Leesa Sapira mattress review: motion isolation
Thick top foam layers absorb motion very well
Excelled in our motion transfer tests
Great for co-sleepers, including those who sleep light
I did another kettlebell test to see how well the Leesa Sapira absorbs motion. I placed a wine glass in the center of the mattress and dropped a 15-pound kettlebell at 4, 10, and 25 inches away. How much the wine glass moves can adequately reflect how much motion you may feel if a co-sleeper (or a pet) moves around at night. As such, motion isolation is an important performance indicator for light co-sleepers with a fidgety partner.
The glass moved but recovered when I dropped the kettlebell 4 inches away. It looked in danger of tipping, but held out with successive tests. It wobbled a lot less upon dropping the weight from 10 inches away and barely moved 25 inches away. Given this impressive performance, co-sleepers should have no issue on the motion transfer front.
Motion isolation score: 5 out of 5
Leesa Sapira mattress review: edge support
Perimeters are reinforced in coil layer
Support isn't great sitting on the side of the bed
Doesn't provoke fear of rolling off
I assessed edge support with a further kettlebell test. I placed my 55-pound weight along the perimeter of the mattress. It dipped just under 3 inches, so it was close to the amount of sinkage in the middle. (Edge support is typically good if the edge sinkage matches the center sinkage.)
It didn't perform as well with my own experience sitting on the edge of the bed. Although the perimeters are reinforced in the coil layer, I still felt that the support was lacking: basically drooping instead of lifting me up. However, I never felt in danger of rolling off while sleeping—though co-sleepers and heavier sleepers may want to consider this before buying the Leesa Sapira.
Edge support score: 3.5 out of 5
Leesa Sapira mattress review: setup
Mattress delivered vacuum-packed, rolled and boxed
Free delivery or in-home setup for $199
Faint off-gassing smells through the first day
Each purchase of the Leesa Sapira comes with free no-contact delivery. You can't choose a delivery date or time with this option, but you can follow tracking details provided. You can also opt for white-glove service for $199 (available in select locations). Two people will unbox and set up the mattress as well as remove your old one. This option also comes with greater control over your delivery date, and you can choose a 4-hour window.
I did the standard delivery, and I was glad that the mattress arrived directly at my unit doorstep, saving me the trouble of pushing it down my long hallway. The box has perforations for your hands in case you need to pull it, too. I followed the instructions on the box, placing the rolled mattress directly on the bed instead of cutting through the plastic first. As a solo unboxer, this proved to be very challenging—even though, historically, I don't have much difficulty unboxing other mattresses on my own. The full process took about 30 minutes and a lot of sweat. If you're unboxing solo, proceed with caution, or consider enlisting help from someone else.
The mattress hissed once I finally unwrapped the first thick layer of plastic. It quickly expanded to near-full form once I cut through the second vacuum-wrapped later. (Leesa says it's ready to sleep on that night but perfect the day after.) I noticed a slight off-gassing smell about 3 feet away for a few hours after unboxing, and could also notice it before falling asleep that night.
Setup score: 3.5 out of 5
Leesa Sapira mattress review: customer reviews
4.4 out of 5 stars (average) from 2,000 reviews on website
Side sleepers, back sleepers, and co-sleepers offered the most praise
Level of firmness, edge support, and inaccurate size were cited as complaints
I finished my Leesa Sapira review in early August 2023. At the time of writing, the mattress has 4.4 out of 5 ratings from 2,016 reviews on the brand's product page. Based on my own experience and testing, I wasn't surprised to see that customers who loved the Sapira most were side sleepers, back sleepers, and co-sleepers with these preferences. Many experienced greater comfort, support, relief from aches and pains, and better sleep overall. In addition, a few dozen customers called out Leesa's high-quality customer service. Others took note of the high-quality materials built to last.
Customers who were less pleased with their purchase found the Leesa Sapira to be softer or firmer than expected. These markers are often subjective and based on countless extenuating factors, so you should read them with a grain of salt—or at least focus on those that have more details for contextual clues. I also saw some reviewers call out that the edges of the bed were uneven or slanted, which I also noticed with my own mattress.
West Elm and Pottery Barn also sell the Leesa Sapira, but reviews aren't currently listed on either site. Home Depot also carries this model and has 13 reviews at present. Most are positive, but some customers complained about the unimpressive edge support, not being worth the cost, and issues with sizing.
Should you buy the Leesa Sapira mattress?
If you're like me—that is, under 130 pounds, a side sleeper, or a combination sleeper—the Leesa Sapira should definitely be near the top of your list. It perfectly fit my needs for comfort and support, two elements I find to be paramount. Light to average weight side sleepers, back sleepers, and co-sleepers are also good candidates for this model.
Most heavier sleepers (potentially excluding select side sleepers) and stomach sleepers (potentially excluding lightweight sleepers) may be better off with a firmer mattress. Sleepers who run extra hot at night may also find greater relief with another mattress, but you should be fine if temperature regulation isn't an ongoing issue for you. Again, edge support is the least impressive aspect of the Leesa Sapira, but it's not a major red flag.
Of course, most people will also need to factor in the price in light of the above considerations. The top foams are super dense and of high quality, which can partially justify the cost. If you don't need a ton of personalization (i.e. the option to choose how thick or firm your hybrid mattress is) and you're fine with a medium-feel and the price tag, I say it's worth giving the Leesa Sapira a shot so long as you're aligned with the key points shared above.
Also consider
Swipe to scroll horizontally
| | Leesa Sapira Hybrid | Saatva Classic | Leesa Original Hybrid | Casper Wave Hybrid Snow |
| --- | --- | --- | --- | --- |
| Price (queen size) | MSRP $1,999 (usually sold at $1,699) | MSRP $1,995 (usually $1,695) | MSRP $1,499 (usually $1,299) | MSRP $3,395 (sometimes $2,546.25) |
| Firmness | Medium to medium-firm (6/10) | Plush, medium or firm | Medium firm (6-8/10) | Medium (6/10) |
| Materials | Memory foam, coils, additional foams | Memory foam, pocketed coils | Memory foam, coils, additional foams | Memory foam, springs, other foams |
| Depth | 11 inches | 11.5 - 14.5 inches | 11 inches | 13 inches |
| Sizes | Twin, twin XL, full, queen, king, Cal king | Twin, twin XL, full, queen, king, Cal king | Twin, twin XL, full, queen, king, Cal king | Twin, twin XL, full, queen, king, Cal king |
| Delivery | Free standard delivery, $199 for in-home setup | Free White Glove delivery | Free standard delivery, $199 for in-home setup | Free |
| Trial period | 100 nights | 365 nights | 100 nights | 100 nights |
| Warranty | 10 years | Lifetime | 10 years | 10 years |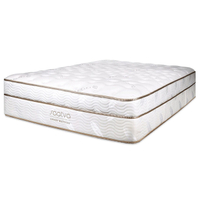 Saatva Classic Mattress
If you're fine with the price tag of the Leesa Sapira and don't want to limit yourself to hybrid models, you'll definitely want to check out the Saatva Classic. This luxury innerspring with pillow top mattress provides exceptional value with a 365-night free trial, a forever guarantee, and free white glove delivery. Better yet, you can choose from 3 levels of firmness and 2 heights.
Read our Saatva Classic mattress review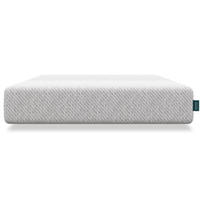 Leesa Original Hybrid Mattress
Leesa's Original Hybrid Mattress is a good option if you want to stick with the brand but save a bit of money. It, too, has a medium to medium-firm feel. However, the foams are less dense and use about 20 percent less coils, so it may not be as comfortable and cool as the Sapira.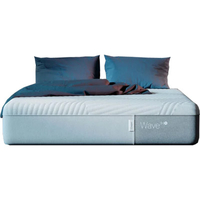 Casper Wave Hybrid Snow Mattress
The Casper Wave Hybrid Snow will set you back around an extra grand or so versus the Leesa Sapira. But if you have money to burn, need superior cooling properties, and seek relief from back pain, look no further. It's also good for co-sleepers. The combination of these benefits can ultimately make the purchase priceless for select sleepers.
How I tested the Leesa Sapira
I slept on a queen-size Leesa Sapira mattress for three weeks in July in Los Angeles, where average nightly temperatures were in the high-60s Fahrenheit. I kept my bedside window open and my ceiling fan on to invite a breeze. I used bamboo sheets and a bamboo duvet to cover an alternative down comforter. Sometimes, I slept on top of these layers to help beat the summer heat.
I ran standardized tests to objectively gauge softness, edge support, and motion isolation. These helped inform my subjective experience as a specific type of sleeper within a specific weight class, yet also shed light on the Leesa Sapira's key performance indicators given my experience reviewing other mattresses.
Michele Ross is a freelance wellness, beauty, and lifestyle writer based in Los Angeles. She contributes to publications including Well+Good, Editorialist, and RealSelf; has worked with brands including HUM Nutrition, Goldfaden MD, and Beast Health; and has served as a content strategist and ghostwriter for doctors and dietitians. Her goal is to empower readers to make informed decisions about their routines that work for their specific needs and concerns.