The Google Pixel 7 is the company's latest flagship, along with the Pixel 7 Pro, but - especially at first glance - it's not a huge amount different to the Google Pixel 6.
The two phones look quite similar and share a number of specs, so you might be wondering just what's actually changed, and whether the new phone is worth buying or if you should stick with the old one.
So to make your choice a bit easier, we've decided to compare the two phones below - this is based on their specs, and in the case of the Pixel 6 we'll also factor in our experiences with the phone - though we can't do that with the Pixel 7 until we've put it through a full review.
Google Pixel 7 vs Google Pixel 6 release date and price
The Google Pixel 7 and Pixel 6 both have exactly the same starting price, namely $599 / £599 / AU$999. For that you get 128GB of storage, with a 256GB model of either costing $699 / AU$1,129 - or £699 in the UK in the case of the Pixel 7, with the 256GB Pixel 6 not being available in that region.
Of course, if you shop around you might be able to find the Pixel 6 for less, since that was its launch price but it's often now sold at a variable discount.
The Pixel 6 series went on sale at the end of October 2021, and the Pixel 7 ships on October 13, 2022, with pre-orders open now.
Google Pixel 7 vs Google Pixel 6 design and display
Well, this is going to be a short section.
The Google Pixel 7 looks near-identical to the Pixel 6. That means it has a glass rear panel that's broken up by a horizontal camera bump bar. One minor change is that the Pixel 7's camera bar is now one long aluminum piece, but that's honestly a very small difference.
Both phones also have an IP68 rating to protect them from dust and water, and have Gorilla Glass Victus on the screen.
The colors differ though, with the Pixel 7 coming in a choice of Obsidian (black), Snow (white) or Lemongrass (a pale yellowish-green), while the Pixel 6 comes in Stormy Black (grey/black), Sorta Seafoam (blue/green), and Kinda Coral (pink/red).
The Pixel 7's display is also almost identical to the Pixel 6's. The former has a 6.3-inch 1080 x 2400 OLED panel with 416 pixels per inch, while the latter has a 6.4-inch 1080 x 2400 OLED screen with 411 pixels per inch. Both phones also have a 90Hz refresh rate.
So the Pixel 7's screen is slightly smaller, but it can get 25% brighter outdoors. Other than that their screens are basically identical.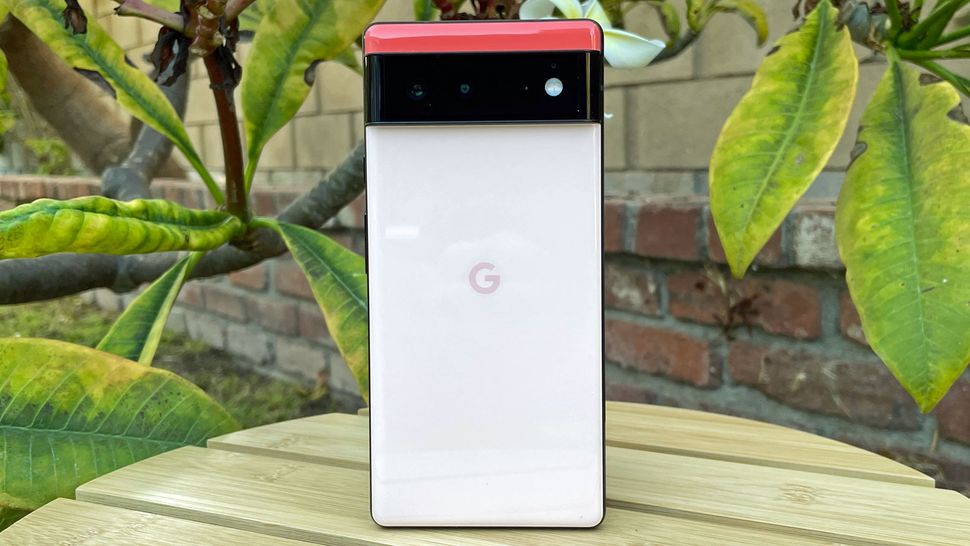 Google Pixel 7 vs Google Pixel 6 cameras and battery life
The Google Pixel 6 has two rear cameras: a 50MP main and 12MP ultra-wide duo. However its big selling point is its software - it benefits from Google's AI scene optimization, and has a few useful features like Magic Eraser for removing unwanted background objects in snaps.
It's a similar story on the Pixel 7, with the same pair of cameras on the back. The front-facing camera has been upgraded to 10.8MP on the Pixel 7 though, from 8MP on the Pixel 6.
There are some new software features here, such as Cinematic Blur, which adds a shallow depth of field effect to videos, but these might come to the Pixel 6 as well.
However, the overall camera performance should be improved on the Pixel 7, thanks to its new Tensor G2 chipset, which Google claims allows for the Pixel line's best photo and video quality yet.
In terms of battery life, the Pixel 7 has a 4,355mAh battery, supposedly offering over 24 hours of life. The Pixel 6 has a 4,614mAh power pack and lasts for about a day of use, so the two might be similar in terms of lifespan but we'll have to put the Pixel 7 to the test to know for sure.
For the last few generations of Pixel, Google has really been improving the lasting power of its phones, and hopefully we'll see the Pixel 7 last even longer than the 6.
Charging power is the same on both, with both phones supporting 30W wired charging, and also allowing for wireless charging.
Google Pixel 7 vs Google Pixel 6 performance and software
The Google Pixel 6 marked the debut of Google's own-built chipset, the Tensor, and the next-gen version of this mid-range chip will be used in the Pixel 7 family.
This is called the Tensor G2, and it makes machine learning significantly faster than on the previous version, as well as generally boosting performance and efficiency. Google boasts that this new chipset works brilliantly for gaming, photography, dictation and more, all while being lighter on the phone's battery.
Beyond that, both phones come with 8GB of RAM, and both support 5G.
Software-wise, both phones come with contemporary builds of Android - that's Android 12 in the case of the Pixel 6 and Android 13 for the Pixel 7. Though the Pixel 6 can be updated to Android 13, so the main advantage of the new phone is that it will get software updates for longer.
Google Pixel 7 vs Google Pixel 6 takeaway
It's early days for comparing the Google Pixel 6 and Pixel 7, since we haven't reviewed the latter yet, but based purely on specs it sounds like quite an iterative update.
The design and display sound very similar and so does the camera - though the new chipset might make a difference there.
So bearing in mind that the Pixel 6 has dropped in price quite a bit since launch, it might seem like a tempting choice, but the Pixel 7 is at least a small upgrade, and it will be supported for longer.
We might also find that in practice it's a lot better than the specs suggest - so you might want to wait for our full review before making a buying decision.