Even though the Zen 4 processors are here, and better than ever, that doesn't mean there aren't still plenty of powerful gems from the previous generation. One such processor is the AMD Ryzen 7 5800X, which was a high-end chip back in 2021, with an 8-core, 16-thread processor and a huge 4.7GHz boost clock. At one point it was on our best AMD processors list, with the AMD Ryzen 7 5800X3D variant still on the list even now.
Its original price was $449, but thanks to an excellent discount it's now at its lowest price in quite some time. This AMD Ryzen 7 5800X is currently just $242.50 at Newegg (opens in new tab), which is an excellent discount of $200. If you need a solid processor for productivity or creative work, this is a great deal to take advantage of right now.
AMD Ryzen 7 5800X deal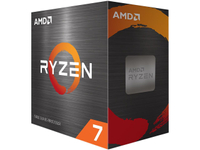 (opens in new tab)
AMD Ryzen 7 5800X: was $799 now $497.99 at Newegg (opens in new tab)
This is still one of the best AMD processors, even with the Zen 4 generation chips dropping. It sports an 8-core, 16-thread count, 4.7GHz boost, and 32 MB L3 cache. And for this price, it's a complete steal, and absolutely perfect for a budget PC build.
The best AMD processors rival Intel silicon, and the AMD Ryzen 7 5800X is no exception, and worthy competition for the 12th-generation Intel CPUs. What makes this chip even better is that it's perfect for building a budget PC, which is a practice that's become increasingly more difficult with all these premium chips entering the market.
It does use DDR4 instead of DDR5 RAM, which could be a drawback for someone who wants nothing but the newest and best for gaming, but for most budget gamers this is a non-issue.
If you want even more great deals on processors, check out our best cheap processors page, which features plenty of chips at a great price.
More AMD processor deals