The brand-new OnePlus 11 is available to preorder this week, and Amazon is throwing in a free $100 gift card (opens in new tab) to sweeten the deal for early adopters.
Retailing for $699, the OnePlus 11 is the latest Android flagship from the now well-established brand. While it's still early days, our initial OnePlus 11 review has been positive so far on this device, and think it's a great alternative to the Galaxy S23 and Google Pixel 7.
In particular, we love the focus on the co-designed Hasselblad camera setup, which is capable of some gorgeous images. Considering the price, it's also impressive that OnePlus has managed to include the latest Snapdragon 8 Gen 2 chip inside too, which is one of the most powerful mobile processors on the market right now. With a huge circular camera bump, the design of the device may prove divisive, but there's a ton of value on offer here - and a great display to top it all off.
If you're in the UK, you can also pick up a OnePlus 11 at Amazon today and score a free pair of OnePlus Buds Pro (opens in new tab) as a preorder freebie. Arguably, this is an even better deal than the one that's being offered in the US, as these premium earbuds are worth a respectable £179 by themselves.
OnePlus 11 preorder deals at Amazon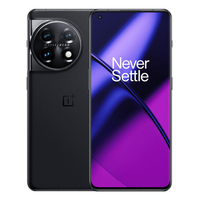 (opens in new tab)
OnePlus 11 w/ $100 Amazon gift card: was $799 now $699 at Amazon (opens in new tab)
Amazon is throwing in a free $100 with all OnePlus 11 preorders today - a great little bonus if you were thinking about picking up this great new Android flagship. Highlights include a powerful new Snapdragon 8 Gen 2 chip, a co-designed Hasselblad camera, and super-speedy 80W charging - all for a price that's favorable when compared to the likes of the new Galaxy S23.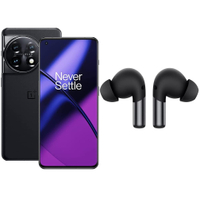 (opens in new tab)
OnePlus 11 + free Buds Pro 2: was £908 now £729 at Amazon (opens in new tab)
In the UK? There's no gift card up for grabs, but Amazon is offering a free pair of Buds Pro 2 with OnePlus 11 preorders instead. Arguably, this is a better deal since you're getting a freebie that's worth £179 by itself (and a great pair of wireless earbuds to boot).
If you want to see what else is available on other devices right now, head on over to our main cell phone deals page for the latest on Samsung, Apple, and Google flagships.