Update [30/3 16:48pm]: The sale price for the Instant Vortex Plus below has changed since this article was first published. All prices and discount amounts listed have been amended to reflect this change where applicable and are current at time of writing.
As part of the Amazon Big Smile Sale, this deal on the Instant Vortex Plus air fryer wasn't one we were going to miss thanks to its handy 41% off discount. But is this deal too good to be true?
We were lucky enough to do our own Instant Vortex Plus review, and while this particular model doesn't appear on our best air fryers list, we still gave it a solid 4.5-stars thanks to its overall performance, ease of use and 6-in-1 design.
There are a few things to note about the Instant Vortex Plus though. Having a 5.7L capacity makes this appliance a little bulky and, while it can reheat leftovers, it won't fully replace a microwave.
However, you can roast a whole 1.8kg chicken in its basket, and while the crisper tray is dishwasher safe, the basket itself isn't due to its non-stick coating. Alongside roasting and reheating, you can also fry, grill, bake and dehydrate food, reducing the need for extra appliances taking up precious space in your kitchen.
So if you have the counter space and are in need of an appliance to make cooking meals a breeze, this AU$158 deal on the Instant Vortex Plus air fryer is one worth considering, although we did see it hit its historic lowest price of AU$114 earlier in the sale.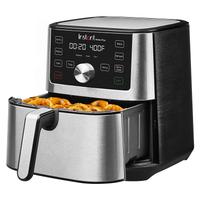 Instant Vortex Plus air fryer | AU$269 AU$158 at Amazon (save AU$111)
While Catch and Myer have this air fryer discounted down to AU$179 and AU$199 respectively, Amazon has the best deal, knocking its price down to AU$158 – that's 41% off its original price. This isn't quite the lowest price we've seen on this excellent air fryer, but is still a ripper bargain to make now a great time to add it to your kitchen.
With presets for each of the six cooking options, the Instant Vortex Plus is an easy-to-use kitchen appliance. Though, if none of the specific settings suit your needs, there are separate temperature and time controls to let you adjust them to suit whatever it is you're cooking up. Plus, you can even save your own custom settings for later use.
The 5.7L capacity of the Instant Vortex Plus makes it most optimal for families or folks who like to host dinners. It only comes with one basket though, so while you'll save time on preparing a particular dish for a family meal, you'll have to cook foods separately to avoid contamination.
In general, air fryers are a great kitchen appliance, especially if you're looking for a healthier way to enjoy your favourite fried meals. By circulating hot air to evenly cook and crisp your next meal, these appliances reduce the need for additional oils in your cooking without compromising on the taste and texture of a deep-fried dinner.