Get Vodafone's Full Fibre 2 broadband for £25 a month with no upfront fees
This package has average download speeds of 73Mbps and comes as a 24-month contract.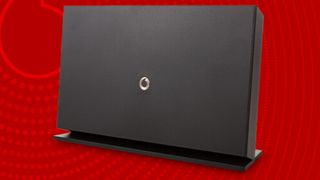 (Image credit: Vodafone)
If you're searching for the best broadband deals and want a decent fibre package, then we have something that'll pique your interest.
Right now, you can now get Vodafone's Full Fibre 2 broadband which offers average download speeds of 73Mbps for just £25 a month. This deal is a 24-month contract, there aren't any data limits and on top of this it doesn't come with any upfront fees. You also get a minimum speed guarantee on your connection of 37Mbps.
This tariff is ideal for small to medium households. This is because Vodafone claims multiple devices can simultaneously stream in UHD without any buffering. What's more, you can easily online game and casually browse with no issues, plus a 4.5GB download can be completed in just 10 minutes.
The plan features some smart tech, too. It includes Vodafone's class-leading smart hub as well as its 'Intelligent WiFi' that the provider claims 'optimises your signal throughout the day, giving all your devices the fastest, most-reliable connection'.
The only thing to bear in mind here is as a fibre package, your eligibility for it is subject to your property's access to the Openreach network that Vodafone uses for its broadband. However, this is something you can check directly with the provider when you look to sign up for this deal.
Our exclusive Vodafone broadband deal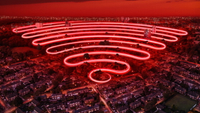 Vodafone Full Fibre 2 | 24 months | £25 a month | Avg. speed 73Mbps | No upfront fees
This top fibre broadband deal from Vodafone sees you get its Full Fibre 2 package that gives average download speeds of 73Mbps. This is a 24-month contract, it has unlimited data and costs £25 a month. You also won't have to pay any upfront fees. As well as a 37Mbps minimum speed guarantee you also get Vodafone's smart WiFi Hub. The Hub also comes with 'Intelligent WiFi', which automatically maximises and optimises the quality of your connection. It's a great option for small to medium households and can comfortably support streaming, browsing and downloading on multiple devices.
More reasons to choose Vodafone's broadband
Vodafone has now firmly established itself as a leading broadband provider in the UK and there are plenty of reasons to justify why it has become so popular in recent years.
A notable example is that it tends to offer some of the most affordable fibre and Full Fibre packages on the market. There's plenty of choice here too, from its entry-level 38Mbps option through to its 'Full Fibre 900' ultrafast 910Mbps tariff.
On top of the excellent WiFi Hub and 'Intelligent WiFi' capabilities we've mentioned in our featured deal, Vodafone also has a wider selection of top tech. This includes its upgraded WiFi Hubs, its 4G broadband backup service and its new WiFi boosters - many of which you can choose to bolt on at an extra cost via its 'Pro II' bundles.
We should also point out Vodafone has won several awards for its broadband, including recent recognition from Uswitch for its value and overall services. It was also highly recommended by T3 in 2021 for offering 'one of the absolute finest broadband services' in the country.
Existing Vodafone mobile users can also get extra benefits. Often if you log in or confirm your number when signing up for broadband you can get discounts and special rates on additional services like call packages.
If you do want to opt for an ultrafast package with Vodafone you will also need to make sure your home or business can access its Full Fibre network. So if this isn't the case - or you just want to see what other options are out there right now - check out our run down of the best broadband deals.
Alternatively, you can see what's on offer in your location by using our widget below. Just enter your postcode and we'll do the rest.
Loading...
Get daily insight, inspiration and deals in your inbox
Get the hottest deals available in your inbox plus news, reviews, opinion, analysis and more from the TechRadar team.
Rich is a freelance copywriter and content strategist with over 10 years' experience. His career has seen him work in-house and in various agencies, producing online and offline content marketing campaigns and copywriting for clients in the energy industry.