Canon's new full-frame lens offers world record zoom for wildlife and sports photographers
The RF 200-800mm is one of a trio of new Canon lenses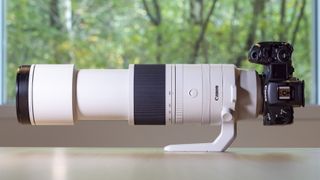 (Image credit: Future)
Canon has announced a new RF lens for its mirrorless cameras that's the world's first full-frame zoom lens that goes up to 800mm. The 200-800mm F6.3-9 IS USM offers an unprecedented reach without needing (optional) teleconverters, that's the equivalent of your phone having a 30x optical zoom, only with no perceivable loss in image quality.
We've already posted a RF 200-800mm review, and labeled the lens an ideal combo with the EOS R7 and EOS R5 cameras for enthusiast wildlife and sports photographers, especially those that focus on birdlife, or for safari and grassroots sports, and it no doubt merits a place in our best Canon lenses guide.
Canon's on a bit of a roll at the moment – having recently launched the ultra-wide RF 10-20mm F4L lens, it has consequently announced the RF 200-800mm alongside two other new lenses, too: Canon's fourth crop-sensor mirrorless lens – the RF-S 10-18mm F4.5-6.3; and the RF 24-105mm F2.8L IS USM Z, which Canon describes as the first in a series of pro grade hybrid lenses.
Let's take a quick run through of each lens.
Canon RF 200-800mm F6.3-9 IS USM: world's longest zoom lens
Canon already has a RF 800mm F11 IS STM lens in its lineup, but the pricier RF 200-800mm F6.3-9 IS USM offers an excellent zoom range and slightly better maximum aperture, as well as weather-sealing.
When paired with Canon's flagship APS-C camera, the EOS R7, you get image stabilization up to 7.5 stops, subject detection autofocus, and an equivalent 1200mm focal length due to the sensor format's 1.5x crop. It's a dream combo.
For such a far reaching lens, the RF 200-800mm balances well in the hand, and at 72.3oz / 2,050g it's relatively lightweight for carrying over extended periods, while its list price of $1,899 / £2,299.99 / AU$3,499 is competitive for what features are on offer.
Canon RF-S 10-18mm F4.5-6.3: fourth and widest crop-sensor lens
Designed specifically for the EOS R7, EOS R50, EOS R10 and EOS R100 cameras, the tiny and lightweight RF-S 10-18mm F4.5-6.3 is the fourth and the widest APS-C zoom lens for Canon's crop-sensor mirrorless cameras, and it couldn't come soon enough.
We've been nervous about how quickly Canon has launched new crop sensor cameras like the ones listed above, but conversely slow to release supporting native lenses, which doesn't bode well and makes it harder to fully recommend those cameras, even the EOS R10 that we rate as the best camera for beginners. Thankfully, now there's a pricier ultra-wide lens, the RF-S 10-18mm F4.5-6.3, that only weighs 150g and is also optically sharper than the RF-S 18-45mm F4.5-6.3 IS STM kit lens.
With Canon recently discontinuing its EOS-M series – another range of APS-C cameras that never got enough love to really shine – time is ticking for Canon to fill out the range of native lenses for its crop sensor EOS R-mount before consumers opt for other systems instead.
We got our hands on this new optically stabilized lens, and found it balanced really well with the EOS R50, offering superb close focusing and maximum 0.5x magnification. It's a decent option for landscape and macro photography, plus vlogging, and has a $329.99 / £379.99 / AU$599 list price.
Canon RF 24-105mm F2.8L IS USM: Canon's first 'hybrid' mirrorless lens
One for the pros, the Canon RF 24-105mm F2.8L could be the only lens that filmmaker-cum-photographers ever need. It's a chunky lens that Canon says offers the same optical quality as the RF 24-70mm F2.8L pro lens.
Designed with filmmakers in mind, the RF 24-105mm F2.8L fills the gap between Canon's cine lenses and its photo-centric RF lenses, and it is compatible with an optional Canon Power Zoom adaptor for smooth zoom control and remote operation.
List price is $2,999 / £3,439.99 / AU$5,399, while the Power Zoom adapter is available in two versions and comes with a starting price of $999 / £1,476.62 / AU$1,849.
Analysis: Canon on a roll
After a busy first half of 2023 launching new cameras, Canon has spent the latter half of 2023 unveiling new lenses, which bodes well for photographers and filmmakers buying into the system. New cameras make the headlines, supporting lenses make for a better day to day reality for those invested in the system.
With the launch of the RF 200-800mm, Canon has demonstrated its continued EOS R-mount innovation, and this could be the best zoom lens available for enthusiast wildlife and sports photographers. And it's the new crop-sensor RF-S 10-18mm lens in particular that offers a host of Canon fans reassurance, who are not doubt hoping that Canon keeps this up – a new RF-S prime lens seems like the logical next product, pronto.
You might also like
Sign up for Black Friday email alerts!
Get the hottest deals available in your inbox plus news, reviews, opinion, analysis and more from the TechRadar team.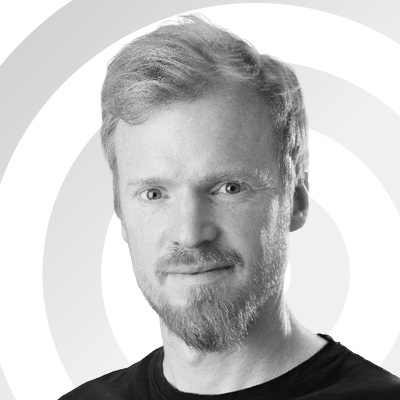 Tim is the Cameras editor at TechRadar. He has enjoyed more than 15 years in the photo video industry with most of those in the world of tech journalism. During his time as Deputy Technical Editor with Amateur Photographer, as a freelancer and consequently editor at Tech Radar, Tim has developed a deeply technical knowledge and practical experience with cameras, educating others through news, reviews and features. He's also worked in video production for Studio 44 with clients including Canon, and volunteers his spare time to consult a non-profit, diverse stories team based in Nairobi. Tim is curious, a keen creative, avid footballer and runner, and moderate flat white drinker who has lived in Kenya and believes we have much to enjoy and learn from each other.