If you're looking to upgrade your laptop but have a limited budget, Acer could be the brand for you. Its laptops strike a precise balance of power and affordability, making them exceptional value for money. They're also an excellent choice for any student who need a device that's robust enough to survive school or university, but is within a reasonable price range.
Acer makes a huge range of laptops - from super lightweight Chromebooks and dependable Windows convertibles through to LED-emblazoned gaming machines under its Predator brand. Whatever you need from a laptop, Acer's products are well worth investigating. They're well built, reliable, and often remarkably affordable for the specifications.

1. Acer Predator Helios 300
The best gaming laptop in its price bracket
CPU: Intel Core i7-8750H (hexa core 2.2GHz) | Graphics: Nvidia GeForce GTX 1060 + Intel UHD Graphics 630 | RAM: 16GB DDR4 | Storage: 256GB SSD
Plenty of power
Slick design
Good battery life
Gets rather hot
A gaming laptop from the company's Predator range, the Helios 300 is a perfect example of what makes Acer stand out from the crowd: powerful hardware, great build quality and a surprisingly affordable price tag.
This machine is built for serious gaming, and delivers the best performance of any laptop in this price range. Even the latest titles run smoothly at high settings (or medium, for the more demanding), which is truly impressive.
The Acer Predator Helios 300 has the looks too, with a gunmetal chassis, tapered edges, red accents and a backlit keyboard. The battery life is surprisingly good for a gaming laptop, too.
It tends to run a little on the warm side, and its fans are noisy when maxed out to compensate, but the Helios 300 is otherwise hard to fault. The best gaming laptop around for the money.

2. Acer Switch 3
A superb 2-in-1 that'll suit designers on the move
CPU: 1.10GHz Intel Pentium Quad Core N4200 - Intel Core i3 7100U | Graphics: Intel HD Graphics 505 | RAM: 4GB | Screen: 12.2-inch, 1920 x 1200 IPS LCD touchscreen | Storage: 64GB - 128GB eMMC
Very well built
Smooth, fast performance
Excellent screen
Not the lightest of its type
If you've had your eye on a Microsoft Surface Pro, but your wallet is holding you back, you're in luck - Acer has built a 2-in-1 laptop that's fast and responsive enough for designers, but will make half as much of a dent in your savings.
The Swift 3 isn't the lightest convertible you'll ever lay your hands on, but it feels reassuringly well made. Pick it up, and you know it's a robust device that'll stand up to the occasional knock when you're on the move.
Its touchscreen is sensitive and bright with good viewing angles - essential for a device whose strong hinge allows it to be used in an infinite number of configurations. Overall, an extremely impressive device.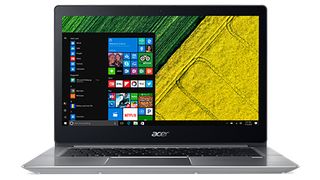 3. Acer Swift 3
Premium performance from a budget laptop
CPU: Intel Core i3 – i7 | Graphics: Intel HD Graphics 620 | RAM: 4GB – 8GB | Screen: 14-inch FHD (1,920 x 1,080) ComfyView IPS | Storage: 128GB – 256GB SSD
Superb keyboard and trackpad
Excellent performance
Very reasonably priced
Looks a little plain
Look past the Acer Swift 3's unassuming exterior, and you'll find a superb laptop that's more than powerful enough for work and study.
The Swift 3 (not to be confused with the Switch 3, above) is a budget laptop, but that plain chassis is all-aluminium and packed with some beefy components. In terms of performance, it comes surprisingly close to the far more expensive Microsoft Surface Laptop. Its screen is a little lower-res, but the two are otherwise strikingly similar - other than the price.
This laptop is a joy to use; its trackpad is roomy, and its backlit keyboard offers a pleasant typing experience with decent key travel. If you're going to be writing a lot on the move or at the office, it's a great option.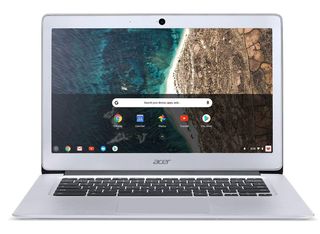 4. Acer Chromebook 14
Super slim and light - the ideal travelling companion
CPU: 1.6 GHz Intel Celeron N3160 | Graphics: Intel HD Graphics 400 | RAM: 4GB LPDDR3 | Screen: 14-inch 1,920 x 1,080 display | Storage: 32GB SSD
Thin and light
Excellent battery life
Robust build quality
Not ideal for HD video playback
The Acer Chromebook 14 offers excellent battery life, running for just shy of 12 hours on a single charge. Combined with its light weight (only 1.7kg) and super-slim chassis (17mm), this makes it a brilliant choice for working on the move.
Google's Chrome OS runs smoothly on less powerful hardware, which means this laptop's modest specifications are nothing to worry about. It can't run software designed for Windows or macOS, but you have a full suite of office apps in the form of Google Docs, Sheets and Slides, and there are thousands of apps available to download in the Google Play and Chrome stores.
The Acer Chromebook is also amazing value. If you need a laptop that you can slip into any bag and use for hours away from a power outlet, it could be right up your street.

5. Acer Nitro 5
The ideal laptop for gamers on a tight budget
CPU: 2.3GHz Intel Core i5-8300H - AMD Ryzen 5 2500U | Graphics: Nvidia GeForce GTX 1050 (4GB VRAM); Intel UHD Graphics 630 - AMD Radeon RX 560X (4GB VRAM) | RAM: 8GB | Screen: FHD (1,920 x 1,080) Acer ComfyView (IPS LED) LCD | Storage: 1TB HDD
Comfortable keyboard
Good gaming performance
Generous hard drive
Plastic lid feels a little cheap
Trackpad has too much travel
Gaming laptops can be extremely expensive, but the Acer Nitro 5 proves that they don't have to be.
This is a mid-tier gaming machine, and its performance reflects that fact: it won't blow you away like a high-end Alienware machine, but it's capable of delivering smooth, high framerates with game settings adjusted to suit - and for a fraction of the price.
We're not overly fond of the Acer Nitro 5's trackpad, but for a gaming laptop that's not a major concern. Its keyboard is comfortable to use, its red accents are pleasantly muted, and there are some handy gamer-centric additions like user-controllable dual fans.