Two years and three processor generations later, Apple is selling what is essentially the 2015 MacBook Air with ever-so-slightly closer to 2017 components inside.
The 12-inch MacBook, as well as the 13- and 15-inch MacBook Pros were all refreshed earlier this year, complete with more up-to-date Intel Kaby Lake processors, yet notably the MacBook Air only received a minor processor clock boost. It certainly makes you wonder whether Apple cares about the MacBook Air, but nevertheless it's a fine, long-lasting laptop for general use.
The MacBook and the MacBook Pro both start at the same price now: $1,299 (£1,249, AU$1,899), but to say that these products have successfully ousted the MacBook Air is frivolous. At $999 (£949, AU$1,499), it's still Apple's cheapest laptop, potentially by a large margin depending on where you live.
The MacBook Air also has the advantage of legacy ports, which Apple has sadly discarded from its modern-day lineup. Whereas the 12-inch MacBook and MacBook Pro have gone all-in on USB Type-C and Thunderbolt 3, respectively, the MacBook Air retains the 'regular' USB 3.0 ports and SD card slots of the past.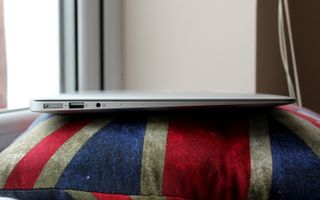 Design
By and large, the MacBook Air generally looks the same as it has since 2010, and there don't appear to be any changes in tow, either. That's a shame, particularly because we're now seeing virtually bezel-less laptops with smaller footprints and high resolution screens that dismally put the MacBook Air in its place.
Forget the Dell XPS 13's physics-defying InfinityEdge display, which is lightyears ahead – even Apple's 13-inch MacBook Pro with Retina, once seen as slightly tubby compared to the Air, has a smaller footprint and takes up slightly less space on your lap.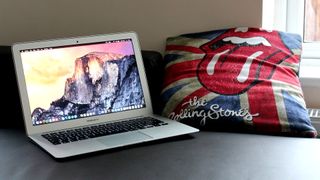 Yet, the old 'if it ain't broke' mantra applies – at least to a point. The MacBook Air's aluminum unibody design, which supports the main enclosure and the display, is as durable as ever. Its lid can be easily raised with a single hand and doesn't droop in any position, and you have to press really hard to detect flex on the machine's base or lid.
It's also easy to clean with a damp cloth. If there's one drawback, it's that the aluminum body can scratch easily to leave permanent black marks, so you should consider buying a sleeve if you're going to sling it into a bag for transportation.