Update: Apple quickly teased "an update in megahertz" for the MacBook Air, when all thought it was put to pasture last year. Check out our MacBook 2017 news hub for more information as it comes in.
The arrival of Apple's 12-inch MacBook earlier last year marked the beginning of the end for its MacBook Air lineup. At least, that's what people said at the time.
The new MacBook is more portable, lighter, has a gorgeous high-resolution display and can go for almost as long as the Air on a single charge. Who would pick a machine stuck in the past over a laptop from the future?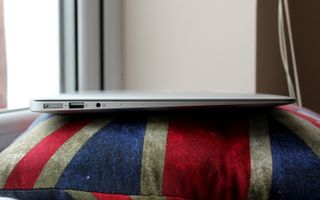 As it turns out, the future's not all it's cracked up to be. The new MacBook's inconvenient USB Type-C port, controversial keyboard and moderately powerful Intel Core M chip have proved a compromise too many for some people.
Now that Apple has refreshed its 11- and 13-inch MacBook Air models with Intel's fifth-generation Broadwell processors, Intel HD Graphics 6000 and Thunderbolt 2, they're suddenly looking much more appealing, even if it's business as usual on the outside.
Recent developments
Like the rest of the personal computing market, Mac sales are down. Having slipped to 4.6 million units in the third quarter of this year, according to Gartner, (as opposed to 4.9 million in Q3 of 2016), a lot of blame is being put on the price of Apple's extravagantly priced macOS machines. After all, that is a 5.6% decline year-on-year.
While you can buy some of its systems refurbished for cheaper than the going rate new, none of them can compete with the price of the MacBook Air in its heyday. Perhaps this revelation could lead to Apple making a MacBook Air using its own ARM-based processors in the future. Otherwise, the MacBook Air may never use external GPUs like its Thunderbolt 3-clad cousins.
Meanwhile, you can enjoy Apple's sprucely update to macOS High Sierra, including a special treat for developers and public beta testers. If you're still enrolled in the Apple Beta Software Program specifically, you can now download macOS High Sierra 10.13.1 early, which aims to fix bugs, improve general performance in addition to adding a whole army of Unicode 10 emoji.
Design
Speaking of which, the MacBook Air's design has now remained unchanged for five long years. If Apple didn't feel the need to tinker with it before, there's even less chance that it'll change any time soon now that the 12-inch MacBook is out there. Which is a shame, because the Air's classic design could really benefit from slimmer bezels and an overall reduction in footprint.
Forget the Dell XPS 13's physics-defying Infinity Display, which is lightyears ahead – even Apple's 13-inch MacBook Pro with Retina, once seen as slightly tubby compared to the Air, has a smaller footprint and takes up slightly less space on your lap.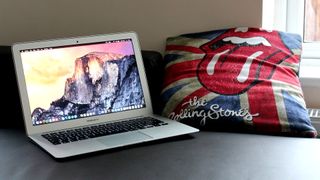 Still, the old "if it ain't broke" mantra applies – up to a point. The MacBook Air's aluminium unibody design, which supports the main enclosure and the display, is as durable as ever. Its lid can be easily raised with a single hand and doesn't droop in any position, and you have to press really hard to detect flex on the machine's base or lid.
It's also easy to clean with a damp cloth. If there's one drawback, it's that the aluminium body can scratch easily to leave permanent black marks, so you should consider buying a sleeve if you're going to sling it into a bag for transportation.