Why tech is on the verge of changing the political process forever
It's a bleak time to be young. The 30-something-and-below generation is facing huge debts, long hours, low pay and an ever-disappearing retirement age.
The cost of higher education in 2014 would've been enough to buy a three bedroom house 30 years ago. When a graduate enters the workforce, they can either look forward to being used as a political football, or a punching bag when one of the three main parties' PR machines needs "tough on welfare" headlines.
Critics argue that the young bear the brunt of the worst policies because they're politically disengaged – that they'd rather read about Nick Cage than Nick Clegg. As a result politicians see no benefit in appealing to them because the favour isn't returned at the ballot box. Continue reading...
Adobe Photoshop CC 2014 review
Photoshop CC caused a storm when it was launched in 2013. From that point on, you couldn't buy Photoshop with a 'perpetual licence' – you had to rent it a month or a year at a time via an Adobe Creative Cloud subscription. You choose the plan you need, and the software is then available to you for as long as you keep paying the subscription.
This still causes dismay amongst some users, but there are upsides. Your subscription includes free updates and an increasing range of Creative Cloud services, such as the Behance sharing/collaboration site. And since that rocky launch, Adobe has dropped the price and increased the value. Photographers don't just pay less, they get two programs for the price of one. Continue reading...
Apple's partnership with IBM: A potential game-changer for business ICT
No one ever gets fired for choosing IBM. It's one of the truisms of business. And indeed for the corporate IBM has always been the 'safe' choice. Received wisdom remains that if an IT administrator chooses an IBM system and something goes wrong, people will put it down to the nature of computing technology. People might grumble, but the incident will probably be forgotten.
Apple, on the other hand, is often regarded as expensive and if you aren't a designer or a show-off buying its products, is somewhat synonymous with 'spending more than you need to'. Big business doesn't routinely use Apple's consumer focussed products.
At first glance, it's hard to imagine a more unlikely partnership - Apple, the epitome of cool consumer electronics and mobile computing and IBM, the epitome of the opposite – an enterprise focussed software and services giant and the 'safe' choice. Continue reading...
Microsoft's future under Satya Nadella: a very different, braver company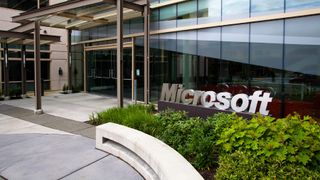 We are halfway through 2014 and Microsoft is having a good year - well, almost - even if it had to cut 18,000 jobs, can the Surface Mini, kill Android for Nokia, shut its Xbox Entertainment Studios and merge its tech conferences.
The Xbox One was met with widespread praise and has been selling in record numbers; Windows Phone is improving rapidly, introducing Cortana; Windows 8.1 garnered praise and, most importantly, continues Microsoft's vision of one day linking the PC and smartphone together.
And of course Satya Nadella, who was appointed in February, is making vast improvements to both the ideas and operation of Microsoft, unveiling software and services which would never have occurred under Steve Ballmer, including Office for iPad, which opens up Microsoft and pulls the company further into competition with Google, Apple and others. Continue reading...
Colt's London 3 data centre: inside the belly of the modular beast
Located in Welwyn Garden City off London's M25 motorway, Colt's London 3 isn't your average co-location data centre.
A facility with a twist, the company claims that its modular hall design allows it to provide co-location and managed infrastructure services in a more flexible and cost-effective manner than traditional data centres. And it should know: the company owns 20 data centres in 10 different countries that rack up a total of €112 million (around £88 million/US$150 million/AU$160 million) in revenue per year.
In May, Colt provided London 3, a Tier 3-rated facility, with an additional 1000 metres squared of data halls, bringing the total space inside to 6,500 metres squared. Featuring a total of 11 data centre halls, a range of companies take up its services - from cloud service providers to financial institutions. Colt builds the data centre outwards into its warehouse, which provides a total of around 13,500 meters, a capacity that could be filled in around three years, according to Colt. Continue reading...
What do ICANN's new top level domains mean for business?
In September 2013, internet registration outfit ICANN introduced a slew of new Top Level Domains (TLDs), far expanding the options beyond .com, .co.uk and a multitude of other aging suffixes.
Many of the new entries - including .technology and .photography - touched down with an obvious purpose, which can't be said for decidedly less conventional ones - such as .barefoot, .whoswho. and .zulu.
Stefano Maruzzi - vice president EMEA at GoDaddy, the 200lbs silverback gorilla of the domain name world - sees their introduction as an opportunity for individuals to be creative and for businesses to be savvy by catering for local audiences. We speak to Maruzzi to find out more. Continue reading...