Update: New for 2017, we've updated this article to include the new Roku Premiere+, Chromecast Ultra, Amazon Fire TV (2016) and latest Apple TV.
If you're only here because you want to cut the cord and stop the rich, monopolistic cable overlords from siphoning your hard-earned dollars every month, I only have one thing to say to you: You've come to the right place.
Look, we believe that paying for great TV shows and movies shouldn't cost more than your groceries, and that there's no better way to save some green every month than ripping that money-sucking cord out of the wall and delivering that long-winded "you're fired" speech to the cable company.
We're here to help you make that next buying decision the best one possible by ranking the five best set-top boxes from best-to-worst and, in very clear writing, tell you which one will feel right at home in your home entertainment center.
So how did we narrow down the field? We looked at the amount of content available on the system - not only the number of apps available, but the quality, too - as well as its feature-set, usability and potential to grow in the coming year.
The competition is fiercer than ever in 2017 – from the insanely powerful 4K-ready Roku Premiere+ and Chromecast Ultra, to the recently released app-heavy Apple TV – all the players have come out for the final showdown, but only one can leave with the crown.
1. Roku Premiere+ (2016)
Looking for affordable 4K streaming? Look no further
Solid 4K HDR performance
Quad-core processor for 60fps 4K
Most egalitarian OS
No Dolby Vision support
The Roku Premiere+ is hands-down the best intersection of value and performance for a 4K streaming player available right now. It's a capable piece of hardware, and has some of the best content-rich software on it, too. It offers the most channels of any streaming player and has the best universal search function that allows you to track down shows and movies wherever they may be hiding. Sure, we may never watch a spaghetti western on the Six Gun Cinema channel, but it's great that Roku gives us that option.
And if the niche movies aren't your scene, you'll find every major player here as well - Netflix, HBO Go, Amazon Instant, Google Play Movies & TV, Hulu, Sky News, ESPN, MLB.TV, Spotify, Pandora...the list goes on and on. But, best of all, you're not limited to one ecosphere: Roku is the agnostic Switzerland of streaming sets. It doesn't care whether you download a video from Amazon, Google Play Movies & TV, or spend your money somewhere else, all it wants to do is get you the content you want to watch.
Read the full review: Roku Premiere+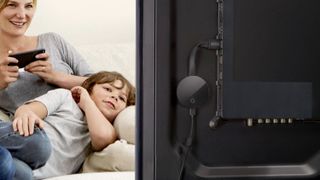 2. Chromecast Ultra
The Chromecast Ultra is a powerful, reliable 4K streaming dongle
Cheap, effective 4K, HDR streaming
Built-in ethernet adapter
Google Home integration
No remote control
No native Amazon Instant Video
Too often, there's a discrepancy between a product's price (what it costs) and its value (how much it's really worth). Thankfully, Chromecast Ultra isn't one of those products: it's worth every penny. Coming in $69 (£69 or about AU$90), the petite, USB-powered Chromecast offers all of the functionality of boxes three times its size at half of the price. It completely outshines its closest competitors - the Roku Streaming Stick and the Amazon Fire TV Stick - and is ultimately the best bang for your buck for a small form factor player. Plus, if you're an Android user, you'll even be able to mirror your screen via the built-in cast functionality.
Read the full review: Chromecast Ultra
3. Nvidia Shield Android TV (2017)
Two parts gaming machine, one part set-top box
4K HDR streaming
Google Assistant/Home integration
Amazon Instant Video on Android
A bit pricey for a 4K streamer
There are some other options out there around the Shield's price point that are worth giving full consideration. But, should you desire a 4K video streaming player that can handle some of your favorite games, the Nvidia Shield is the perfect addition to your audiovisual armory. What we liked about it is that it turns out powerful video game-ready internals also make for a pretty smooth streaming experience. What really seals the deal for gamers, though, is that instead of a remote, the Shield comes with a controller that syncs up effortlessly and can play any number of Android TV or PC-quality streaming titles from GeForce Now, Nvidia's game-streaming service.
Read the full review: Nvidia Shield Android TV
4. Amazon Fire TV (Second generation, 2015)
It's quick, it's new, it's 4K
4K UHD playback
Responsive
Amazon Prime is effectively a must
No universal search
Coming in at our #4 spot, the Fire TV is snappy, fun and probably the best bet if all you want from your system is content from Amazon Instant Video. It has more games and apps than you can shake a Fire TV Stick at, and it scores full points for having some of seriously powerful hardware. Its biggest shortcomings are that it truly prefers to play Amazon content above all else, basically becoming a paperweight for non-Amazon Prime subscribers. The new Amazon Fire TV is fine, and for the Amazon faithful it offers easier access than the abortive web interface – but if you're just after a media streamer it's only okay.
Read the full review: Amazon Fire TV
5. Apple TV (Fourth Generation, 2015)
The new Apple TV is understated and subtly smart
tvOS is a huge improvement
Amazon app is coming! 
Not enough content yet
Touchpad remote is finicky
Coming in at the end of the list is the beautiful, but still-barren Apple TV. The latest iteration of Steve Jobs' passion project has made plenty of steps in the right direction by opening the Apple TV App Store to all developers instead of a select few, and even found a compromise with Amazon that will bring the streaming app to Apple TV devices.
Why isn't Apple TV a bit further up on the list? It's stuck in 1080p, and caters mostly to Apple's own video stores to find content. If one of those two things changes in the next year or so, though, Apple might give streaming media moguls like Roku, Amazon and Google a run for their money.
Read the full review: Apple TV