A VPN or Virtual Private Network is a secure method of connecting a remote computer or other devices to a server.
With a VPN you can unblock almost any website that limits access based on IP address, and bypass filters to reach your favourite sites any time you want. This makes it ideal for restricted public Wi-Fi hotspots, or watching Let's Play videos on YouTube at work (although don't tell your boss it was our idea).
In this guide we'll first show you the best VPNs for your needs, then how to set them up and keep them working well.
The best budget VPN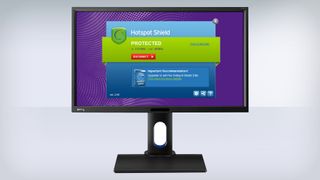 Hotspot Shield
Low price
Great download speeds
Few server locations
Limited configuration options
This VPN service offers a choice of 20 locations including the US, UK, Australia, China, Hong Kong, India, Russia, Turkey and Mexico, and supports up to five device
If you're looking for a VPN that offers fantastic value for money, then AchorFree's Hotspot Shield is a great choice. You can pay annually for $25 (£20, AU$33), or for a one-off fee of $84 (£65, AU$120).
Privacy-wise this VPN will hide your IP address and DNS, keeping your identity completely safe.
The VPN service offers a choice of 20 locations including the US, UK, Australia, China, Hong Kong, India, Russia, Turkey and Mexico, and supports up to five devices.
There's also a free ad-supported version of the VPN as well.
Read the full review: Hotspot Shield
Best VPN for online security
NordVPN
Keep yourself secure online
Optional VPN over Tor
Up to 6 devices
Can't connect multiple devices to same server with same protocol
NordVPN is a fantastic VPN service that features 685 servers in 52 countries, 2048-bit encryption, 6-device support as standard, strong DNS leak protection, automatic Kill Switch, handy security extras, optional dedicated IP addresses, and payment options including Bitcoin, PayPal and credit cards.
This means you can be pretty confident that your identity is protected when online. Best of all, these security measures don't impact your internet speed too much either.
Read the full review: NordVPN
Best VPN for internet speed
PureVPN
Boost your internet speed
Huge choice of servers
Two-year plan
No free trial
Failed DNS leak check
Using a VPN impacts your internet speed, as you're routing your connection via another server, but that doesn't always have to be the case.
Using the PureVPN service only increased latency in our tests by 5%, while upload speeds increased and downloads were boosted by an impressive 80%.
Read the full review: PureVPN
VPN checklist
From a simple browser-based VPN that uses SSL, to more complex systems, there is a VPN for every need. Use this checklist to help guide your decision-making:
1. Perform a data audit to assess the VPN features that are needed
It is important to understand who will connect together using a VPN, and what kind of data they will exchange. This will guide your business to the right VPN protocol to use.
2. What kind of internet connection does your business have at the moment?
VPNs can easily use large quantities of bandwidth, so ensure your business connection can cope with this additional traffic. And don't forget you'll need static IP addresses to avoid the need to set up a new VPN each time a connection is required.
3. The maintenance of a VPN is vital to ensure it stays secure
It is essential to focus on the security aspects of the VPN connection. As a VPN could be in front of or behind a firewall, its security is of paramount importance. Antivirus software should be in place and up-to-date.
4. How to use public Wi-Fi and VPNs
If your business just wants to securely connect its workforce together when they are using public Wi-Fi, this is possible with a number of applications including HotSpot VPN and WiTopia.
5. Ensure that any VPN client is secure
A VPN will use its own client to make the connection to another device or server. The user ID and password will be stored on these devices, which of course could be stolen. Use a personal firewall, or a password on the computer's BIOS to prevent unauthorised personnel using the VPN client if the device was stolen.
Steve Roberts, service development manager at business communications provider Vtesse Networks, advises: "When setting up a VPN, organisations must ensure that their provider meets basic security standards such as ISO 27001, which may be required for governance purposes and data protection obligations.
"This is certainly true for PCI certifications too. If the organisation is handling credit card information, it can't afford to fall short when it comes to meeting these regulations."