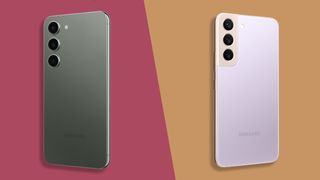 (Image credit: Samsung / TechRadar)
The Samsung Galaxy S23 improves on the S22 in important ways, including battery life and power. But it looks like a small upgrade overall, and it comes at a higher price in some regions.
For
Powerful bespoke chipset
Improved selfie camera
Bigger battery
Against
Higher price in some regions
Not different enough
Should have a 108MP sensor
The Samsung Galaxy S22 is a solid small screen flagship. It's not the most exciting phone and it's not quite as good as the Galaxy S23, but it's also more affordable.
For
Small and solidly built
Attractive design
Good performance
Against
Small screen
Battery life could be better
Cameras aren't the best
Samsung has announced its flagship phone for 2023 in the Samsung Galaxy S23, which is set to take the place of the Samsung Galaxy S22 in the manufacturer's line-up. So how do the two compare?
Last year's model turned out to be one of the best compact flagships of 2022 – "a small-form wonder", if you take our word for it – so Samsung has set its sights pretty high for the follow-up.
We haven't had a chance to put the Galaxy S23 through a full review just yet, but we do know about all of its key specs. Here's how the phone stacks up against its illustrious forebear.
Samsung Galaxy S23 vs Samsung Galaxy S22 : price and availability
The Samsung Galaxy S23 is set to go on sale on Friday, February 17. That's just shy of a year on from the Samsung Galaxy S22, which arrived in shops on February 25, 2022.
There's mixed news when it comes to the pricing of the Galaxy S23, depending on where in the world you are.
Samsung Galaxy S23 prices:
Galaxy S23 8GB / 128GB: $799.99 / £849 / AU$1,349
Galaxy S23 8GB / 256GB: $859.99 / £899 / AU$1,449
Samsung Galaxy S22 prices:
Galaxy S22 8GB / 128GB: $799 / £769 / AU$1,249
Galaxy S22 8GB / 256GB: $849 / £819 / AU$1,349
As you can see, the Samsung Galaxy S23 is going to be largely the same price as the Galaxy S22 in the US, except for a $10 bump on the step-up 256GB model.
It's worse news for UK buyers, who will be expected to shell out £80 more for both models when compared to last year's Galaxy S22 equivalents. Ouch. It's a similar story in Australia, where the Galaxy S23 costs AU$100 more than the equivalent Galaxy S22 models.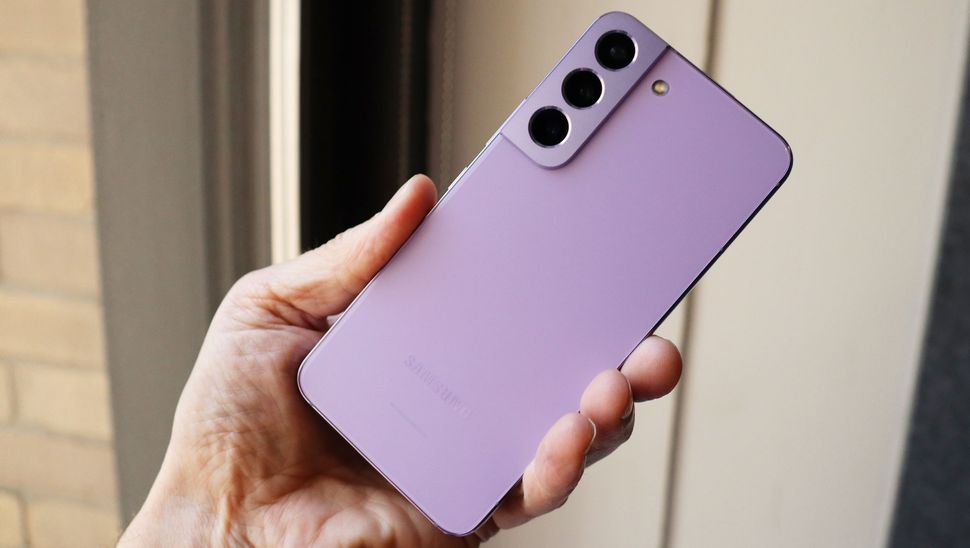 Samsung Galaxy S23 vs Samsung Galaxy S22: design
We knew what the Samsung Galaxy S23 was going to look like prior to launch, which perhaps explains a slight lack of excitement over its design. The other reason is that it looks a lot like the Galaxy S22, but with the latter's most exciting design feature removed.
In place of the sleek 'contour cut' camera bump of the S22 (which we called "attractive and efficient" in our review), Samsung has brought across the integrated camera module of the Galaxy S22 Ultra/S23 Ultra. Sure, it gives the Galaxy S23 family a cleaner and more cohesive look, but it's simply not as pretty or distinctive.
There are more color options out there for the Galaxy S22, though that's largely owing to its longer time on the market, which has allowed additional colors (like Bora Purple) to join Phantom White, Phantom Black, Pink Gold, Green, Graphite, Cream, Sky Blue, and Violet in the range.
The Galaxy S23 ships in just Phantom Black, Green, Lavender, Cream, Lime and Graphite - with the final two being Samsung store exclusives, but you can bet that more will join them.
The Galaxy S23 has apparently been made using recycled materials from discarded fishing nets, water barrels and PET bottles, so whichever color you go for it's going to be green.
In terms of size, the Galaxy S23 measures 5.8 x 2.8 x 0.3 inches and weighs 6 ounces. That's fractionally (and we do mean fractionally) larger than the Galaxy S22, which comes in at 5.75 x 2.78 x 0.30 inches and 5.89 ounces.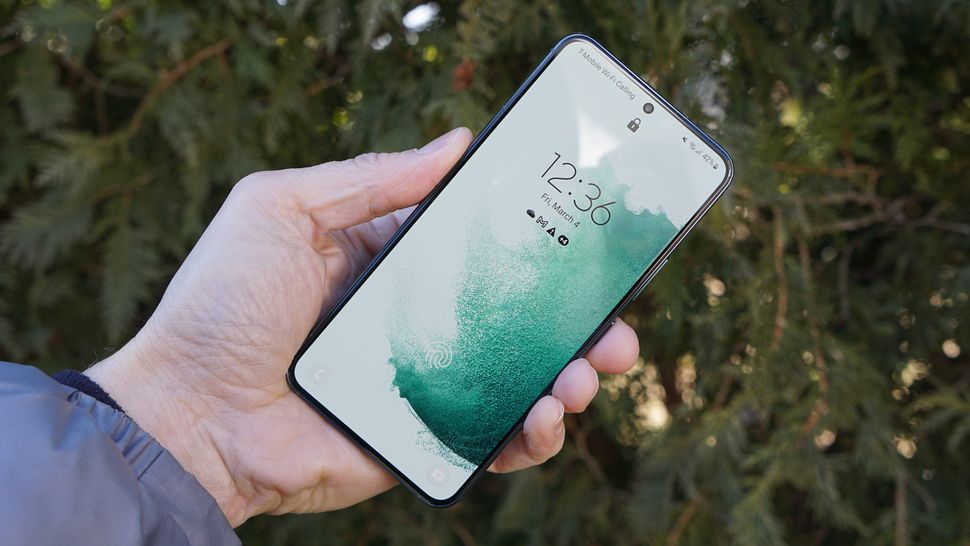 Samsung Galaxy S23 vs Samsung Galaxy S22: display
Both of these phones come with 6.1-inch AMOLED displays with 1080 x 2340 (FHD+) resolutions and 120Hz refresh rates. From what we can see, this is pretty much the same component.
That's not necessarily such a bad thing. In our review of the Galaxy S22, we called its screen "as bright and attractive as any we've seen".
Whether that still holds true in 2023 with a bunch of new rivals on the market remains to be seen.
One thing's for sure, the Galaxy S23 will again provide a viable option for those who are fed up of super-sized phones. With many phone screens nudging towards seven inches, the Galaxy S23's screen should feel blissfully compact, just like the Galaxy S22.
Samsung Galaxy S23 vs Samsung Galaxy S22: camera
Most of the big camera changes this year belong to the Galaxy S23 Ultra, with its eye-catching new 200MP wide sensor.
The plain Samsung Galaxy S23, for its part, has a very similar-looking triple-camera system to the Samsung Galaxy S22. There's a 50MP wide camera, a 12MP ultra-wide, and a 10MP telephoto capable of a 3x optical zoom.
The biggest hardware change this time around is the inclusion of a 12MP selfie camera, rather than the Galaxy S22's 10MP unit. This enables the capture of 4K video on the front camera, whereas the Galaxy S22 is stuck at 1080p.
One other new feature that the Galaxy S23 benefits from is being able to take Expert RAW shots at 50MP rather than just 12MP. Given that RAW shots are all about preserving as much visual information as possible, this should prove to be a worthwhile enhancement.
Don't discount the possibility of this new mode coming to the Galaxy S22 via a future software update, though.
Samsung Galaxy S23 vs Samsung Galaxy S22: performance
Perhaps the biggest improvement to the Samsung Galaxy S23 relates to its performance. Yes, it'll be faster, but more importantly it'll be consistently faster.
That's because Samsung is fitting all of its Galaxy S23 handsets with Qualcomm's Snapdragon 8 Gen 2 chip, regardless of the territory. By contrast, only some Galaxy S22 handsets got the Snapdragon 8 Gen 1, with European customers having to make do with the inferior Exynos 2200.
Also noteworthy is the fact that the Galaxy S23's Snapdragon 8 Gen 2 has been doused in special sauce. Samsung is calling it the 'Snapdragon 8 Gen 2 Mobile Platform for Galaxy', in reference to the fact that its Cortex-X3 core has been clocked to 3.6GHz, rather than the usual 3.2GHz.
Not only should the Galaxy S23 be much faster than the Galaxy S22, then, it should also be faster than its Android flagship contemporaries.
Both phones offer 8GB of RAM, which is fine for this sort of money. Yes, it would have been nice to have seen a 12GB option with this year's model, like with the Galaxy S23 Plus, but we're not going to be losing any sleep over it.
The two handsets are identical on the storage front too, with both phones coming in 128 and 256GB flavors.
Samsung Galaxy S23 vs Samsung Galaxy S22: battery
Another potentially meaningful improvement with the Galaxy S23 – and likely the reason it weighs a tad more – is the provision of a larger battery.
At 3,900mAh, the Samsung Galaxy S23's cell is 200mAh bigger than its Samsung Galaxy S22 predecessor.
Those with long memories may remember that the Galaxy S22 actually shrunk its battery by 300mAh compared to the Samsung Galaxy S21, so this move could be viewed as Samsung rowing back from an ill-advised decision. It's a welcome move, nonetheless.
We got around 12 hours of battery life with varied and almost constant use of the Galaxy S22, so we're hopeful that the Galaxy S23 will provide even greater stamina – especially with that more efficient Snapdragon 8 Gen 2 chipset onboard.
Charging standards have remained the same, with both phones offering support for 25W wired charging. It's a little underwhelming, if we're honest, and you don't get a charging brick in either box.
Samsung Galaxy S23 vs Samsung Galaxy S22: features
We're not expecting much of a difference in feature sets between these two phones. Both will ultimately run on the same One UI 5 skin running on top of Android 13.
The big advantage of the Galaxy S23 here is that it will get an extra year of updates over its predecessor. Samsung is promising four years of Android OS updates and five years of security updates, so you're good right up to at least Android 17.
Which one should you buy?
Samsung hasn't reinvented the wheel with the Galaxy S23. It looks to be an incremental improvement built on similar lines, with a familiar design, display, and camera system.
With that said, we're expecting great things of the Samsung Galaxy S23's performance, with a new, faster, and more unified chipset on board. We shouldn't discount the difference a larger battery could make to the newer phone's stamina, either.
Whether these marginal gains will make for a worthwhile upgrade given that the Samsung Galaxy S22 is about to get a whole lot cheaper remains to be seen. Those outside the US, in particular, might find the new Galaxy S23 pricing to be a little too much to stomach.
We'll be putting the Samsung Galaxy S23 through a full review soon, so stay tuned for a more in-depth comparison over the coming weeks.
Sign up for Black Friday email alerts!
Get the hottest deals available in your inbox plus news, reviews, opinion, analysis and more from the TechRadar team.