Apple TV 4K: 4K performance
4K HDR images look stunning
HDR images could occasionally look too dark
Dolby Vision will let you get the most out of premium televisions
Dolby Atmos was a late arrival
It's hard to review the Apple TV 4K and not keep accidentally reviewing the TV instead, because the look of the Ultra HD footage is so clear and crisp. 4K HDR is just the tops if you've got the right TV to watch it on – we went for the , and everything looked just sumptuous.
We tested the Apple TV 4K on an older Full HD LCD set to start with, and the picture quality there was already decent – the images were bright and clear, and the colors looked well-reproduced.
However, boosting up to the 4K HDR version, things took a turn for the brighter. Watching Ghost in the Shell in 4K HDR was showroom quality – the fluid motion of the action, the difference between the brightest and the darkest elements of the scene and the sheer quality of the colors on display were mind-blowing.
If you're new to the 4K game – which we suspect many might be if they're buying the Apple TV 4K as an upgrade to an old 1080p streamer – then it's the perfect partner, with the ability to instantly detect what kind of display is on offer and calibrating the output accordingly. (Well, it can at least tell if it's connected to a 1080p TV or a 4K UHD one.)
This auto-calibration feature, while convenient, doesn't always make for the most pristine images, however: noth Ghost in the Shell and The Defenders on Netflix were hard to see even with the brightness turned up (which is possibly due to the OLED technology on offer from the Philips 901F).
It wasn't that you couldn't see the action, more that the contrast ratio was so strong that your brain had a little trouble processing the information.
When we compared that to a non-HDR movie (in this case Guardians of the Galaxy Vol. 2) we found that everything looked brighter and, well, easier to see. Faces in shadow weren't as obfuscated, and the overall effect was just clearer.
That said, it also made everything look a little washed out in comparison, so it depends how you like your content. Perhaps brighter HDR films, where shadows are less prevalent, will impress more – we'll update this review when tested the Apple TV 4K on an LCD TV with 4K HDR capabilities.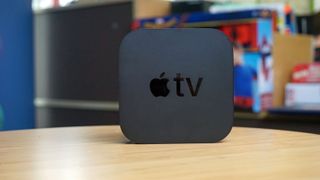 Having Dolby Vision supported alongside HDR10 is a nice move from Apple, especially as some will probably buy this box to improve the look of content on their current 'standard' TV, with a view to upgrading in the future.
It's a shame that Dolby Atmos wasn't supported to begin with, but Apple has now brought the premium audio format to the service (with the release of tvOS 12), so that's another feature you can put in the positives column.
Apple TV 4K: content selection
One thing Apple excels at is navigation of content.
It's great that Netflix is there from the start as a 4K HDR offering (dark scenes in some shows aside) and being able to search through the service from the home screen, with Siri able to dive straight into Netflix directly, was a really neat touch.
Siri isn't able to find the 4K HDR movies and shows, just those in 4K, but even that capability was impressive.
Apple has opened a 4K HDR 'room' within its iTunes movies app to make it easier to discover the content – and the best part is that any titles you've previously purchased in Full HD will be automatically upgraded to 4K HDR when they're made available.
Exactly when they'll be available is another key issue, however. At the time of writing, in the UK and Australia the 4K HDR range is sparse, with far more on offer in the US. This will obviously change over time as movie studios start bringing their 4K content to the market, and to streaming boxes such as the Apple TV 4K.
But it isn't all about iTunes – a large amount of 4K HDR content can be found in the Netflix app, as well as on YouTube. In Australia, the Stan app also offers 4K resolutions on a steadily-growing number of shows, though high-dynamic-range content has yet to make an appearance.
With Apple's new Apple TV Plus streaming service arriving this Autumn, too, we're going to see a lot more content come to the service – though there'll be an additional paywall to get through to access it.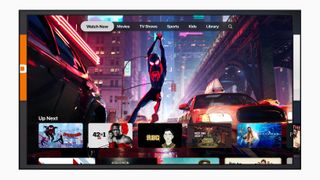 Apple TV 4K will also pull in content from whichever catch-up apps you happen to have have access to. For instance, if Australian users have SBS On Demand, 9Now, Tenplay, ABC iview, PLUS7, AnimeLab or any other content app installed on their unit, the shows from those apps will come up as suggestions in a large, overarching library within the Apple TV app. Think of being a bit like Netflix, only with a library pulled from a number of separate content sources.
In the Watch Now section, you'll find a list of the shows you've been watching, and Apple TV will remember where you're up to regardless of where the content comes from. Once you're up to date on a show, it will disappear from the list, only to pop up again when a new episode is available.
Design and Siri remote
Box is sleek and compact
Remote is small and accurate
Siri can occasionally frustrate
The design of the Apple TV is identical to the previous model, coming in at 35 x 98 x 98mm (H x W x D) to fit snugly beneath most TVs without any worry.
It's a little weighty – although that doesn't matter too much given that you're going to wedge it beneath a monster television anyway. Unless your stand is already creaking under the weight of a formidable AV setup we think it's unlikely that the Apple TV 4K will be the streaming straw that breaks the AV camel's back.
The matte black top and shiny sides are only broken by a single LED that blinks with input, and signifies the unit is out of sleep mode; it's understated, and only the height really makes it noticeable – otherwise, it's a very discreet box.
The remote feels like a good balance between lightweight and well-made – although it can be tossed around easily it's comfortable to hold, with the tactile, brushed feel and rounded edges make it something you want to play with in your palm without thinking.
Well, don't – there's a touch-sensitive pad at the top that will register your slightest quiver, and which clicks to register an input. It's accurate, and seems improved over the previous iteration, where we noted some slight inaccuracy when playing a game.
We did have one moment where the input was confused when playing SkyForce Reloaded, a title that needs careful caressing of the touch pad, but that was the only instance of inaccuracy.
The other feature of the Siri remote is the voice access it offers – for the most part, it's brilliant. Want to watch something on Netflix? You can just ask Siri to start playing it. In fact, even when you search for something that's available on multiple sources, such as Netflix or iTunes, Siri will always prioritise the version you don't have to pay for.
Downloading apps, restarting a film or just flipping to the settings are a simple tap of the Siri button away, and it's much easier than navigating through using your fingers.
However, Siri isn't always accurate – for instance, asking her to 'search for 4K HDR films' came out with 'search for 4K HD are films' every so often.
It's the same with using voice to input passwords… it's good, but not always accurate, and passwords are often hidden with asterisks or dots, so it's hard to tell what you did wrong. Sometimes it worked, but more often than not we just entered them using the touchpad to ensure accuracy.
Similar functionality is offered on the Amazon Fire TV with its Alexa remote, and we found that Alexa offered a consistently more accurate experience than Siri when searching for content.
Best 4K TV: what are the best sets for 4K streaming?